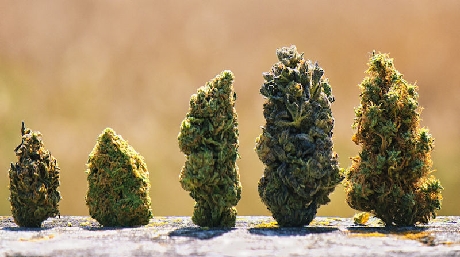 Over time new marijuana strains have been developed through selective breeding. These new strains have desirable qualities and have gained popularity. Some strains are most popular because of the high THC percentage. Other strains have gained popularity because of their cultivation success rate. Whatever the reason, I am going to present to you the most popular strains.
Girl Scout Cookies XTRM is a new hybrid of the original Girl Scout Cookies and White Widow XTRM. The original Girl Scout Cookies was a California native before it's popularity skyrocketed it out to the rest of the world to create even better hybrids. This predominately Indica strain will give your body the relaxation it needs. Its high THC percentage has won it many awards. It is perfect for stress release, pain, and getting your appetite back. The Girl Scout Cookies strain will give you dense buds, however, you need to be patient with her as she needs her time to fully blossom. The flowering time for this cannabis strain is 7 to 9 weeks but certainly worth the wait! If she's grown indoors you can expect 550 grams per square meter. Outdoors you can expect even more: 700 grams per square meter. This strain is a winner!
A classic strain that has remained popular
OG Kush is a classic strain that has remained popular for a long time and for good reason. The origins of this strain is a mystery, however, many believe it came from a female Chemdawg plant and male Hindu Kush plant. Even the name OG Kush has been debated as to what it stands for, though, Ocean Grown is a likely candidate. You'll easily fall for this strain from tasting its delicious pine aroma, it's subtle lemon flavor, and fragrance of evergreen needles. You'll be impressed with its high THC percentage and all the benefits it brings. The cerebral boost it packs is sure to help with stress, anxiety, depression, and ADHD. This is not a difficult strain to grow. If grown indoors you can expect 225 grams per square meter. If you grow it outdoors you can get up to 300 grams per square meter.
Don't let the strain name of Green Crack turn you off for trying this high THC strain. It was originally just Green Cush but Snoop Dogg dubbed it Green Crack because once you try this strain it's hard not to fall in love and get addicted. This strain is a mix of original Chem Dawg F3 and a medijuana strain to give you a one of a kind cerebral experience paired with a heavy-bodied feeling. This strain has a sweet citrus flavor combined with earthy undertones. If you suffer from stress, fatigue, and depression, Green Crack is the strain for you. Because it is an easy strain to grow, a novice grower can successfully cultivate it. When grown indoors, you can get a whopping 400 grams per square meter. Outdoor growers can get an amazing 600 grams per square meter with this strain.
Most successful and strongest strains available
One of the most successful and strongest strains available is White Widow. It's no secret that White Widow has won numerous awards. This High Times Cannabis Cup winner is a combination of a pure Sativa landrace from Brazil and an Indica hybrid from southern India. Because it was developed in the Netherlands, it's no surprise to find it in every coffeeshop in Amsterdam. The flavor of this strain is a strong spice; as you inhale the fresh pine taste hits your palate and leaves a refreshing citrus flavor in your mouth. You can smoke white widow all day long as it will give you a boost of energy that will stimulate both conversation and creativity. The very high THC strain will give you 500 grams per square meter when grown indoors. When grown outdoors you can get 650 grams per square meter. If for nothing else, you'll want to grow this strain for the pure joy of cultivating its white buds with crystal resin.
Choosing the right strain for yourself is not always the easiest job, however, it is often a good idea to go with a popular strain as it is popular for all the right reasons. You can bet that one of these featured strains will give you what you need.
---
Need Some Quality Seed, from Amsterdam Buy your Seed here now
---