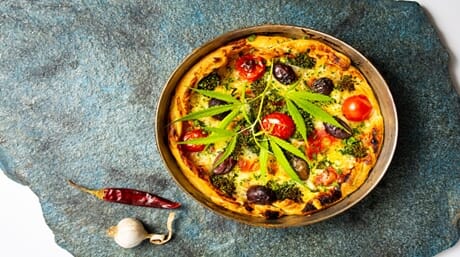 It's no understatement when smokers brag about how useful marijuana can be. It all depends on perspective. Come to think of it, marijuana has survived many centuries as one of the oldest plants nurtured by man. It surely must have offered a lot of usefulness to have survived that long. If you are a big fan of marijuana, you must have noticed how versatile weed can be. You can smoke, chew, vape, and even make edibles with it. Yes, great edibles! Many times, all you have to do is add your favorite strain to a food product. If you are a fan of food recipes, you can go the extra mile of separately preparing your weed. Who knows? You can even try a weed-only recipe!
You can make adjustments on your own, add a few condiments or even play around with the steps. Just make sure you have one of the best marijuana strains. This review is designed to guide you on the best strain you can make edibles with. You will want to sit back and enjoy every bit of it.
Your best strain options for a marijuana edible
1. White Widow
How do you even consider making marijuana edibles without considering White Widow first? If you have tasted a marijuana-infused edible before now, there are chances that this strain was the vendor's choice. As a potent Indica variant, White Widow has carved a reputation among marijuana faithful. The Indica composition guarantees the best euphoria and excitement you don't get from just another strain. Of course, your experience might sometimes depend on other recipe components.
The white widow gives you a peppery taste, tart flavor, and a refreshing mint aroma. The stimulation delivers to your taste buds makes you crave more. Since it makes you sleepy, you might consider it the best strain for a chilled dinner. You might not get a rush of energy as with other strains, but you are sure to get a relaxed feeling –one that will make you enjoy the rest of your day. You might want to start with the White widow. With this strain, the hype is worth it.
2. O.G. Kush XTRM
If you have heard about this strain, you probably must have heard about its legendary properties. O.G. Kush passes easily as the lead gangster in the marijuana republic. Marijuana enthusiasts who prefer this strain have nice reports about it. Many get a euphoric feeling of an inflated sense of self, light steps, and a floating body. Og Kush takes your experience with marijuana to a new level. If you make this strain into a recipe, you might probably get a more exciting experience.
While delivering a pine-rich flavor, OG Kush enwraps your buds with a harsh pepper taste that tingles your senses and increases your craving for more. The after-taste experience is second to none, and the relaxation it delivers makes you forget your worries. You can try it with brownies or other dishes of your choice.
3. Super Silver Haze
Would you like cupcake marijuana edibles? If yes, then you will want to try the Super Silver Haze. This strain has an Indica composition of about 35%, giving the best experience of euphoria, excitement, and relaxation. We love Super Silver Haze, and our version is very potent. You might probably understand why many marijuana enthusiasts consider it a good edible option. On trying this strain, many weed fans describe the feeling they get as 'balanced, stoned and clear.' Even as an edible, you can get more.
This strain gives off a strong flavor for edibles. Again, you will want to use a baking method that preserves the terpene deposits. If the terpene deposits are preserved, expect a rush of optimism and euphoria when you try this strain as an edible.
4. Blue Dream XTRM
Blue Dream is another strain you should try for marijuana edibles. Although the name might suggest it, the Blue Dream gives you more than just a dream. It gives a daytime euphoric experience that makes you appreciate the magic of weed. If you are also a big fan of daytime adrenaline pumps, Blue Dream takes you high up the spectrum, supplying you with energy, excitement, and magic. Blue Dreams pack a moderate 19% THC and give you a nice supply of terpenes. The aroma it induces is enough to put you through the day –as a being of many powers. You will love to try this out.
5. Blue Cheese Feminized
Blue Cheese is a big player in the cannabis world. Cultivated as a mix between Big Buddha Cheese and Blueberry, this strain gives a heavy relaxation and a soothing feeling that even first-time marijuana users can admit. The euphoria and excitement it delivers make it an easy choice for many marijuana enthusiasts. The usefulness of Blue Cheese feminized in the cannabis world transcends just the immediate use of smoking and vaping. This strain packs extra usefulness in the culinary world. With the right flavor mix, anybody can enjoy the Blue Cheese marijuana edibles.
This cup-winning cultivar delivers a tingling sensation that captivates the attention of your taste buds. The skunky flavors are sure to hit you almost immediately. But, for the effects to kick in properly, you might wait a while. You can start by tasting the Blue Cheese's fruity flavor profile. That's all the temptation you need.
6. Girl Scout Cookies XTRM
Girl Scout Cookies XTRM is another good marijuana strain you can consider for edibles. This strain is straightforward to incorporate into different recipes. Girl Scout Cookies tick all the boxes for flavor, aroma, after-taste experience, and smoothing feeling. You might want to go a bit slow on this strain as a first-time user. It packs an impressive THC level, always over 20%. Experienced marijuana users can afford to go for long on edibles. Novices might want to pass on this. With such an impressive THC component, Girl Scout Cookies does not disappoint in the character of its edibles.
You can expect an intense magical experience that is truly fulfilling. The high is not child's play. The flavor notes are sweet and earthy. The resins give you a special treat that keeps you hooked and wanting more.
Gelato XTRM Feminized
Are you considering a marijuana delicacy the best of stoners can enjoy? Your best bet is to make it with Gelato. This strain's mixed flavors and sweet, citrus, and earthy terpenes serve an unforgettable experience to the taste buds. As one of the strongest and sought-after strains in the marijuana kingdom, Gelato knows how to get you hooked. You can consider it a worthy culinary addiction, supplying the best euphoric effects proportionally to the quantity you allow in your recipe. With a 55% Indica component, you can expect a heavy soothing relaxation and euphoria that get you stoned for a while.
Purple Power
Purple Power redefines the edible marijuana game. This strain best serves the spectrum –from the regular cannabis user to the fellow who would like to remain high all day. As a cross between an old skunk and Purple Haze, Purple Power packs enough energy to make your edible marijuana experience a big hit. In 1998, this strain gained notoriety and culinary acceptance after winning the prestigious High Times Cannabis Cup. This feat moved it sharply to the elite class, with many marijuana enthusiasts trying it out in their recipes. It delivers a fruity taste mixed with a sweet and spicy aroma that tingles the taste senses. The after-taste ends with a sweet buzz. You should try out Purple Power.
AK 47 XTRM
You never thought the most notorious strain on the bock could be good for edibles? Well, you are not alone. Surprisingly, AK 47 XTRM fits perfectly into the class of marijuana strains that gives a lasting experience when consumed as an edible. If you decide to include it in a baking recipe, the heat has no undue influence on its effects. With its 20% THC content, AK-47 gives a lasting cerebral effect, making marijuana brownies a therapeutic addiction. Medical cannabis users particularly prefer AK-47 edibles. Why? This strain still supplies its therapeutic effects even as an edible.
Durban Poison
Durban Poison has long been dubbed 'the espresso of cannabis strains.' This strain stylishly upregulates how other cannabis strains react with the body. Think about drinking a coffee while breakfast waits. When added to a recipe, Durban poison stimulates the mind, energizing it and preparing it for long-lasting euphoria. This strain is also popular with medical cannabis users due to its therapeutic effects. However, Durban Poison is recommended only for marijuana users who must have mastered making cannabis edibles. Too much Durban Poison in a recipe can increase the risk of paranoia.
So what do you think?
Marijuana edibles are fast becoming popular. Even non-smokers consider edibles a chilling method of consuming marijuana. With marijuana strains, your choice of edibles is not limited. As long as the strain produces your preferred effect, and a considerable volume of marijuana oil, you have no worries. These strains fit perfectly into your recipes and give you the extra kick to have an unrivaled culinary experience.