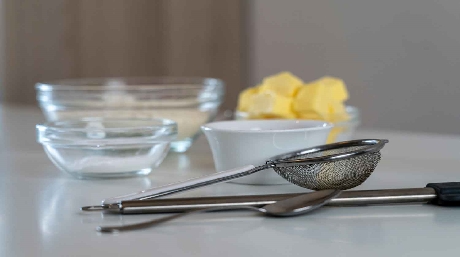 ---
Cannabis Butter, or cannabutter, is one of the basic ingredients used in making edibles.To make cannabutter, you will need some basic ingredients and equipment.
Ingredients
A Cup of Butter
A Cup of Coarsely Ground Cannabis
A Cup of Water
A Crockpot or Baking Tray
Parchment Paper
A Saucepan or Stockpot
A Fine Mesh Strainer
Directions for Making Cannabutter
Decarb The Marijuana First:
Place your cannabis either in a crockpot or on a baking sheet; covered with parchment paper. The parchment paper will prevent your cannabis from sticking to the crockpot or baking sheet.
Preheat the oven to about 247 degrees F (approx. 119 degrees C).
Place your crockpot or baking sheet into the oven.
Set your timer for about 30 to 40 minutes. However, older cannabis strains may require less time.
Grind The Marijuana:
Let the cannabis cool a little, you don't want to burn yourself.
Then, using a hand grinder, coarsely grind the marijuana you have decarbed. You want a coarse setting, as too fine of a grind can introduce off-flavors to your butter.
Combining the Ingredients and Infusing:
Add the cup of butter to the cup of water in a saucepan or a stockpot.
Melt the butter on low heat.
Water is needed when melting butter because it helps keep the temperature regulated. This helps to stop your butter from scorching.
Add the ground marijuana once the butter has started melting.
Maintain a very low heat and simmer the contents in the pot for about 2 to 3 hours.
Make sure to stir the butter occasionally.
Keep an eye on the Butter. You do not want it to burn.
Strain The Marijuana Butter
Once the butter has been infused, remove it from the heat.
Get a bowl or something to store it in
Pour the infusion out of the pot and through the strainer and into the bowl. Make sure that the holes in the strainer are smaller than the ground marijuana.
When the butter has been strained, put it in the fridge to harden.
When it hardens, the excess water will separate from the butter.
Remove the excess water and store your Cannabutter in the fridge.
Cannabutter can last up to three weeks in the fridge if you store it properly. If you made a large batch, you can store it in the freezer for up to six months. Find out more onour blog post about cannabutter.