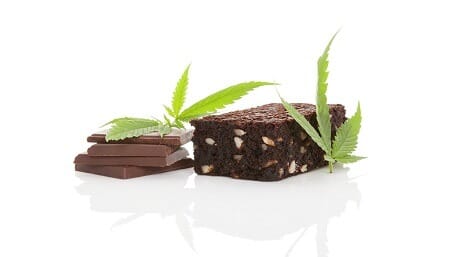 The holiday season is upon us therefore it's time to break out the baking utensils and warm up the oven. Impress your friends this year with cannabis cookies, cakes, or any other cannabis delicacies you can dream up. Before you start baking up a storm learn about the following common mistakes to avoid while making marijuana edibles.
Even if you have been making cannabis edibles for years you may be making mistakes you had no idea about. Just because an edible "gets the job done" doesn't mean that you have a great product. With these helpful tips, you may be able to get a product that tastes nicer, that's easier to make, and saves you more time and money. There is no one way to make the best edibles; it's all about experimenting. Although if you avoid some of the common mistakes you will end up a lot happier with your end product.
Grind the bud coarsely with a hand grinder
If your edibles have a grassy taste then you might be making the mistake of grinding your bud too finely. For some reason, many recipes will tell you to finely grind the cannabis bud, but this is a mistake. What you are really trying to extract is the bud's resinous trichomes which are on the bud not inside it. So what happens when you grind the bud too much is that it will put chlorophyll into your canna oil which gives it an unwanted taste along with turning it green. Another problem is that you will not be able to strain out the unwanted plant material. The best way to avoid this issue is to grind the bud coarsely with a hand grinder after it has been decarboxylated in the oven. The cannabinoids will bind to the oil with a course grind without adding in unwanted plant material.
The process of decarboxylation is not to be missed when making edibles. Although too much heat will kill the THC in the plant, some heat is necessary.  Raw cannabis does not actually contain THC, but instead, it contains THC-A. Only when heated does the THC-A become THC. Some decarboxylation takes place when you are infusing butter or oil, but lab tests have shown that if cannabis first goes through the process of decarboxylation then a higher percentage of THC is extracted. Not only is it important to decarboxylate your cannabis first, but it is crucial to do it correctly. The best way to do it is to heat your oven to 245 degrees Fahrenheit, or 120 degrees Celsius. Spread the marijuana evenly on a baking pan and cook for 30 to 40 minutes. Every 10 minutes mix the buds around so that it decarboxylates evenly.
Use a cheesecloth
Not straining the oil correctly is a common mistake. After you have infused your oil with cannabis there will be some plant material you should strain out so that it doesn't end up in your final product. One of the best methods is to use a cheesecloth and let gravity work for you. Avoid squeezing the oil out of the cheesecloth yourself as you will end up with too much plant material in the oil. If you simply let the oil strain itself you will have a nice, clean batch.
A seemingly obvious mistake that actually happens quite often is an unevenly mixed batch of edibles. Sometimes you may eat a spacecake you've made and feel like it didn't do much for you. The next time you may be tempted to eat 1 ½ space cakes just to get more of a buzz but then you end up on a different planet. This simple mistake just comes from not mixing enough. When you add cannabutter or oil to a recipe you need to stir for a really long time, and just when you think it's mixed in go ahead and mix it two times longer.
Dissolve to a certain degree
When making edibles more is not always better. Just because you throw a whole bag of bud into a cup of oil doesn't mean that you will end up with super potent oil. The lipids in the oil can only bind with a certain amount of cannabinoids. Just like when you pour salt into some water, it will only dissolve to a certain degree until the excess salt just collects at the bottom of the glass. Using more bud is just a waste when there is not enough oil to absorb it. Keep in mind the 1:1 ratio to avoid this mistake. So for every 1 cup of oil, you can use up to 1 cup of ground cannabis, about 8 to 10 grams.
This holiday season will be much more "merry and bright" when you follow these helpful tips to make the best batch of edibles yet.