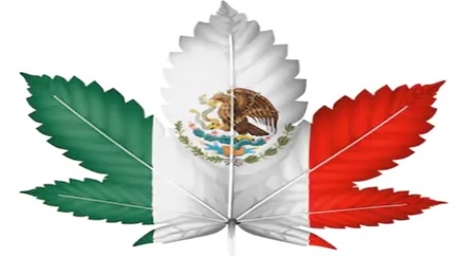 Earlier this month Mexican President Enrique Peña Nieto officially published a bill making medical cannabis legal in Mexico. This news has been welcomed by Mexican citizens. The policy change started in December 2016 when the bill received a lot of support in the Mexican Senate; it passed on on a 98-7 vote. Late April Mexico's lower house of parliament also overwhelmingly approved the bill with a 374-7 vote. The bill was publicly endorsed by Mexico's Secretary of Health, Dr.José Narro Robles, he said, "I welcome the adoption of the therapeutic use of cannabis in Mexico."
The decree decriminalizes the medicinal use of marijuana, CBD, THC, and other cannabis derivatives. It also legalizes the production and distribution of cannabis for medicinal and therapeutic uses. The Lower House of Parliament, or La Camara de Diputados, stated, "The ruling eliminates the prohibition and criminalization of acts related to the medicinal use of marijuana and its scientific research, and those relating to the production and distribution of the plant for these purposes."
The only cannabis that will be permitted must contain 1% or less of tetrahydrocannabinol or THC. Some Senators and civil rights group have said that the new law does not go far enough. They say it represents only a small step forward. Senator Miguel Barbosa said the legislation was "well below the expectations of society." Senator Armando Rios Peter agrees that the new law is only a tiny step forward away from a failed drug policy.
Enrique Peña Nieto was opposed to legalizing medical marijuana nationwide
Last year President Enrique Peña Nieto was opposed to legalizing medical marijuana nationwide, but after a national debate on the subject, he began to change his mind. Recently he has called for other countries around the world to rethink their approach to illegal drugs. He wants them to view it through a public health lens that won't criminalize users.
The decree issued by the President gives the Health Secretary 180 days to integrate regulations of the drug into the system and create regulations to govern the production, use, and sale of medical marijuana. The decree also requires research into the potential health benefits of cannabis, programs to prevent underage minors from getting access to cannabis, and programs for people that become addicted.
20,000 deaths a year
Mexico is a country that has been hit very hard with drug violence. According to a report from the Justice in Mexico project at the University of California- San Diego's Department of Politic Science and International Relations, deaths that were related to Mexican drug wars between 2006 and 2012 totaled 121,669. That means that there are 20,000 deaths a year, around 55 each day, or just over 2 per hour the report said.
A senior policy analyst on drug policy with the Transform Drug Policy Foundation, Steve Rolles, said, "It's outrageous that for decades now, drug war politics have prevented doctors from making licensed cannabis products available even when it is their clinical judgment that they are the best option for their patients." He continues to say, "Access to medicines is a fundamental element of the right to health and it is, of course, great to see Mexico joining many other countries in changing its law to finally allow access to those in need."
Has to be integrated into NAFTA
Former Mexico President Vincent Fox told those gathered at the National Cannabis Industry Association convention in Oakland, California that both Canada and Mexico will take the lead in producing medical marijuana for use in America. Both of these countries intend to export medical cannabis to the U.S. as it is a legal practice under international law. Fox said that cannabis, "has to be integrated into NAFTA," which allows it to be traded across the border "without barrier, without taxes and limits, only complying with the law." Fox continues to say that he expects that Mexico will produce and export as much as 60% of the cannabis used in the United States.
Even though it is a small step forward this step may lead to much bigger changes in the future. It is great news that cannabis legalization is progressing in the world so that those that need it may have the opportunity to use it.