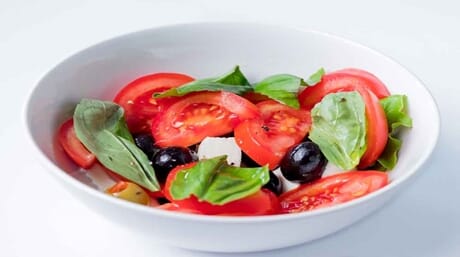 Caprese Salads are a light and delicious item to enjoy on a summer day. With this easy recipe, you can make a Cannabis Caprese Salad that will make your summer day a pure pleasure.
Ingredients:
3 medium-sized Roma, Plum, or San Marzano tomatoes
1 package of fresh mozzarella cheese
1/2 cup of fresh basil leaves
1/4 cup of Cannabis Oil; it is best to use olive oil-based cannabis oil for this recipe
2 ½ TBSP of Balsamic Vinegar
Salt and Pepper to taste
Directions:
Wash the tomatoes and basil leaves.
When dry, Slice the tomatoes to desired thickness – approximately ¼ inch.
Slice the cheese to the same thickness as the tomatoes.
Tear the basil into pieces.
Place the tomatoes, cheese, and basil on a serving plate. Alternate by placing a slice of tomato, then a slice of cheese, then basil. Arrange in small stacks or in a line.
Drizzle the cannabis oil and vinegar over the salad. Salt and pepper to taste.