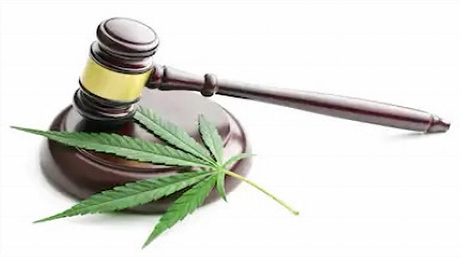 thin the last couple years the popularity of marijuana has continued to rise. In fact according to a 2017 Gallup Poll a record high of 64% of Americans support legalizing marijuana for recreational use. The reason for this increase in support is because the perception of marijuana is changing along with the potential that cannabis can bring millions of dollars in tax revenues for state governments. Even though there is such an immense support of legalizing recreational cannabis only about 21% of the American population live in states that have actually legalized it.
So far every state that has legalized recreational marijuana has accomplished it through ballot initiatives. However, in the future states have an array of options of how to make cannabis legal. In order to predict which states will join in on legalizing marijuana next many legal circumstances along with cultural conditions need to be taken into consideration. 24/7 Wall St. made a prediction about which states were the likeliest to legalize recreational marijuana next according to the usage rates, legislative process in each state, and existing marijuana laws.
The sunny state of Florida could soon make recreational marijuana legal. Although recreational users in this state still face high fines and penalties, patients with certain conditions can legally obtain marijuana. As a ballot initiative state and having high numbers of medical usage there is a very good chance of this state fully legalizing pot. 
Reason to smile
Connecticut residents may soon have a reason to smile as this state's chances of completely legalizing marijuana is high. Possession of marijuana has already been decriminalized and they have had a medical marijuana program since 2012. Democratic lawmakers in Connecticut have put a plan to tax and regulate cannabis in their 2017 budget proposal.
Already in Arizona residents with certain conditions may have as much as 2.5 ounces in their possession if they have a dispensary card. Arizona being a ballot initiative state may legalize marijuana the second time around.
Arkansas is another ballot initiative state that has strong support for legalizing marijuana. Currently medical marijuana is legal if the patient has been approved by a doctor.
Delaware could be the first state in America to legalize marijuana without ballot initiative. State lawmakers sponsored a bill that would regulate and tax marijuana similarly to alcohol if it gets passed. Possession of marijuana 1 oz and under has been decriminalized already in this state. 
In Michigan a proposal to tax and regulate cannabis like alcohol could be included in the ballot in November 2018 if a petition gets enough signatures. Medical marijuana is currently legal in this state.
Maryland is a strong contender for fully legalizing marijuana as it has already decriminalized possession of under 10 grams. Also, 64%  of its likely voters support legalizing cannabis. 
Currently being considered
Fully legalizing cannabis in Illinois is bound to happen. Possessing 10 grams or less has already been decriminalized in this state. Legislation in Senate Bill 316 and House Bill 2353 is currently being considered by state lawmakers. If these bills pass then adults 21 and over may possess, cultivate, and buy limited amounts of cannabis.
Although Montana has been difficult to legalize medical marijuana in the past, in 2016 it finally approved a law to loosen some restrictions in the medical marijuana laws. Montana may have a brighter future ahead if it continues on this current road. 
Currently in Minnesota cannabis has been decriminalized for 42.5 grams or less. A new pro-pot governor next year could propel this state into legalization.  
Vermont is very close to legalizing recreational marijuana. Governor Phil Scott agreed to sign a recreational pot bill if a few tweaks are made. Adults 21 and over will be able to use cannabis recreationally once the bill is made law.
An amount of less than 1 oz of marijuana is currently decriminalized in Rhode Island. With it's high usage rate amongst its residents this state seems favorable to marijuana. Lawmakers are drafting a bill to make recreational use legal.
Even though Ohio's attempt to legalize recreational marijuana failed in 2015 it might be poised for a  new shot at legalization. Ohio is presently working on a medical marijuana program and possession of less than 100 grams has been decriminalized.
New York already has a medical marijuana program and possession of less than 25 grams of marijuana has been decriminalized. This makes it likely that New York will legalize recreational marijuana, especially if neighboring Massachusetts does well with their legalization.
This year in September New Hampshire decriminalized possession of ¾ ounce of marijuana. According to a poll done by a University of New Hampshire 68% of residents are supportive of making recreational marijuana legal.
The future of recreational marijuana legalization is largely due to support of the public. Every year more and more states are considering changing their marijuana laws, and with the support of its residents and new cannabis research the ban on recreational marijuana could be a thing of the past.
Be legal with our BIANCA strain buy now
---
Don't forget to leave a comment below