Feminized marijuana seeds
Feminized marijuana seeds from Amsterdam are the best you can get, by far. Only the best genetics from Amsterdam, especially selected by our team of master breeders. Highly recommended cannabis strains: White Widow XTRM , AMS XTRM and AMS Supreme
The popularity of feminized seeds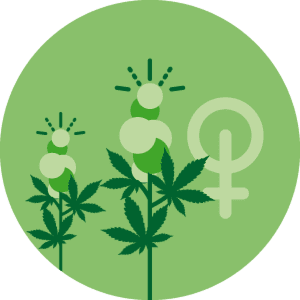 More and more growers start to use feminized cannabis seeds, which are modified to produce female plants only. Feminized seeds guarantee the space being used will be most productive. And above all: they grow fast, big and furious. So, if you are motivated by results, feminized marijuana seeds ensure your investment will be worth it.
AMS feminized seeds
If you want to be overwhelmed by the yield you get out of weed seeds, you should really try our best-feminized seeds. At Amsterdam Marijuana Seeds (AMS), we do everything within our power to ensure that each one of the feminized seeds you buy is giving you absolute quality marijuana. High-quality cannabis buds, exactly what you expect and beyond.
The rise of feminized marijuana
The feminized seeds from AMS are just as stable as our "normal" marijuana seeds. Back in the days, when feminized seeds entered the market, they were not always making your dreams come true. But the hard work, research, and development of our own master breeders pay off. We made sure that all our feminized cannabis seeds are stable, high-quality and very productive.
Breeded and selected for all growers worldwide
Amsterdam Marijuana Seeds is founded by passionate growers who wanted to share their passion, experience, and knowledge. Twenty years later it turns out that not only the Dutch are enthusiastic growers. All over the world are breeders with love for growing the best cannabis. Therefore we ship our feminized seeds worldwide and even guarantee (discrete and stealth) delivery.
Crushproof shipping worldwide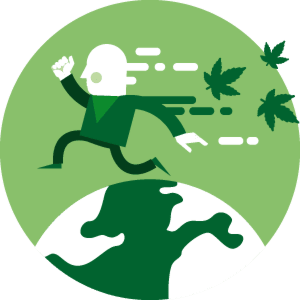 We ship all feminized marijuana seeds in crush-proof sealed envelops with no indication of what the content might be. You can expect the mailman within 14 working days. And, although he doesn't know what he is giving you... Boy, he is going to make you happy!
Follow your marijuana seeds feminized
We offer several payment options, like, Bank, Cash, and Bitcoin. When we receive your payment, the journey of our little feminized beans begins. Read our shipping terms and find out everything about shipping, delivery and payment methods.
Feminized seeds that suit you
AMS has a wide range of Indica and Sativa feminized seeds available for your pleasure. Some of our strains are immensely popular, like White Widow XTRM and many others. Worldwide sales of feminized seeds are increasing each year at a steady pace. We ensure our quality: follow the instructions of our grow guide and we guarantee that you'll have great female plants with big buds.
Work with your climate
Everyone likes our feminized seeds, from small growers to large-scale commercial growers. No matter your level of expertise, we are happy to give the advice to get the most out of your seeds. The grow guide helps to breed the strains of your choice. And have you ever thought about taking advantage of the climate you live in? Read more about in our online blog.
Profit from feminized seeds
If you like a natural way of breeding, AMS offers a good mix of high-quality regular seeds too. Haze seeds feminized, however, are more efficient to grow. As we said earlier: feminized seeds save time, energy and money. They are a great choice and the size of the buds make you spin. Above that, they are a good choice if you are just starting out.
What are your needs?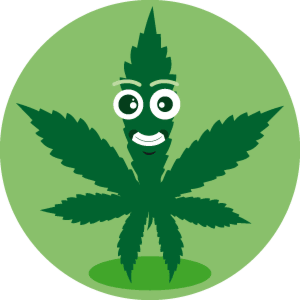 Now that we have established that feminized marijuana seeds are the way to go, let's have a look at your needs and the best match. Are you growing for medicinal purposes? Try our White Strains or our Medijuana. Recreational user? Try our Cup Winner Combo or Most Wanted Feminized combo. Do you want a big field full of huge buds? Big Bud Feminized is the answer.
Tip: We know that there are lots of options in feminized cannabis seeds. Check the marijuana seeds table out first, it makes it easier to make a choice. The table shows you exactly which strain fits your experience and desires. That makes buying feminized marijuana seeds lots easier.
Guerilla farmers choose feminized seeds
The best sellers of AMS feminized marijuana seeds are Bianca Feminized and the good old classic White Widow XTRM Feminized. The strongest feminized seeds we offer are AMS XTRM, AMS Supreme and again White Widow XTRM Feminized. Fact: Guerrilla growers prefer feminized seeds, fewer trips to the field and less chance of being caught.
"Five stars for AMS"
Amsterdam Marijuana Seeds strives to be the best seed bank with high-quality feminized seeds only. We offer excellent service, share our expertise and we are very discrete. Check it out yourself on the independent review website Kiyoh. The website where you'll find out that our customer's satisfaction is "above the norm", as they write.
Order AMS feminized seeds online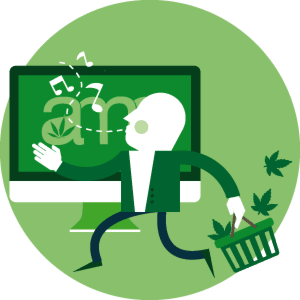 Order your feminized seeds straight from Amsterdam. We offer high-quality feminized marijuana seeds at affordable prices. Our feminized cannabis seeds are selected by Dutch top breeders. All seed packages contain 10 feminized marijuana seeds.
Questions about feminized cannabis seeds?
If you want to know more about our feminized seeds, contact us. Our customer support team is happy to answer all your questions and to advise you about breeding feminized cannabis seeds. We also like to hear your meaning about our seed bank and all our other products. Send us an email or fill out our contact form, we try to reply within 24 hours.
Popular at AMS
At AMS we have more than 120 different kinds of marijuana seeds. Our M.O.A.B. - Mother of all Buds is very popular, just like our premium line marijuana genetics.