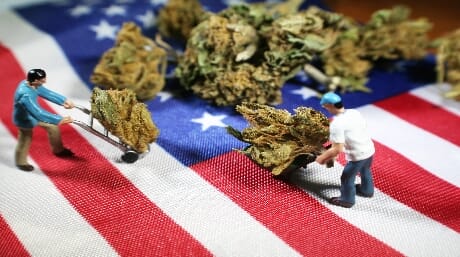 The cannabis industry has gained momentum over these last couple years and it doesn't seem like it will be slowing down. The public's view, acceptance, and knowledge of marijuana have greatly improved since many states have begun to legalize cannabis. All of this has opened up a window of opportunity for people that seek a career change.
For some people, they are tired of a cubicle job and are looking for something a little bit out of the ordinary. Others may have already been in the cannabis black market and want to make a legit job out of it. Whatever the reason is, thousands are trying to get in.
There is good news for cannabis job seekers. According to a report published this year from New Frontier Data projects, they estimate that by 2020 the legal cannabis market will create more than 250,000 jobs. Based on the Bureau of Labor Statistics this is more than the expected jobs from utilities, transportation, manufacturing, or government jobs.
The cannabis market was worth estimation of $7.2 billion
In 2016 the cannabis market was a worth estimation of $7.2 billion and it is projected to grow at a compound annual growth rate of 17%. For those number-loving folk out there here is some more perspective: medical cannabis sales are estimated to jump from $4.7 billion in 2016 to $13.3 billion in 2020. Recreational sales of cannabis are estimated to grow from $2.6 billion in 2016 to $11.2 billion by 2020. These projections don't even include the additional states that will make cannabis legal within these next coming years!
There are many ways to break into the cannabis industry and surely one talent or expertise you may have can be transferred to help you get your foot into the door. You may be surprised at the many different jobs out there that will allow you to combine your love for cannabis and skill set.
One of the easiest jobs to get in the cannabis industry is to be a trimmer. The buds don't just magically fall off the plant. Growers need bud trimmers to cut the buds off the plant and prune the leaves from the buds. This job can be quite a time consuming and repetitive, but it is a trade easily picked up.
Why not become a budtender
If you've been a bartender and loved it and you want to combine that job with your love of cannabis then why not become a budtender? As a budtender in a dispensary, you will need extensive knowledge about every strain, concentrate, and edible as you will be assisting customers to choose the best product to fit their needs. Of course, personal experience will also come in handy to advise customers so it will be helpful if you enjoy experimenting with a range of merchandise.
If you are always begged by friends to bring your bangin batch of special brownies or cakes to parties then your calling could be to go into edibles. To go into this market you will need to be not only a good baker but you will need to be very precise about measuring out your doses. Edibles companies have an increased demand as cannabis is becoming more legal and are constantly on the lookout for someone with gourmet flair in the kitchen.
A job that is high in demand is a grow master. If you naturally have a green thumb and plants just seem to flourish around you then it may be a job for you. As a grow master you will be responsible for cultivating different strains of cannabis plants. This requires knowledge beyond just growing plants. You will need to know all about nutrients, pests, light, temperature, just to name a few.
Jobs that are often overlooked when people think about the cannabis industry are web and software jobs. Cannabis companies rely on software like product management systems and accounting programs to help run their business. So if you're on the brainy side of working with computers this could be an easy switch for you to start working with marijuana companies.
Many extraction technicians have Ph.D.'s
An extraction technician is a high paying job in the cannabis industry. Many extraction technicians have Ph.D.'s as it requires a specific set of skills. It requires someone that has the knowledge and experience that can guarantee the product produced is exactly to the requirements of the patient. Some states have only legalized cannabis in the extract form so the demand for this job increases as demand increases. Some dispensaries report that 40% of their sales are marijuana extracts.
Every year more cannabis jobs are being created. These jobs often pay well and are rewarding. Now, more than ever, the cannabis industry is flourishing and it is a great time to join.