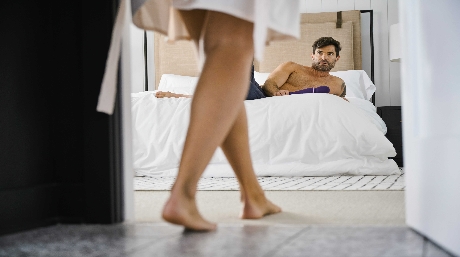 ---
In that case, it's not a wonder that one would find themselves thinking of how best to stimulate themselves in order to get some crazy orgasm or orgasms for that matter. This is where the canna-sexual market comes in.
For centuries, marijuana has gained popularity as a drug of choice when the urge to feel high or gain some sort of relaxation arises. People who have used weed before having sex have talked of the positive effect and the change they witnessed compared to other times when they did the same without getting to take the coveted puff first.
By now, you must be wondering what the best weed for sex is. Wonder no more. I have compiled a list of different types of weed that you can use to gain that cloud nine kind of pleasure during sex, whether you are doing it alone, with your partner or partners, regardless of the time of day or night.
Different types of weed can be used to bring out different feelings depending on the levels of pleasure one wants to acquire.
As per the list I have outlined below of best weed for sex, You will realize that you can use a different type based on what you desire to gain, for example, maximum arousal, confidence in the presence of your partner and best of all, explosive orgasms, which is ever top of our sexual goals.
1. Bubblegum Kush
This type of weed is for those days when you feel the urge to have some slow and passion filled sex with your partner. It creates a high sensitivity in your body that gets you yearning for your partner's touch, which leaves you more aroused than you'd have been on a normal day, creating untold intimacy.
The strain creates an emotional connection between you and your partner in the heat of the moment. It leaves a great citrus flavor in your mouth once you hit it, making it the best cannabis for sex.
Bubblegum Kush is also known for some cool relaxed orgasms different from the fiery and explosive orgasms that are filled with tension and clenching of muscles, which end up causing fatigue and cramping.
This strain leads to some kind of peace after orgasms and leaves you with the urge to sleep off throughout the night.
With this one, it's hard to pull an all night long sex marathon with your partner because it's effects wears you out and all you want to do after the peaceful ejaculation is curl up next to your partner and drift off to sleep. This is the best weed for sex if you are seeking for some undisturbed intimate moments with your partner.
2. Girl Scout Cookies XTRM
Seeking to have a great time but you have no partner? Well, I have some great news for you. You can still have some amazing fun all by yourself and get as much pleasure. All you need is some Girl Scout Cookies strain.
Girl Scout Cookies XTRM will get you hot and fantasizing the moment you hit a joint. You can top it up with some erotica and toys for more vivid imaginations and quicker results. With that combination, you are assured of great satisfaction.
Anytime you want to have some awesome personal erotic moments think Girl Scout Cookies and you'll be sorted all the way, besides, if you can't afford to spend some good time on yourself, who will?
3. Sour Diesel
Sour Diesel is among the best weed for sex. It leads to an almost explosive desire for your partner. This is the strain to use when you are looking for that insatiable and lustful million dollar moment with your partner.
This strain gets blood rushing all over in the right parts of your body, causing an excitement that's almost screaming I-want-you-right-here-and-right-this-moment.
It gives you some massive bed-breaking energy and gets you craving for your partner in the most electrified way. Sour diesel gives a wonderful feeling, full of energy.
Sour diesel is highly potent and acts very fast. It gives one a high that is dreamy and very cerebral.
4. Harlequin
This is the perfect strain to get you going for some peaceful morning sex. How better to start your day than with some ecstatic passionate sex with your partner, right? Well, it gets even better if you introduce some Harlequin into the mix.
Having sex in the morning gets one started on a positive note and a Harlequin strain is all you need to complete the mood. Using the strain leaves you feeling present and grounded. It gives you a better experience than coffee ever would.
5. Jillybean
Jillybean is an uplifting and very creative strain. It gives one a feeling of intense happiness. It also builds your confidence so it's the strain of choice if you have been shy in sex matters and was unable to ask your partner to try something new or different from your usual routine.
This is the strain to use if you have been longing to put on that teasing and revealing lingerie for your partner but you didn't have enough courage. Jillybean gives you that highly needed confidence boost to get the dirty talk going or try something like roleplay or to simply exercise that new kink which you haven't been brave enough to even talk to your partner about over time.
When you feel like it's time to get out of your comfort zone to try something new in sex matters then all you need is a dose of Jillybean. Seeking to unleash your kinky side? This is the best weed for sex for you.
6. Trainwreck
The Indica present in this strain is only 10%. It is a hybrid. Trainwreck has a citrus flavor with a mix of pepper and pine. It brings forth a feeling that is cerebral and a buzzy high.
This strain is the best to use for people who get drowsy effects from Indica because of the low percentage of the same present, in the strain.
However, people who end up getting too preoccupied or distracted with many thoughts after using a sativa leaning type of weed are advised not to try Trainwreck because it would lead them not to concentrate fully on the sexual activity at hand, leaving their partners or even themselves disappointed.
The presence of a high THC content in the strain acts as a great pain reliever so it is recommended for people struggling with endometriosis or joint pain, which could limit the derivation of maximum pleasure or lead a dissatisfying sex experience.
7. Granddaddy Purp
Granddaddy purp falls top in the list of best cannabis for sex. As the name suggests, it is said to be the grandfather of all weed types. This strain is a cross between Big Bud and Purple Urkle.
This indica has a sweet berry flavor and its aftertaste is that of grapes. It is known for its super relaxing and buzzy effect that leaves the mind in a blissful state. This makes sex a great encounter, making Granddaddy Purp the best weed for sex.
The smell of berry and grapes emitted from each hit sets the atmosphere to sexual and romantic leading to moments of maximum pleasure. This is the strain to hit if you suffer from a syndrome called restless leg and all you need is a long relaxed night of great sex with your partner.
8. Jack Herer
Jack Herer is a hybrid which is Sativa-dominant with a presence of 55% Sativa, striking a great balance of Indica and Sativa that won't cause you to be too drowsy or leave your mind functioning at an extreme speed.
This strain is exactly what you need to gain a high creativity power and to keep your body and mind very active, a perfect combo for blood-racing sex.
It leaves your mouth with a floral scent and a citrus taste.
9. Strawberry Shortcake
This is the best weed for sex if you are seeking to curb any anxiety which attacks right before or during sex. From this type of weed you'll experience a high that is quiet and relaxed.
It is the strain to use when looking forward to achieving a sexual moment that is serene, sweet and with a meaning.
Strawberry Shortcake can easily put you to sleep if taken in high amounts, as is common with all other Indica strains. It is advisable to take it in smaller doses in order to achieve the desired results without ending up with a sleepy head.
10. Atomic Northern Lights
Atomic Nothern light has traits that are almost similar to Strawberry short cake. Besides the fact that it is an Indica dominant strain, it also gives one a high that is relaxed and euphoric.
This strain offers a dreamy sensation that causes the body to calm down and release any stress therefore enabling the user to breathe more easily and deeper, with the exact composed rhythm that one would require for some heightened sexual experience. It is the best weed for sex, which gets you to achieve explosive orgasms.
Too much consumption of this strain leads to drowsiness and can put one to sleep very fast. The relaxed effect and happiness it causes leads one to heightened arousal which is just what you'd need to get started on a nice and memorable sexual encounter.
11. Dream Queen
This strain is a cross between two great strains, Space Queen and Blue Dream. It is a hybrid with Sativa dominance. With every hit, you get a euphoric sensation and a dreamy feeling just like the name suggests.
Dream Queen is a combination of scents and flavors. It's bubblegum and pineapple scented while the flavors range from hash, citrus and menthol. With a combination like this, one can never go wrong in matters of great sex.
What makes Dream Queen appear in the list of best weed for sex you ask? Well, this blunt is known to have the power to uplift your mood and get your creativity lifted to a whole new level.
What is good sex without a creative mind and top notch creative ways to keep you and your partner fully entertained, right?
12. Candy Jack
This strain gives one a euphoric and uplifting high. It gets you feeling creative and energetic. Candy Jack acts as a stress reliever and heightens your mood. With this, you are assured of a stress free sexual experience with your partner.
Candy Jack is a potent strain with an aroma that is sweet and citrus filled. It is a cross between two strains, Jack Herer, which is responsible for the focused and creative high and Skunk #1, which offers potent and aromatic citrusy fragrant.
Candy Jack is highly ranked and therefore listed among the best marijuana for sex.
13. Kryptonite
Kyptonite is a strain that is a 50/50 Indica and Sativa, respectively. It is a cross between The Medijuana and Amnesia Trance. This strain eases anxiety and pain without causing one to get sleepy unlike most Indica-dominant strains. It has a sweet flavor, which is sugary with a smell that's fruity and tropical.
It gives one a high that is very relaxed which eases the feeling of fear and embarrassment, making one ready and very alert for sex.
This strain can also be used as a pain reliever after a long busy day so if you have some aches and still want to get down with your partner, don't worry, Kryptonite has got you sorted.
14. Sour Grape
This is among the best weed for sex. This would be obvious, given the fact that it comes by crossing two strains that are also in this list, Sour Diesel and Granddaddy Purp.
Sour Grape strain has a calm and energizing effect that gets one relaxed and in the mood to hit it off with their partner.
Hitting too much of this strain causes sleepiness, leading to poor performance or none at all, so you'd want to be careful not to hit it excessively.
15. Mimosa
Mimosa is a cross between Clementine and Purple Punch strain. From such a combination, you can't get anything less of a perfect strain. This weed offers a blissful and energetic high, which is just what you need to keep you hard and going over the entire period of sex.
One is likely to develop a high appetite after hitting it so you better be equipped with munchies and lots of food. This also comes in handy as you'll regularly need to replace the massive energy spent on the hot and hard strokes shared between you and your partner.
This strain also helps ease chronic pain like arthritis and fibromyalgia so if you have any of these issues you can hit some Mimosa and enjoy those undisrupted, erotic and pleasurable moments without any worry.
The weed comes in orange, sour and earthy flavors, which could be exactly what you need to set that romantic and sexy mood and keep it going.
In your quest to get the best weed for sex, you might want to try out Mimosa and see how it'll work for you.
16. Strawberry Cough
Strawberry Cough is a powerfully effective and sweet strain that gives a heady high and emits a smoke that causes one to cough. It leads to easy arousal which exactly what you require in order to get that sexual act right.
It is the best weed for sex because it has an uplifting cerebral effect which will keep you active throughout the sex period and keep your spirit elevated towards ejaculation.
This strain also keeps you in a social and jovial mood so you are lest assured that the sex will not be boring.
The straining works well to help you overcome anxiety, nausea and fatigue for stress free moments of sex and that means you can put your focus on the main and common goal for you and your partner, which is multiple orgasms.
17. Blue Cheese
Blue Cheese is a cross between U.K Cheese (an original) and Blueberry male. It has a sweet fragrance of berries and a cheesy aftertaste.
If you are looking for some relieving moment then this is the strain to hit. It gets you in a relaxed and euphoric mood that you'd well appreciate especially when looking forward to having slow and calm sex.
This strain gets your mind into some sort of sedation such that you might not notice as time passes by, making it ideal for long lasting sex.
It helps in cooling down anxiety, depression, lack of appetite and sleeplessness. If you are experiencing any of those conditions then get yourself a roll of Blue Cheese and watch yourself transform into a star sexual matters.
Too much consumption may make you too sleepy so for perfect results during sex, don't smoke too much of it.
18. Three Kings Strain
The strain's name is inspired by the fact that it is as a result of crossing three best known types of weed which are, OG Kush, Sour Diesel and Headband, hence crowning this offspring as king among strains.
It has a sour and sharp aroma. The strain keeps one energetic, focused and in an uplifted mood. This is a great combination of feelings to have during sex, which is why it is found in the list of best weed for sex.
19. Pink Candy Strain
It is a sour-sweet strain with a pink lemonade taste. It has a calming and soothing effect. The strain also helps in relieving stress and pain, leaving you with a light head to concentrate on hitting maximum pleasure during sex.
20. Tangie
Tangie is the best marijuana for sex when you are looking to spice things up by getting your hands on something new like a different style or position from what you have already experienced before.
This strain helps you get those fantasies that you have been secretly harboring but were too shy to talk about, out of the closet.
It's the best weed for sex if you are not exactly into BDSM but tonight you just want some sexual activity with a high blood rush or an out-of-the-ordinary erotic feeling with your partner.
The strain is known to have traits, which are almost similar to Jillybean. The only difference is the origin. Jillybean is a hybrid while Tangie is sativa. Both will leave you feeling energetic, euphoric and very creative during lovemaking.
If your foreplay moments have always been accompanied by blushing, shyness and silly feelings then this is the strain for you. Hit some and see the difference.
If you are uncertain about what to consider when choosing the utter best weed for sex then here are a few hints:
Go for a strain that has a high CBD, making sure that the CBD ratio equals the ratio of THC, if you are looking for a strain to get your mood high and keep you energized for a nightlong fun.

When you want to get out of comfort zone during sex and get a confidence boost then a strain like Granddaddy Purple, Blue Dream or Trainwreck.

If you want to increase your body sensitivity to your partner's touch go for strains like Bubblegum Kush, Sour Diesel or Jellybean.

Use the trial and error method. Different strains have different effects on people For this reason, if you already have no idea what effect different strain have on you, you can try out one at a time then record what effect they had on you after sex. You can decide which one works best for you and choose to stick to using it.
Final Thoughts
Well, do you still ask, which is the best cannabis for sex? After looking at the 20 strains for sex, one thing stands out; there's a strain for everyone. In other words, as you continue to explore, you will finally find a strain that gives you the energy, creativity, and the leaves the two of you to enjoy and mourn the whole night. In addition, this list of the best marijuana for sex, gives you everything you need to satisfy your boiling sexual fantasies. Do not look any further.
The list gives you the liberty to choose, which strain you want to use depending on your current need because as you have realized by now, weed effect ranges from relieving stress, pain, getting one energized, boosting confidence and much more.
So all you have to do now is go out there, get the strain that works for you, then get back and get down to achieving sexual pleasure to the maximum. It doesn't matter whether you have a partner to enjoy that with or whether you are alone, as stated earlier, there is a strain for all your sexual needs.