Indica/Sativa:

Mostly Indica

Yield:

Average Yield

Climate:
THC level:

21 - 23%

Effect:

Alert

Taste:

Chocolate,Citrus
---
Why amsterdam marijuana seeds?
Guaranteed delivery
High quality seeds since '96
Free worldwide shipping
Excellent customer service and reviews
Thai Skunk Regular Seeds
Dream away with Thai Skunk. Imagine you are on a white sandy beach in Koh Phi Phi, lighting up some Thai marijuana. This must be a true Thai experience. AMS crossed the world-famous Thai strain with the Dutch champ Skunk1. The smoke from this plant is exceptional in taste and high. Grow your own Thai herb garden and start enjoying the flavor of Thailand.
THAI: MOTHER OF MANY STRAINS
Thai weed became the mother of many adaptations. The original Thai Skunk has given birth to many strains we see in today's market: Cannabis Cup winner Amnesia, Juicy Fruit, and the old-time favorite Haze are all descendants. Thai cannabis is often referred to as an individual strain, although groups of marijuana from the same region are also marked as Thai as well.
Interestingly, the regular Thai Skunk strain has loads of potential and it won't shock us when we see our master breeder, Relaximo coming smiling as he always does when he introduces a new beauty to the collection. With his expertise and the potential of the lovely Thai weed seeds, something could be cooking.
FAMOUS STRAIN ALL OVER THE WORLD
This pot plant was popular in the 60s and 70s when the South Asian cannabis trade to the Americas was more common. Sometimes we hear that the original Thai is no longer available, as decades of hybridization and trade have altered the gene pools of many landrace and heirloom strains. Try the purple Thai strain of AMS which has been selected and improved on by our master breeders.
We can bet that AMS has done our level best to ensure that the Thai Skunk seeds maintain the original characteristics of Thai, despite the fact that the comparisons are impossible for now as she is non-existent.
THAI WEED: POWERFUL AND HEAD-CLEARING
In the early days, Thai weed was one of the most potent Sativa. Our Thai strain is crossed with Skunk1 and is, therefore, a hybrid. Its THC level averages around 20% making chocolate Thai weed a highly psychoactive competitor to the more modern plants. The head high is focused and gives lots of energy. Powerful yet calming, with a strong sense of euphoria and head-clearing effects.
There literally isn't any better time of the day to take this beauty that comes from the AMS Thai weed seeds. Being a hybrid, you may take her during the day time or night time, specifically if you are a night shift person, and all in all, you will benefit from her full potential – unclogging your mind with proper clarity and attentiveness.
STRAIN FOR MODERATE GROWERS
Thai seed from AMS is easy to moderate to grow which is another advantage of our Thai seed in comparison with the original strain. The original Thai weed was a challenge for growers outside tropical climates, although greenhouses made it possible for experts (with lots of patience) to grow Thai marijuana. Our Thai strain seeds are suited for every climate, indoors and outdoors.
Don't get demotivated that you don't have experience spanning over decades or several years, as with the AMS Thai Skunk strain, you rest assured that the germination and growing are the easiest since our germination and grow guides mean just that – solving the mental trauma that would otherwise come your way, especially if you are an absolute beginner or would like a growing refresher.
THC COVERED BUDS AND TYPICAL SCENT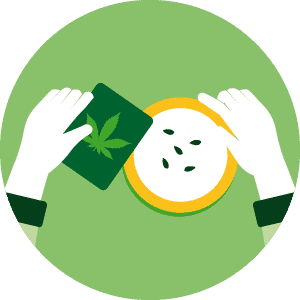 With Thai seed from Amsterdam Marijuana Seeds (AMS), you produce large THC-covered buds with a heavy Thai scent and flavor. Chocolate Thai weed, known for its distinct lemon scent and flavor, has a woody touch and spices present in the aroma. That's something to look forward to when you start planting your Thai strain seeds. Order them now at AMS because Dutch high quality is all you get.
AMS CELEBRATES 20TH BIRTHDAY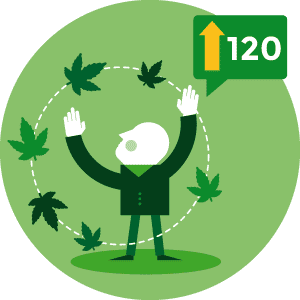 As one of the best Dutch seed banks for 20 years now, we can ensure you of the best cannabis seeds for affordable prices. Besides, we have the most complete range with more than 120 varieties of marijuana seeds and counting. We only work with the most experienced breeders from "the country of marijuana", who want to share their masterpieces with you.
DUTCH SEED BANK: QUALITY AND INNOVATION
Our Dutch breeders regularly let their creativity on the loose and develop new and unique species. If you think you've already found your favorite type of cannabis, take a look at our other seeds before you order. Next, to Thai seed, we sell classic seeds like White Widow and Big Bud. Our Lemon Ice and Pot of Gold seeds are some of the homemade seeds you need to try.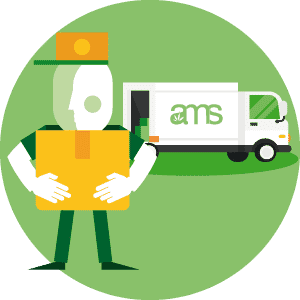 AMS stands for excellence, service, and reliability. We offer secure payment, stealth shipping and guaranteed delivery of your Thai strain seeds. Our packages do not state any marijuana-related content, so your order's totally anonymous. You'll receive your Thai seed in great shape. If not, we promise we'll take care of it. Because we know how delightful it is to, in the end, enjoy your own stick of fine Thai weed.
READ OUR CUSTOMER REVIEWS ONLINE
One of our customers confirmed we keep our promise on the independent review website Trustpilot: "Had a problem with germination, the supplier said that there was probably some damage during shipping. They have shipped replacements. Awesome response and follow up on my order. Can't wait to get started with the new shipment." At AMS, we are proud to receive reviews like this.
We undeniably wouldn't mind if you wrote such a ground-breaking review for us after we do our thing – delivering your Thai Skunk seeds to you. And no, don't think that we are on the lookout for great reviews at the expense of lower quality weed seeds. We strive to be the best, and in the case of inevitable circumstances such as damages during shipping, we strive to always ensure that we are all ears for each of our customers. AMS has got every customer's back.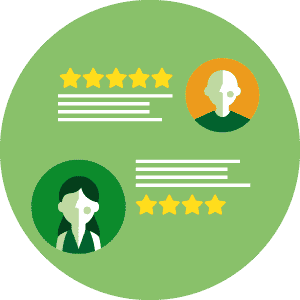 One customer let us know what he experienced smoking Thai weed: "Although it's been about 20 minutes, I feel like I keep getting higher and higher. I am a regular smoker and it takes a lot to impress me to the point that I want to write a review. Can't remember the time I was looking forward to getting chores done, this is a good morning."
THAI CANNABIS CHARACTERISTICS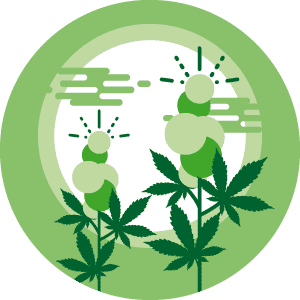 No matter where you grow Thai weed, indoors and outdoors, you can harvest up to 400 grams (14,1 ounce) per square meter. In greenhouses, its average height is 80 centimeters (31,5 inch) and while growing in a garden, Thai strain reaches out to 2,20 meters (86,6 inch). The best months to harvest are September and October. Thai marijuana takes 10 weeks to flower fully. Need some help growing your seeds? Check out our Grow Guide!
Need a replacement for coffee? Thai strain of Amsterdam Marijuana Seeds will provide an equal amount of energy without caffeine. This plant can be consumed in the morning or anytime when you need a mental boost. If you have any more questions about chocolate Thai weed, please just ask. If you fill out the contact form or send an email, we will respond within 24 hours.
ORDER THAI SKUNK ONLINE AT AMS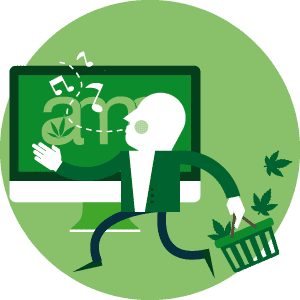 Convinced yet? Order Thai strain seeds now. If you sign up for our newsletter, we will keep you updated on all our crazy actions and discounts. For now, just go back to Koh Phi Phi. Dream away again and before you know it, there'll be some regular seed in your mailbox.
We have got at AMS more than 120 different kinds of marijuana seeds. Our Rainbow Kush is very popular, just like our range of cheap seeds.
| | |
| --- | --- |
| Yield | Average Yield |
| THC Level | 21 - 23% |
| Indica / Sativa | 60% / 40% |
| Height | Tall |
| Effects | Alert, Energetic, Euphoric, Relaxed |
| Flavor | Chocolate, Citrus, Skunky, Spicy, Woody |
| Flowering Time | 8 - 10 weeks |
Frequently asked questions
Yes, it is, and more! Our discrete shipping is standard without extra charges! We ship worldwide with guaranteed delivery. Shipments to Australia, New Zealand, and Tasmania must be insured to qualify for guaranteed delivery.
We accept credit cards, bank transfers, bitcoins/cryptocurrency, and all cash currencies. You can choose your payment method at checkout.
Yes, we are. We have been selling and shipping seeds worldwide since 1996. Don't just take our word for it; look at our fantastic reviews! With hundreds of
verified reviews
, and over 25 years of experience, you can rest assured that we are the right seed bank for you.
Of course, we have; our team of experts have combined their knowledge and experience into our
Grow Guide
. Learn everything you need to know about cultivating cannabis, from germination to harvest!
There are a lot, but the best way to start is to decide what you would like;
Indica dominant strains are for nighttime use and will help you to relax and ease your aches and pains.
Sativa dominant strains are better for daytime use, giving you uplifting feelings and a boost in creativity.
ric9r7

2021-02-18
my la fruita defendu was germinated in 30 hrs up in 4 days +++++ all :) ;) only in my dreams 6 of 6 4 of 4 with blueberry crisp ; nexxtt is thai/sknk gonna be a gr8tt yearrr 9 stars on a five star deck.. can't wait 2 try the freebies....
GreenMonkey

2020-08-21
All the seeds I've ever bought sprouted nicely and grew to great plants....