Rainbow Kush feminized seeds
Indica/Sativa:

Mostly Indica

Yield:

High Yield

Climate:

Cold
THC level:

15 - 20%

Effect:

Body-Stoned

Taste:

Coffee,Pine
---
Why amsterdam marijuana seeds?
Guaranteed delivery
High quality seeds since '96
Free worldwide shipping
Excellent customer service and reviews
Rainbow Kush feminized seeds
The origin of the Rainbow Kush is a bit of a mystery, it's the most colorful marijuana strain in appearance and history. The only thing we know for sure is that it's a mix between Master Kush, Hindu Kush, and Montel's Pride. But that's it! Some say the Rainbow Kush Plant was created by accident, while others believe they were bred specifically for their vibrant colors and relaxing effects.
Some claim that it has its roots in California, while the rumors in Amsterdam are that it was born and bred in the Netherlands. There might be some chauvinism in play here; who knows?
Whatever its origin may be, we can all agree that Rainbow kush is the most colorful strain around!
This mysterious strain, the amazing Rainbow Kush, has amassed great popularity among smokers looking for a unique experience and delicious flavor.
It has concurred the heart of many growers for its easy growth and high yields.
Our own Rainbow Kush Strain stays true to the original blend. The Amsterdam Marijuana Seeds hybrid has been cultivated with our premium and legendary Master Kush, making it one of our most popular cannabis seeds.
The effects of the Rainbow Kush feminized strain
The experienced effects of Rainbow Kush are deep relaxation, relief of anxiety, and lowering stress levels, making it a popular choice for those looking to wind down after a hard day.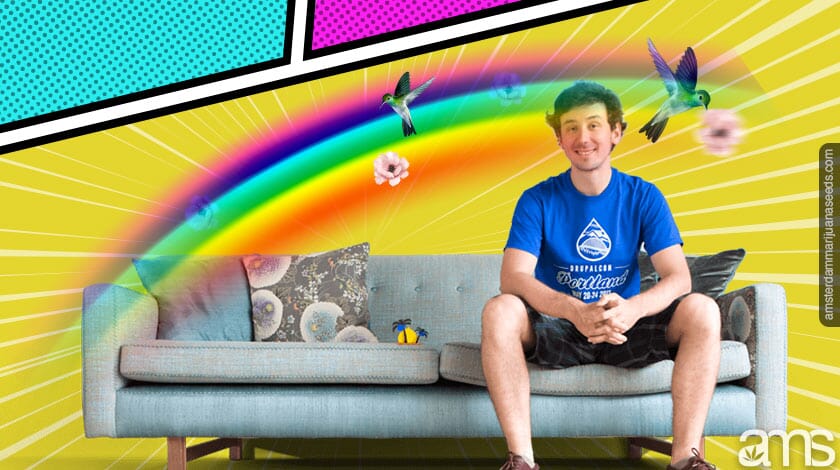 Some users have reported feeling euphoric and happy, more balanced, and at ease. A pleasant escape from hectic everyday life.
Rainbow Kush is also said to be very effective as pain relief for chronic pain patients. Making it a good choice to grow as medical marijuana.
In short, the most cited Rainbow Kush effects are providing relaxation, calmness, and happiness.
I'll take two of those, please!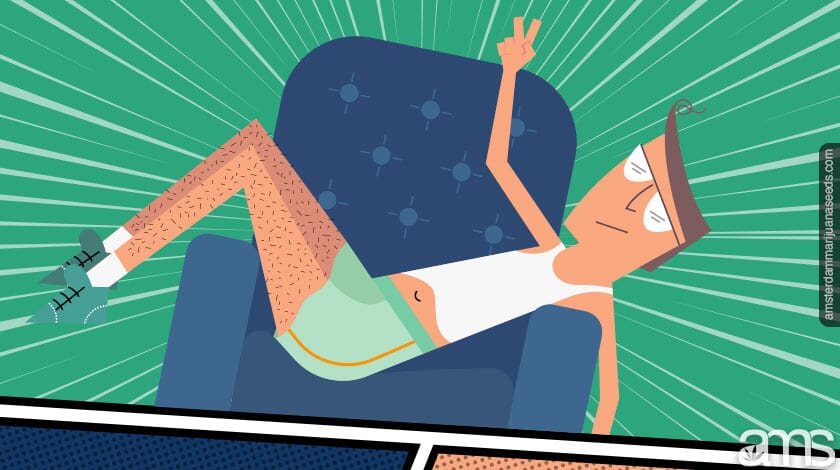 We also find Rainbow Kush Seed best for producing cannabis strains that can get consumed during the night hours.
This is all thanks to her Indica dominance, and as we know, the best-ever time to consume Indica pot is during the night hours.
If you'd instead value taking the best marijuana strains for daytime, then explore our entire Sativa category.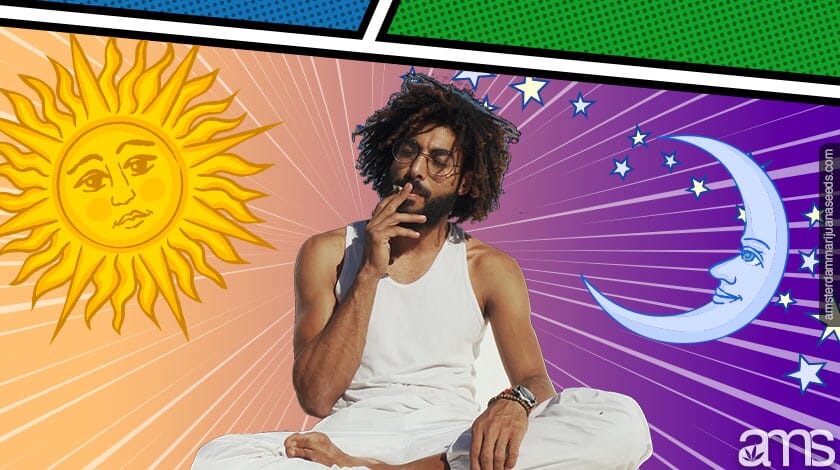 What does Rainbow Kush Feminized taste like?
Many people say they can taste the Rainbow; not sure what that tastes like, but we consider that a good thing.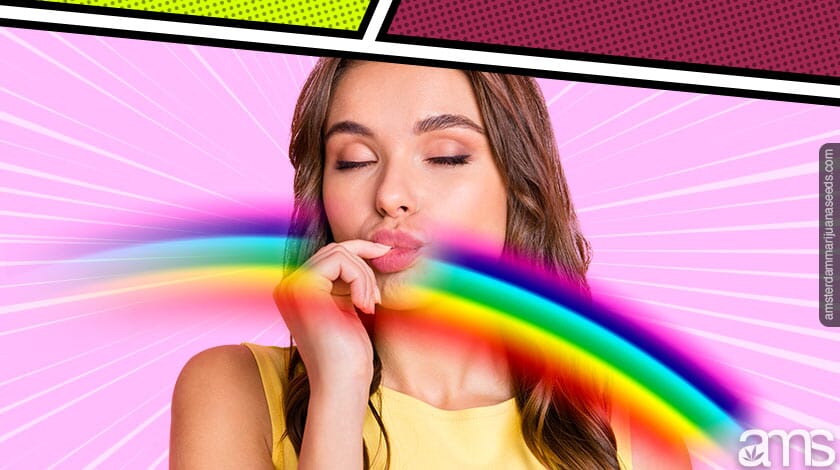 It's well-known to have a fruity taste with hints of citrus flavor.
Some say they can also taste the Kush, which is a significant factor in the Rainbow's high.
The Kush gives the Rainbow its strength, making it a potent strain.
Other frequently mentioned flavors are a pine taste, hints of mango, and a subtle coffee taste.
It is also said to have a sweet and floral flavor, with hints of both mango and pineapple.
The overall effect is a strain that is both delicious and incredibly powerful.
The plant has an amazing smell and tastes even better. Rainbow Kush is flavored with coffee and pine, leaving you with a rich, spicy aftertaste. Gourmet, gourmet!
It is the most colorful variety ever invented, and at AMS, we have supreme rainbow kush feminized seeds; we can not state that enough; you have to see it to believe it!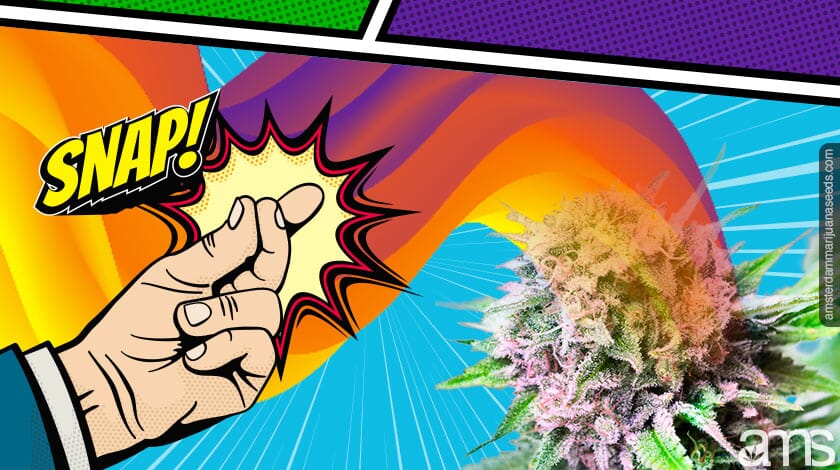 This strain has dense, colorful buds that match beautifully with the cannabis green coloring of its leaves.
The buds change during the plant's flowering period from purple to brown or blue-green, depending upon their pH level! Truly earning its title of a rainbow strain.
This mysterious plant can reach a height of 175 cm (6 ft), and the Rainbow Kush Produces a yield of up to 750 Grams (26.5 Ounces) per 1 m2 (11 ft2).
The THC levels are between 15% and 20%, a fairly common level for Indica Dominant Strains. These days we call it a moderately rich stain. How times have changed!
Our customers have used it to treat anxiety, chronic pain, stress, depression, fatigue, nausea, and muscle spasms. Making it an all-round Medicinal strain, too!
All in all, these characteristics, the easy growth, and the amazing flowering stage make Rainbow Kush perfect.
Loved by many experienced Dutch growers and desired by many international visitors in Amsterdam, creating a steady demand and supply for Amsterdam coffee shops all year round.
Lucky us!
We have a real-life and funny story to show you how proud we are of our beloved hybrid!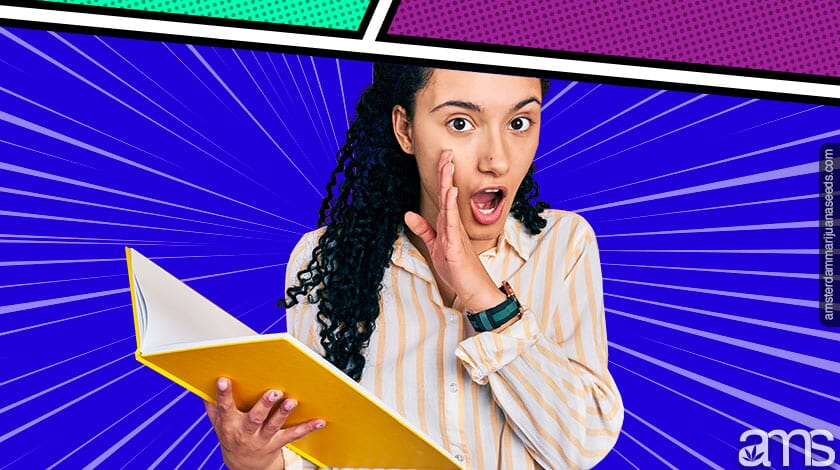 Once upon a time, a fine grower was looking for the best Rainbow Kush in the world.
He tried the kush seeds from several continents; he even looked somewhere over the Rainbow.
All the Rainbow Kush seeds he planted were different and not quite to his taste. Suddenly the grower discovered that he had forgotten all about Amsterdam.
Guess what?
He found his luck in the weed capital of the world, at our Seed bank; Amsterdam Marijuana Seeds.
We invited him to a Coffee shop from one of our regulars. Making sure he got some AMS Grade Rainbow colored buds for his smoke. Just like Coke says, we made him "taste the feeling." He was stunned!
Rainbow Kush has the flavor of coffee and pine, with a spicy aftertaste after smoking. When he eventually smoked the AMS Rainbow Kush for the first time, the grower immediately rolled another one.
"How on earth have I suffered in the hands of injustice, having tried many other seeds while looking for the ultimate Rainbow Kush strain, yet I kept getting a lot of crap?"
The grower found out that everything he heard at AMS about Rainbow Kush seeds is true: Rainbow Kush has characteristics found within the strain. The smell is amazing; the taste is even better.
We loved seeing him enjoying the smoke, drifting off in a state of profound relaxation as we know how effective Rainbow Kush smoke is!
At long last, we sent him off with a couple of 10 packs of our Rainbow weed seeds.
On the house! As his smile made it worth it for us!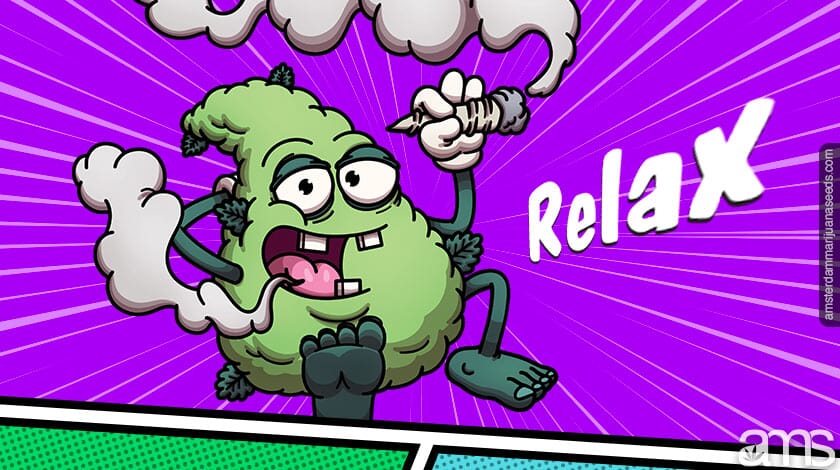 Growing Rainbow Kush Seeds
The seeds and the Rainbow Kush Plants are fairly easy to grow; they have stable genetics and an average flowering period of 8 to 9 weeks.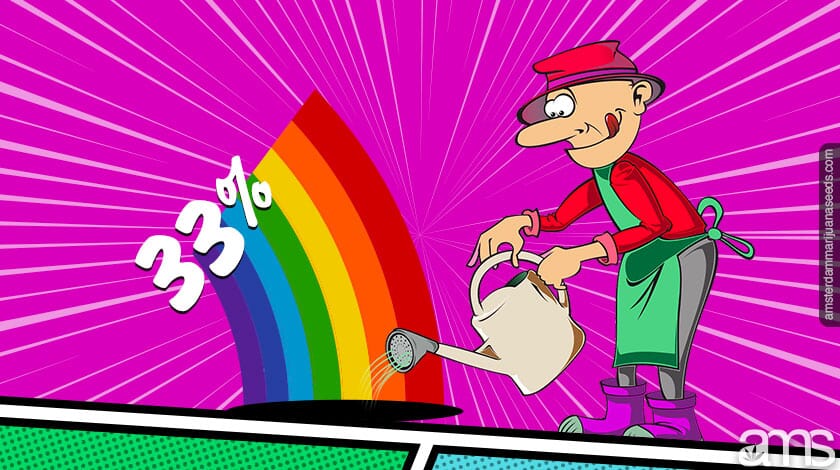 We recommend that you germinate via the paper towel method; we have written a step-by-step manual on how to use it.
The Regular and Feminized seeds are perfectly suited for indoor and outdoor cultivation; if you use the autoflowering variation, we advise that to be grown outdoors only.
This makes them a good choice for novice growers; we have made a detailed guide to help you grow a beautiful plant. From germination to curing, for free!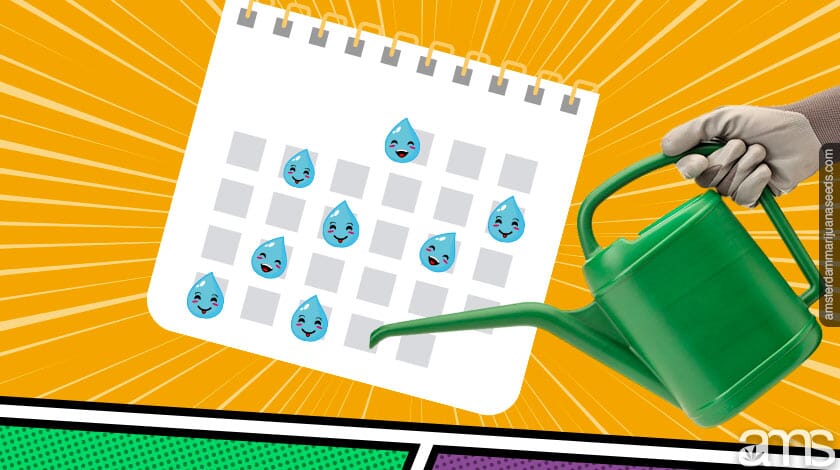 Amsterdam Marijuana Seeds, Rainbow Kush seeds
Today, rainbow kush seeds are praised for their rarity and are highly sought after by growers and smokers worldwide.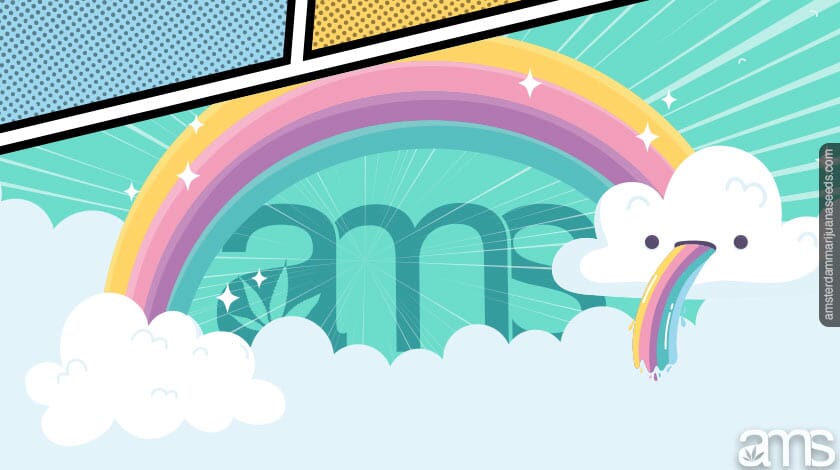 At Amsterdam Marijuana Seeds, we have cultivated premium Rainbow Kush Feminized Seeds, and while doing so, making this strain widely available to growers around the globe once more!
We have blended it with our AMS Improved Kush feminized seeds for potency and a higher yield while staying true to the legacy.
We dare to say that our blend is among the best rainbow kush seeds on the market today!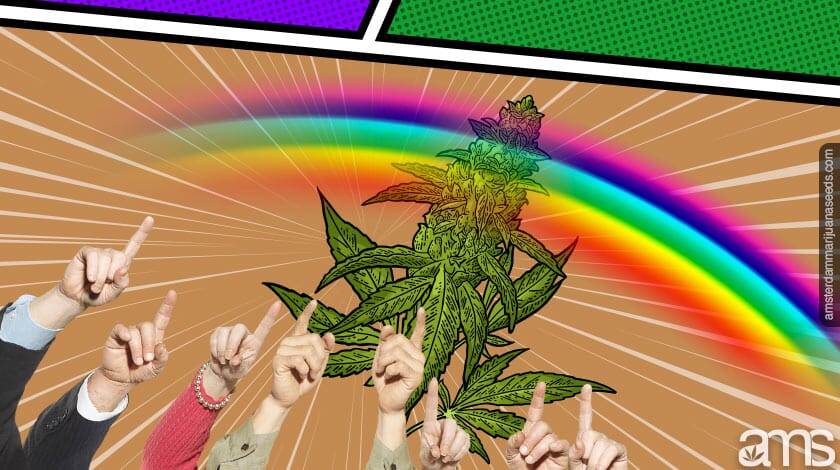 You can get it for a great price in our King Kush Combo, our seed pack with three variations of Kush seeds.
This will give you a chance also to try two of the other strains which have given life to the Rainbow Kush Seeds, our Premium Kush Feminized Seeds!
At Amsterdam Marijuana Seeds, we like to say that we are connoisseurs providing for connoisseurs.
We have been cultivating and curating cannabis seeds for over 25 years; we offer more than 120 cannabis strains for you currently and are developing new blends regularly.
Keeping our stock fresh and clean, or to misquote Andre300;
"Ain't nobody dope as we, I'm just so fresh, so green!"
We have several product lines; AMS Premium, AMS Xtreme, and of course, the classic cannabis seeds.
The Premium and Xtreme lines are our takes on the original strain. Making some improvements in stabilizing the genetics, shortening the flowering times, or sometimes just for a higher THC level.
But always with love and care!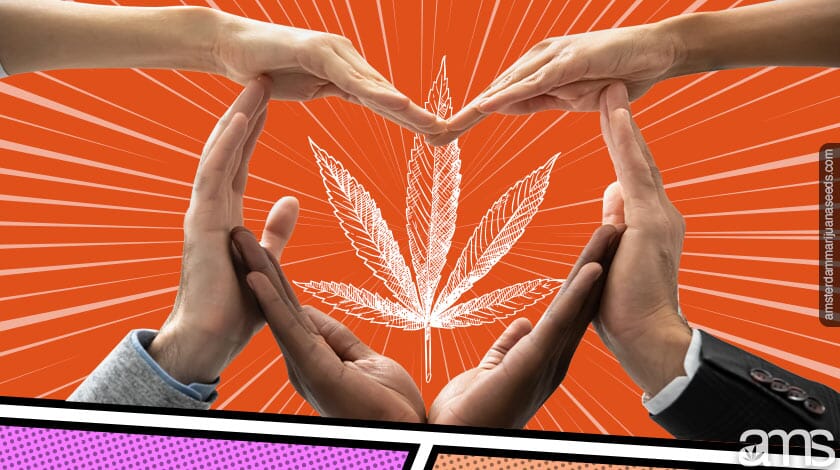 We show the same love and care to the community and to our customers, which shows in the number of loyal customers we have; some have been around since the beginning, which means a lot to us.
Do you have any questions about our Rainbow Kush seeds, your order, or the shipment, you can check our contact page. If your answer is not there yet, please get in touch with the customer support team, and we will do right by you!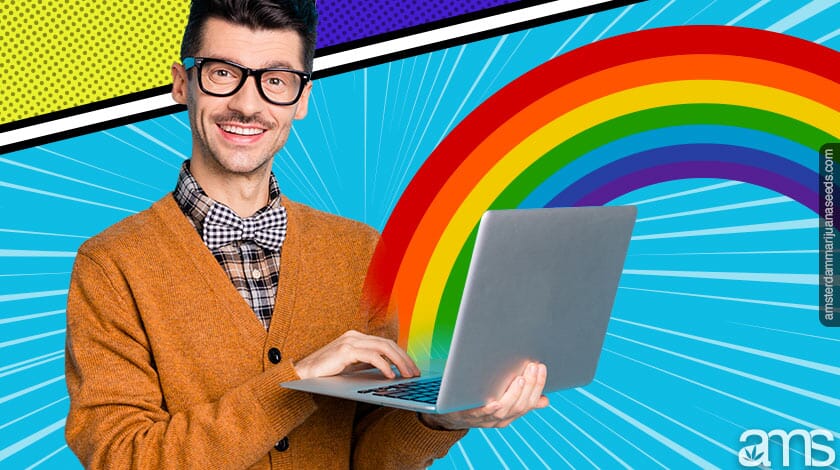 Want to stay up to date about our new strains, curious about our promotions, or want to read some great stories about the Amsterdam Cannabis Scene past and present?
Sign up for our newsletter and follow us on Facebook or Instagram #Amsterdammarijuanaseeds.
Please feel free to share your skills and results; it always makes us happy to see our little ones grow up!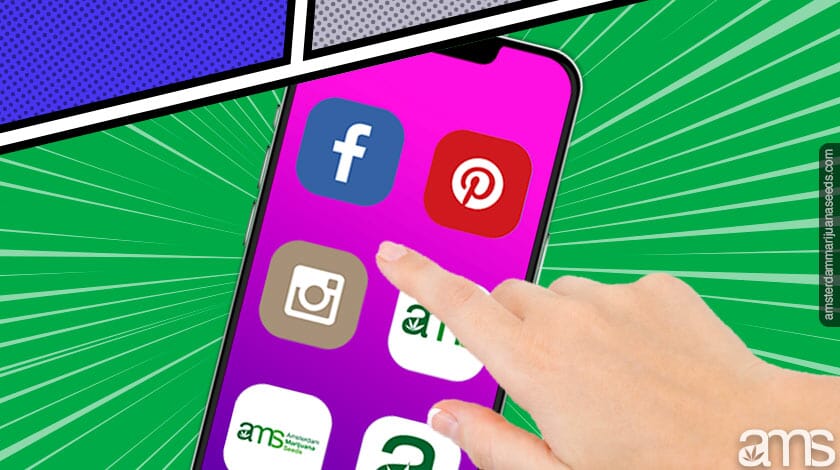 | | |
| --- | --- |
| Yield | High Yield |
| THC Level | 15 - 20% |
| Indica / Sativa | 85% / 15% |
| Height | Average |
| Effects | Body-Stoned, Pain Relief, Relaxed |
| Climate | Cold, Warm Dry |
| Flavor | Coffee, Pine, Spicy |
| Flowering Time | 8 - 9 weeks |
Frequently asked questions
Yes, it is, and more! Our discrete shipping is standard without extra charges! We ship worldwide with guaranteed delivery. Shipments to Australia, New Zealand, and Tasmania must be insured to qualify for guaranteed delivery.
We accept credit cards, bank transfers, bitcoins/cryptocurrency, and all cash currencies. You can choose your payment method at checkout.
Yes, we are. We have been selling and shipping seeds worldwide since 1996. Don't just take our word for it; look at our fantastic reviews! With hundreds of
verified reviews
, and over 25 years of experience, you can rest assured that we are the right seed bank for you.
Of course, we have; our team of experts have combined their knowledge and experience into our
Grow Guide
. Learn everything you need to know about cultivating cannabis, from germination to harvest!
There are a lot, but the best way to start is to decide what you would like;
Indica dominant strains are for nighttime use and will help you to relax and ease your aches and pains.
Sativa dominant strains are better for daytime use, giving you uplifting feelings and a boost in creativity.
Rainbow

2023-01-17
Extremely Frosty trichome covered that's how you dense heavy colas! ...
480pythons

2022-07-01
Some serious fire in these bought them years ago and never popped them. . (I'm in USA, Right next to California.... came prompt when shipped and 6 popped 4 keepers but could have been all 6, very consistent for fems...
Jayce ten

2021-04-28
Order plenary of times. Always delver always description perfect. ...
Richard hack

2021-03-22
Started easy fast growing geminatted in two days...
Jennifer

2021-02-16
Awesome service. Seeds arrived quickly. Some seeds are a little pricey but they carry some strains that no others have!! Rainbow Kush!!! Love this company. I had two seeds of white widow that did not pop. They promptly sent us 2 replacement seeds th...
No problem

2020-08-21
Great product , will purchase from here again+++++...
We found other products you might like!