With the cannabis industry being so fast growing, its no wonder that there are now countless innovations being carried out all throughout the community and some people have gotten super creative. One of these cool inventions is the Thai Stick, which consists of making use of four different weed products to create a funky looking blunt. While I have stated that these sticks are innovations, which they are, it is important to note that they are certainly not new. In fact, these creations have been around for centuries. Here's a little more about them:
Americans absolutly loved them
As I have already mentioned, Thai Sticks are an old, old creation. And they're from, you guessed it, Thailand. Nobody really knows exactly how old they are, but they have been around for an incredibly long time. They were introduced to the USA after the Vietnam War, when soldiers would come home packing them. Americans absolutely loved them due to the fact they were so strong, so strong that some people believed they had opium in them. This probably isn't true, and their potency is probably just down to the fact that they are made entirely from materials of the cannabis plant.
Wrap your creation tightly using hemp string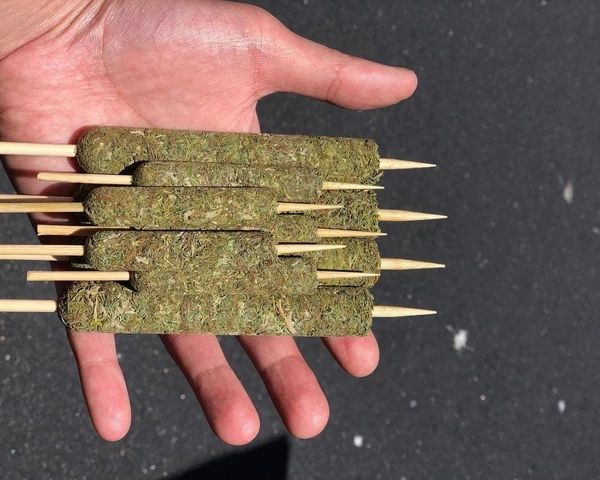 Thai Sticks are made up of hemp string, hash oil, bud (of course), and large fan leaves from a weed plant. To make your own, you will also need parchment paper and a wooden skewer. The wooden skewer is to be coated in a layer of hash oil, and your bud should be stuck to this because of the oil's stickiness. You should then wrap your creation tightly using hemp string, tying it at both ends.
After you've tied your string around your soon-to-be Thai Stick, you should wrap it in parchment paper and allow your creation to cool in the fridge for three days this is actually how you cure your Thai Stick, which is, essentially, the removal of all moisture from the stick to prevent rot and improve its flavor.
Remove the string before smoking!
When your three days are up, remove the hemp string from your Thai Stick, making sure not to remove the buds in the process and coat your creation once more with some hash oil, wrapping your fan leaves around it afterwards. You should then put even more hash oil onto your Thai Stick and wrap it in parchment paper once again, now its time to do a little cooking.
Put your blunt onto a hot place or in a saucepan for a couple of seconds, ensuring that it gets a heat but doesn't burn. You should then remove it from the paper, wrap it in hemp string again, put more paper around it and then leave it to cool again in the fridge for another three days.
Think the process is long and complicated yet? Well buckle up for some more. Traditional Thai Stick creators would bury their products underground for a month before smoking them, but you don't really need to do this if you're super impatient, remember though, remove the hemp string before smoking!
I hope that you love your Thai Stick(s), if you can be bothered to make your own.
Good luck!
Wanna make your own Thai sticks? buy our THAI SKUNK strain now!
---
Don't forget to leave a comment below