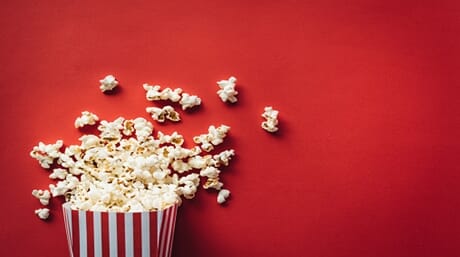 Stoning doesn't have to be boring. If you are rolling a joint or smoking one, you have all it takes to make that session an out-of-this-world experience. If only you know exactly what to do. For every joint, you should get a worthy stoned adventure. For many 420 faithful, getting the right adventure trigger might be simple as watching time drift away slowly, or watching nature do its thing. Marijuana on its own brings a pack of adrenaline rush and adventure that can sustain you till you finish your stash. But how about turning up the game a little bit?
Have you considered pairing your favorite strain with a motion picture that perfectly depicts the 420 culture? Combining your smoking experience with the right stoners' movie is a thrill you should indulge in. Don't miss it for anything. Make it part of you. Make it a hobby. A stoned talent! So, since the 420 family holds a strong bond, I have decided to help you out with my top stoners' movie. All you have to do is get one, get it playing and drift away with your favorite strain. Here are my best picks;
1. The Big Lebowski (1998)
Directors: Joel and Ethan Coen
Starring: Jeff Bridges, John Goodman, Julianne Moore, Steve Buscemi, David Huddleston, and John Turturro.
Conversation Highlight: "I'm the Dude. So that's what you call me. You know, that or, uh, His Dudeness, or uh, Duder, or El Duderino if you're not into the whole brevity thing."The Big Lebowski is an easy pick for this job. Not only do the stoning scenes get you grinning and learning, but you also get glued to the characters easily. At first, you think, 'oh, this is bad,' then with a flip of the coin, you go, 'Holy smokes! This is good!' So, an aging hippie introduces you to an adventurous lifestyle of smoking joints, bowling, and drinking white Russians. He does all these without holding down a job. His stoning adventure continues until some goons mess up his abode. The plot is perfect with the right strain. Don't expect too much plot sense, just flow with the marijuana movie.
2. Ted (2012)
Director: Seth MacFarlane
Starring: Mark Wahlberg, Mila Kunis, Seth MacFarlane, Joel McHale, and Giovanni Ribisi
Conversation Highlight: "I've found my car keys. What's going on? Is that a shit?"

Yes! Ted set a whole new bar for a stoners' movie. You just can't hate the plot. The story follows a miniature teddy bear, Ted, with life-like characters. Ted's best friend, John Benet, played by Mark Wahlberg, continually gets messed up by his bear. Ted is the classic stoner who wouldn't stop until he's introduced you to all the popular strains he's tried. You also get the most hysterical conversation between this two. Ted keeps the screen lively, smoking and trying to win a legal case about his right as a being.
3. This is the End (2013)
Director: Evan Goldberg, Seth Rogen
Starring: James Franco, Jonah Hill, Seth Rogen, Jay Baruchel, Danny McBride, Craig Robinson, Michael Cera, and Emma Watson
Conversation Highlight: "Hey, does this coke smell funny?"

'This is the End' introduces you to a different genre that many stoners' movies have not yet tried. It swiftly changes course, sliding you from one amazing moment to the other. The plot here follows a bunch of actors who would play 'themselves' and introduce you to a party that gets you faster into the mood. Prepare to meet Rihanna, latex, Emma Watson, booze, Craig Robinson, Kush, and Kevin Hart. Yeah, the mix-up is deliberate. Just prepare to get lost amid marijuana strains and people. This flick gives you an unending stoning adventure.
4. A Very Harold &Kumar 3D Christmas
Director: Todd Strauss-Schulson
Starring: John Cho, Kal Penn, Neil Patrick Harris, Danneel Harris, Paula Garcés, Danny Trejo, Amir Blumenfeld, and Thomas Lennon
Conversation Highlight: "I shot Santa Claus in the face. He's real, and I shot him in the face."

This flick off the Harold and Kumar franchise creators might be just the perfect stoners' movie you'd need for Christmas. Why? This movie skillfully marries the Yuletide atmosphere with weed. The weird storyline will introduce you to Santa himself blessing a fella with a cache of blunts. Just imagine how the conversation ended. For many, this movie passes easily as one of the best stoner comedies ever. It plays with your high as you watch, making you choose what's real between reality itself and hilarious depictions of 3D technology for many scenes.
5. Half Baked (1998)
Director: Tamra Davis
Starring: Dave Chappelle, Jim Breuer, Harland Williams, Guillermo Díaz, and Clarence Williams III
Conversation Highlight: "I never thought I'd say this to anybody, but you two smoke entirely too much reefer."

This 1988 stoners' comedy travels back through time to stray relevant every time. The picture follows a bunch of actors who are best described as 'weed pals.' They got into trouble with the law and, at the same time, with local drug dealers when they started growing their weed supply. Not only does this selection take you through the basics of trying to avoid the law while you are high, but you will also get to contribute to the storyline. It sucks you all in, making you wish the writers had explored your stoned suggestions as you watch. Prepare to meet notable members of the marijuana cult, including Snoop Dogg and Tommy Chong.
6. Friday (1995)
Director: F. Gary Gray
Starring: Ice Cube, Chris Tucker, Nia Long, Tom Lister Jr., John Witherspoon
Conversation Highlight: "I know you don't smoke weed, I know this, but I'm gonna get you high today, 'cause it's Friday, you ain't got no job, and you ain't got shit to do."

Ice Cube and Chris Tucker's classic act made this movie a worthy selection for this list. Friday takes you through the interesting life of many characters in the neighborhood and their weed history. The writing is another amazing trick, focusing not too much on a central plot by exploring many characters almost simultaneously. Ice and Chris try to pay their dealer about $200 for a drop. The struggles to get the job done introduces you to how the hood fair with weed.
7. How High
Director: Jesse Dylan
Starring: Method Man, Redman, Obba Babatundé, Lark Voorhies, and Mike Epps
Conversation Highlight: "I figure if I study high, take the test high, and get high scores!"

'How high' follows a weird story path, one that gets you many adventures. Silas and Jamal, played by Method Man and Redman, smoke marijuana that grows from the remains of their dead pal, Ivory, played by Check Dezzy. So, 'Ivory' became a big part of their life, helping them ace the THC exam and ending up in Harvard. While in Harvard, the pair struggled to maintain their grades as their supply of Ivory's weed diminished. So, what should a pair of stoned fellas do? You definitely couldn't imagine what was next. They got desperate and exhumed the remains of President John Quincy in an attempt to smoke his remains and get smart again. It gets you the right dose of humor and suspense that spice your weed journey.
8. The Pineapple Express
Director: David Gordon Green
Starring: Seth Rogen, James Franco, Gary Cole, Rosie Perez, and Danny McBride
Conversation Highlight: "This is like if that Blue Oyster shit met that Afghan Kush I had—and they had a baby. And then, meanwhile, that crazy Northern Light stuff I had and the Super Red Espresso Snowflake met and had a baby. And by some miracle, those two babies met and fucked—this would be the shit that they birthed."

Dale (Seth Roger), a process server, and his weed dealer, Saul, get caught up in real trouble when they witness a murder. Saul's supplier was the murderer, but this quickly changed. On leaving the crime scene, Dale and his dealer left a joint of the rare cannabis strain Pineapple Express at the crime scene. Things quickly turned sour as they tried to live a normal life after the murder. If you pick this movie, you will have a lot to contribute. It takes you high on suspense, intrigue, and a sharp investigative mindset.
9. Up In Smoke
Director: Lou Adler
Starring: Cheech Marin, Tommy Chong, Strother Martin, Edie Adams, and Stacy Keach
Conversation Highlight: "You mean we're smokin' dog shit, man?"

In Up in Smokes, Cheech and Chong (Richard "Cheech" Marin and Tommy Chong) will lead you by the hand on a stoned adventure. These central characters smoked giant blunts and took a step further by getting high on a joint of a Labrador retriever's poop! Well, you might not try the poop part, but they give enough triggers to get high on all fronts. The movie received mixed reactions as expected, but there is no denying the fact that it opened up many marijuana faithful to a world of many possibilities. They had multiple run-ins with the law and escaped unscathed every time. Of course, getting high gives you a few magical privileges. The conversations give multiple laughs that make you wonder why many comedy movies do not have a weed theme.
10. Super Troopers
Director: Jay Chandrasekhar
Starring: Jay Chandrasekhar, Kevin Heffernan, Steve Lemme, Paul Soter, Erik Stolhanske, Brian Cox, and Marisa Coughlan
Conversation Highlight: "The Snozzberries taste like Snozzberries."

How skilled are you in hiding your weed stash while driving through the rural highway? Maybe you need to watch Super Troopers to get more ideas. The central theme here follows a trail of passionate highway patrolmen who are serious about their job. They chase down drug dealers, mess around with stoners and even get into skirmishes with local cops. Yes, it was that hilarious. This selection might serve right as the lesson to sharpen your skills in weed concealment.
Bottom line
The idea is simple –you shouldn't get bored while smoking your favorite joint. Getting the right stoner's movie on your screen makes it easy to enjoy the marijuana adventure in its fullness. You simply follow your favorite character, try out new smoking skills or surrender yourself as weed drifts you peacefully into the action. No matter what you do, don't get bored while smoking that joint!