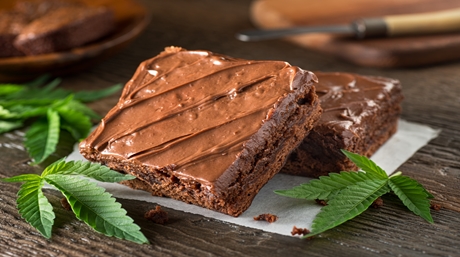 Making edibles is a discreet alternative to smoking which allows you to enjoy your favorite strains where smoking might not be convenient. They allow you to carry your cannabis around with you and not draw attention to it.
Another reason to make edibles is that you might want to have more control over what goes into your edibles. If you make them, you know exactly how they are made. You can control the potency of each dose. You can control every aspect of what goes into your special treats. 
But where to start? It can be confusing. Online, I have seen recipes for almost any food that you can think of. We've put together a list just for you. Here is a list of 6 unique cannabis edibles that you can easily make yourself. Read on to explore the world of edibles. 
Cannabis Butter
Cannabis Butter, or cannabutter, is one of the basic ingredients used in making edibles. To make cannabutter, you will need some basic ingredients and equipment. 
What You Will Need:
A Cup of Butter
A Cup of Coarsely Ground Cannabis 
A Cup of Water
A Crockpot or Baking Tray
Parchment Paper
A Saucepan or Stockpot
A Fine Mesh Strainer
Directions for Making Cannabutter
Decarb The Marijuana First:
Place your cannabis either in a crockpot or on a baking sheet; covered with parchment paper. The parchment paper will prevent your cannabis from sticking to the crockpot or baking sheet.
Preheat the oven to about 247 degrees F (approx. 119 degrees C). 
Place your crockpot or baking sheet into the oven. 
Set your timer for about 30 to 40 minutes. However, older cannabis strains may require less time.
Grind The Marijuana:
Let the cannabis cool a little, you don't want to burn yourself. 
Then, using a hand grinder, coarsely grind the marijuana you have decarbed. You want a coarse setting, as too fine of a grind can introduce off-flavors to your butter. 
Combining the Ingredients and Infusing:
Add the cup of butter to the cup of water in a saucepan or a stockpot.  
Melt the butter on low heat. 
Water is needed when melting butter because it helps keep the temperature regulated. This helps to stop your butter from scorching.
Add the ground marijuana once the butter has started melting.
Maintain a very low heat and simmer the contents in the pot for about 2 to 3 hours.
Make sure to stir the butter occasionally.
Keep an eye on the Butter. You do not want it to burn. 
Strain The Marijuana Butter
Once the butter has been infused, remove it from the heat.
Get a bowl or something to store it in
Pour the infusion out of the pot and through the strainer and into the bowl. Make sure that the holes in the strainer are smaller than the ground marijuana.
When the butter has been strained, put it in the fridge to harden. 
When it hardens, the excess water will separate from the butter. 
Remove the excess water and store your Cannabutter in the fridge. 
Cannabutter can last up to three weeks in the fridge if you store it properly. If you made a large batch, you can store it in the freezer for up to six months. Find out more on our blog post about cannabutter. 
Cannabis Oil
Cannabis oil is oil infused with cannabis. It is used for making edibles. It is useful as a substitute for oil in a recipe. Perhaps your recipe calls for Canola oil. You can easily substitute cannabis oil in order to make it edible. 
The process for making cannabis oil is very similar to how to make cannabutter, just substitute oil for the butter. You can use the recipe for cannabutter above and substitute oil in the place of butter. 
Cannabis Peanut Butter Protein Bars
When you are out on a hike or a bike ride, sometimes you need some protein. What do you do when you need your protein boost, but also want a good high? These cannabis peanut butter bars will deliver protein and a nice cannabis high. It's just what you need when you are out enjoying nature. 
Ingredients:
2 TBSP peanut butter
2 TBSP cannabutter, melted
1/4 cup honey
One scoop vanilla whey protein powder
Directions:
Melt peanut butter and butter in a microwave or double boiler.
Mix in the honey thoroughly.
Add protein powder and stir until able to form a ball. Roll up in a ball and kneed for a few seconds. Separate into even four even portions and roll into balls. Place in refrigerator until firm. Makes 4 servings.
The PB Bars are low carb and sugar-free but are a little high on the fat count.
Recipe adapted from http://culinarycannabis.org/potent-peanut-butter-protein-bars
Pot Brownies
Pot brownies are classic. It has to be up there as one of the most popular edibles around. If you like cake, chocolate, and weed, this dessert will probably be right up your alley. 
Cannabis, or pot, brownies are relatively easy to make. You can make them with a pre-packaged box recipe or you can make them from scratch. Either way, you will need to replace the 'fat' with either cannabutter or cannabis oil. Depending on how strong you want them, you can also do a mix of butter/cannabutter or oil/cannabis oil. 
Ingredients
1 stick (4 ounces/113 grams) butter
1/4 cup (57 grams) cannabutter
12-14 ounces (340 – 396 grams) baking chocolate, coarsely chopped
1 cup (213 grams) brown sugar (light brown)
3/4 cup (150 grams) granulated sugar
4 large eggs
1 1/2 teaspoons vanilla extract
3/4 cup (90 grams) all-purpose flour
A 9x13 inch baking pan
A bit of extra butter to grease the pan or cooking spray
Saucepan
Large mixing bowl
Wire rack for cooling
Directions:
Position your baking rack in the middle of the oven. Preheat to 350 degrees F (176 degrees C). Lightly butter or spray a 9-by-13-inch baking pan.
In a saucepan melt the butter and cannabutter (or cannabis oil) over very low heat. You do not want to scorch the butter, so keep an eye on it. It shouldn't take very long. 
When the butter has melted, add the chocolate and stir until it is just about melted. 
Add all of the sugar and stir thoroughly to combine. Remove the pan from the heat and set it aside to cool down a little.
The chocolate and sugar should melt from the residual heat in the pan. 
In a large bowl, whisk the eggs. Add the vanilla and whisk until combined. 
Make sure the chocolate has cooled down enough to be able to touch it. If the chocolate is too hot, it will scramble the eggs. When the chocolate has cooled down enough, whisk the chocolate into the eggs. 
Slowly mix the flour into the egg mixture until just combined. There should be no clumps of flour. Do not overmix the batter at this point. You will get a bad end result. The batter should be thick. 
Pour the batter into the greased baking pan. Put the pan on the center rack in the oven. Bake for about 20-25 minutes. The top should start to crack and become shiny. 
Remove the brownies from the oven and cool completely before cutting. A wire rack makes this job easier.
You should check out our blog post on these pot brownies. 
Cannabis Cinnamon Crescent Rolls
This is my own little morning "wake me up". For this, you will need to have cannabutter on hand. When these come out of the oven on a chilly morning, the world just seems a bit less cold and a lot happier. These cannabis cinnamon crescent rolls are easy to make and taste great. You can always make these from scratch, but I am trying to make this as easy as possible. For that reason, you will need store-bought crescent rolls. 
Ingredients:
1 package of frozen, store-bought crescent rolls
Enough cannabutter to cover the inside of the crescent rolls with a thin layer of cannabutter – approximately 4 tsp. But hey it's your call here. If you want more, go with more. Just remember that if it melts and runs out of the roll, it's wasted weed. ☺
1 TBSP of ground cinnamon*
1-2 TBSP of brown sugar*
A baking sheet
* Adjust to your personal taste
Directions:
For baking the crescent rolls, follow the directions on the back of the package, with a few added steps. 
Heat oven to 375°F. 
Mix together brown sugar and cinnamon.
Separate dough into triangles.
Lay out the triangles on the sheet and spread a layer of cannabutter on the inside of the triangles.
Sprinkle enough of the cinnamon and sugar mix to coat the inside of the roll. 
Roll up each loosely, starting at the shortest side of the triangle, rolling to the opposite point. Place rolls on ungreased cookie sheets; curve into a crescent shape.
Bake at 375°F. for 11 to 13 minutes or until golden brown. 
Serve warm.
Cannabis Caprese Salad
Caprese Salads are a light and delicious item to enjoy on a summer day. With this easy recipe, you can make a Cannabis Caprese Salad which will turn your summer day into pure pleasure. 
Ingredients:
3 medium-sized Roma, Plum, or San Marzano tomatoes
1 package of fresh mozzarella cheese
1/2 cup of fresh basil leaves
1/4 cup of Cannabis Oil – it is best to use an olive oil-based cannabis oil for this recipe
2 ½ TBSP of Balsamic Vinegar
Salt and Pepper to taste
Directions:
Wash the tomatoes and basil leaves.
When dry, Slice the tomatoes to desired thickness – approximately ¼ inch. 
Slice the cheese to the same thickness as the tomatoes.
Tear the basil into pieces.
Place the tomatoes, cheese, and basil on a serving plate. Alternate by placing a slice of tomato, then a slice of cheese, then basil. Arrange in small stacks or in a line. 
Drizzle the cannabis oil and vinegar over the salad. Salt and pepper to taste. 
Conclusion
Edibles are a great way to consume cannabis. There are countless recipes out there for edibles. In this post, we have covered six unique and easy recipes for edibles that you can make at home. We hope you enjoy making these. Remember to be creative with your edibles and have fun!