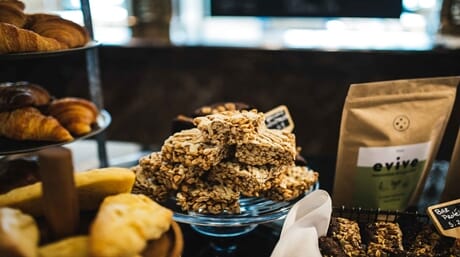 When you are out on a hike or a bike ride, sometimes you need some protein. So what do you do when you need your protein boost but also want a good high? These cannabis peanut butter bars will deliver protein and an excellent cannabis high. It is just what you need when you are out enjoying nature.
Ingredients
2 TBSP peanut butter
2 TBSP cannabutter, melted
1/4 cup honey
One scoop of vanilla whey protein powder
Directions
Melt peanut butter and butter in a microwave or double boiler.
Mix in the honey thoroughly.
Add protein powder and stir until able to form a ball. Roll up in a ball and kneed for a few seconds. Separate into even four even portions and roll into balls. Place in refrigerator until firm. Makes four servings.
The PB Bars are low-carb and sugar-free but are a little high on the fat count.
Recipe adapted fromhttp://culinarycannabis.org/potent-peanut-butter-protein-bars