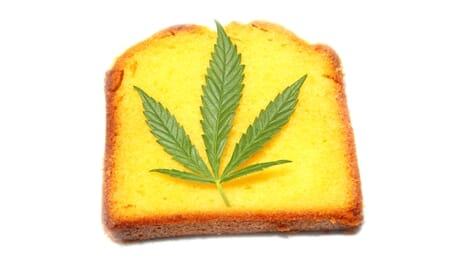 Spacecakes are one of those things that, if you're an avid cannabis user, you just have to try. They really are just as amazing as they sound, and although there are plenty of fantastic retailers around Amsterdam who excel in making these, it definitely is possible to make them at home too. Let's get into the recipe:
Ingredients
6 to 10 grams of your favorite weed, ground up
Butter (1 cup)
Milk (1 cup)
Flour (1.75 cups)
Sugar (1 cup)
Eggs (2)
Baking powder (1.75 teaspoons)
Salt (.5 of a teaspoon)
Whatever other ingredients you want to have in your cake! Sky's the limit (although I do recommend chocolate chips, cocoa powder, and buttercream)
Equipment
1 small bowl
1 oven-safe cake tin
1 oven-safe container
1 large mixing spoon
1 mixing bowl
A skewer
Lining paper, or non-stick spray
Instructions
First off, preheat your oven to around 110 °C before heating your weed inside your oven-safe container for approximately 40 minutes. When the 40 minutes are up, remove your weed from the oven and increase your oven temperature to 190 °C.
While your oven's heating up, place your butter in a bowl and microwave it until it's soft (this should only take about 15 seconds), and then mix your cannabis into it.
Add your sugar, flour, milk, and eggs to your cannabis butter (all ingredients should now be in the large mixing bowl) and mix them all together until they're a nice, thick consistency. This is also your opportunity to add any extra ingredients, such as chocolate chips.
Make sure that the tin you're using won't make your mixture stick by using either lining paper or a non-stick spray.
Pour your batter into your cake tin and leave it to cook for 25 minutes.
After 25 minutes have passed, remove your cake from the oven and stab it in its center with the skewer. If it comes out clean, your cake is ready – if it doesn't, put your cake back in for another few minutes.
Once your cake is baked you should allow it to cool in the tin for about 20 minutes before removing it, at which point you can decorate and divide it up any way you like.
Bon appetit!