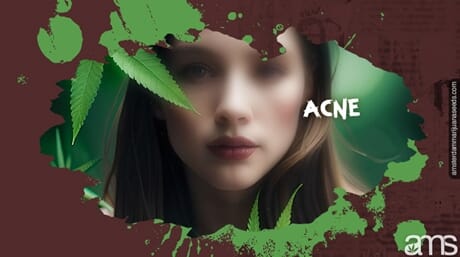 Acne Dermatological Diseases
Cannabidiol has been praised many times for its beneficial therapeutic properties. But does its effectiveness extend to dermatological conditions? How does CBD help with acne?
Due to its low likelihood of side effects, CBD may prove to be a relatively safe acne treatment, rightfully deserving of the attention of scientists.
Professor Attila Olah's 2014 paper, published in the Journal of Clinical Investigation, provides new evidence that CBD has the potential to treat acne. The study found that cannabidiol has lipostatic, anticancer and anti-inflammatory properties. The same study showed that CBD can stop the proliferation of sebocytes, the grease-producing cells of the sebaceous glands. CBD does not cause existing sebocytes to die off, but it significantly reduces their reproduction. CBD also reduces inflammation associated with acne due to its universal anti-inflammatory effect.
A 2016 report published in Experimental Dermatology complemented this research by analyzing the effects of other phytocannabinoids on acne.
Researchers found that phytocannabinoids such as CBD, CBC, CBDV and THCV may prove to be "new effective and safe agents against skin inflammation."
Another report indicated that patients applied a cream containing 3% cannabis seed extract twice a day for 12 weeks, and it markedly reduced sebum secretion and redness.
Lastly, a synthetic CBD formulation for external use (BTX 1503) showed promising results when tested on volunteers, and its effectiveness is now being tested in a randomized, double-blind clinical trial.
Disclaimer: This content is meant for educational purposes only. It has been compiled with research from external sources. it is not meant to substitute any medical or legal advice. Please see your local laws for the legality of cannabis use and make sure you are under medical professional supervision when applying this knowledge