Only %1 left
As low as
$35.00
Regular Price
$35.00
Caramelicious comes from a hybrid of 3 strains: Afghan Kush, Blue Black, and Maple Leaf Indica.
This delicious hybrid will give you big, sticky buds packed with resin. Some of the buds of this beauty are colored with purple and red Trichomes. 
The result is a sweet and earthy-smelling bud with a high THC content. Caramelicious is perfect for smokers looking for high THC levels and a long-lasting high.

The Effects of the AMS Caramelicious ® Marijuana Seeds
The effects of our Caramelicious strain are very positive, with many people reporting increased energy levels and a feeling of well-being.

So, if you're looking for an uplifting yet relaxing experience, the Caramelicious Cannabis strain might be perfect. Let your body and mind move to a place of relaxation.
Take a break and travel out of this world for a few hours. You deserve it!
The Taste of Sweet Caramel Flavor
The Taste of our Caramelicious Cannabis strain is, as its name suggests, sweet caramel. No Suprise there!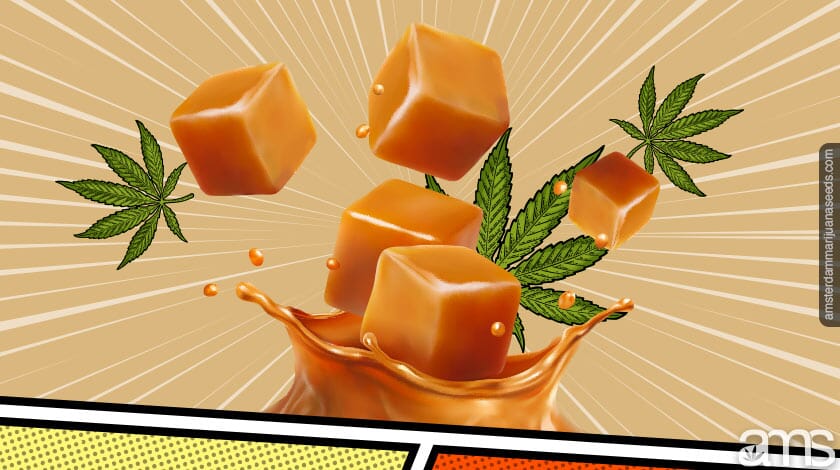 You can compare smoking it to your favorite candy; it is a real treat for the senses. Caramelicious will become your favorite post-dinner smoke!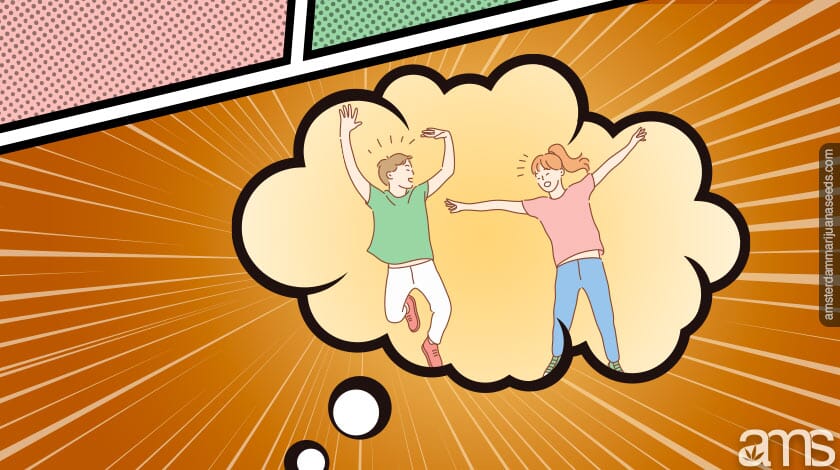 The Characteristics of Caramelicious
Our Caramelicious seeds are a hybrid of an Indica and a Sativa. It is Indica dominant at 65%, with whopping THC levels of 23% and more, and has a great CBD level too.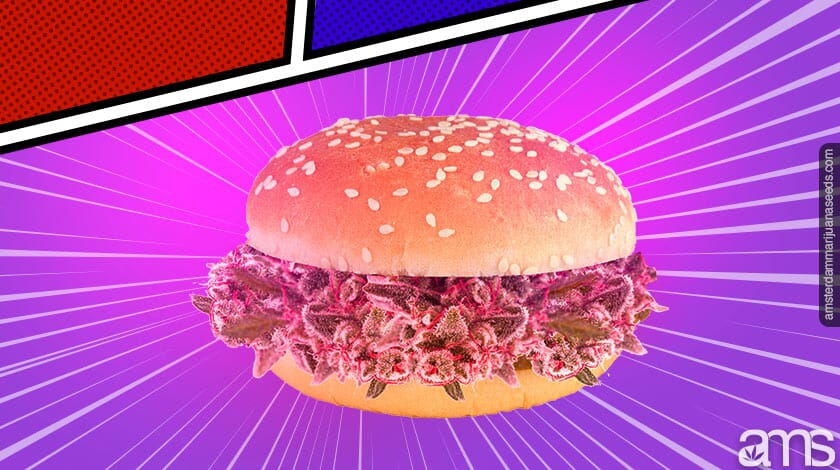 Giving you the Caramel Sticky buds and the body high we all know and love.
You can call the Caramelicious a well-versed all-rounder!
At the end of flowering time, it will give you a yield of up to 500 Grams (17.5 Ounces) per 1 m2 (11 ft2) if you grow it outdoors, in our experience, even up to 600 Grams (21 Ounces) per 1 m2 (11 ft2) if you grow it indoors with enough lighting watts.
Our Caramelicious seeds are also a great choice for first-time growers as the plants are not too tall and have good resistance to pests and mold. All in all a fairly easy grow.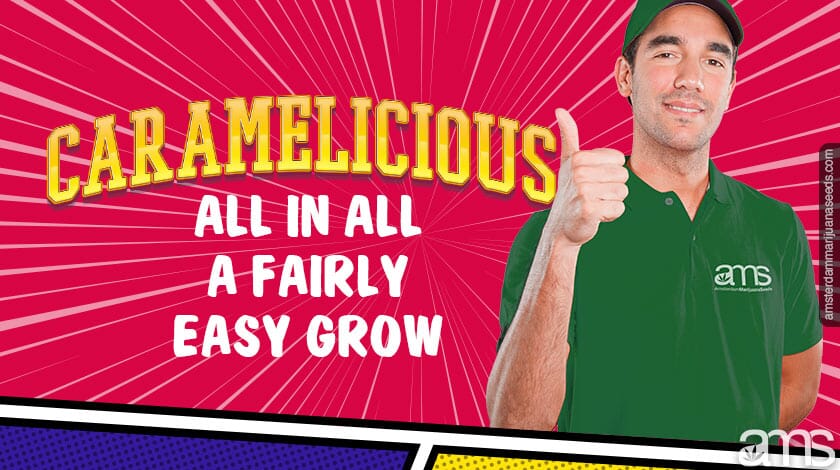 The average flowering time is 8 to 10 weeks, during which the buds will show their true colors; gorgeous red Trichomes and highlights of purple.
Our Caramelicious has a relaxing high but can be intense, so it's best enjoyed in the evening or at night. Remember, it's your favorite after-dinner smoke, not before!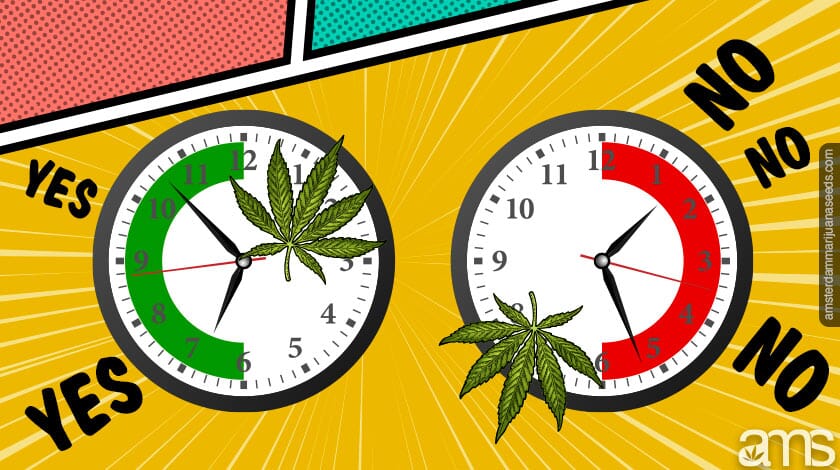 Why Caramelicious Feminized Seeds are ideal for first-time growers
Well first and foremost, these Caramelicious Seeds are an easy-growing variety, making them a perfect plant for beginners! We have many who have had great success; you can read the reviews at the bottom of this page.
Our Caramelicious Seeds will grow into strong and healthy plants; remember, we have been curating this quality strain for over 15 years, so it's stable and strong and will produce for you a great yield of dense and resinous buds.
Not to mention, the taste and smell of Caramelicious are like freshly baked caramel cookies with hints of chocolate, making it a real treat for the senses.
Although Caramelicious feminized seeds are Indica-dominant, the growth characteristics are similar to Sativa-dominant strains. Do you need help growing? We will guide you from seeds to harvest step by step in our title= "marijuana grow guide" grow guide!
Conclusion
Not sure if you have noticed, but we are fond of the Caramelicious, and for obvious reasons;
It's very potent, has high THC and CBD levels, and is packed with flavor.
As we said, it's a favorite after-dinner smoke. Skip dessert, and go straight for the Caramelicious. It has fewer calories, too!
You won't have to wait too long to get sticky fingers trimming these buds since it has an average flower time. It's also easy to grow, so suited for beginner growers, too.
At Amsterdam Marijuana Seeds a title= "Amsterdam Marijuana Seeds" , one of the very few original Seed Banks that still is based in Amsterdam, we have our roots here so deep that we shall not be moved.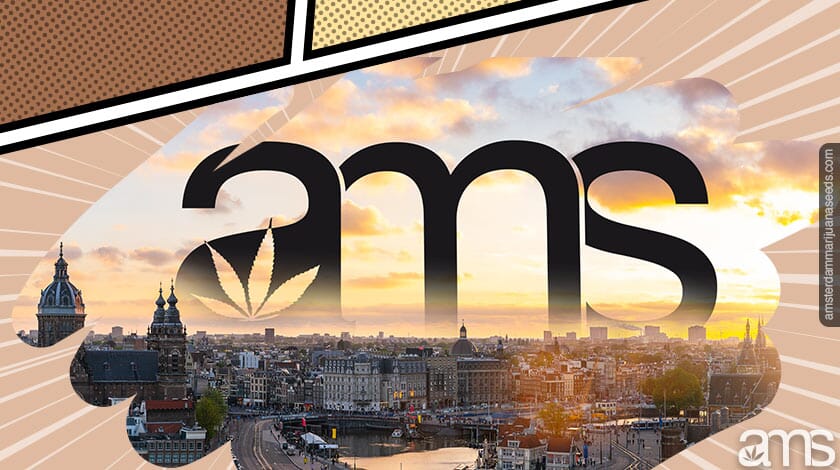 For over 25 years, we have been breeding and producing cannabis seeds and will continue to do so for 25 years more!
Order your Caramelicious seeds now and start growing your Caramelicious seeds today!
You won't be disappointed when you light this one up.
More Information

| | |
| --- | --- |
| THC Level | Up to 21% |
| Indica / Sativa | 65% / 35% |
| Yield indoor | Up to 450 grams / 15.9 ounces per sq meter |
| Height indoor | Up to 70 cm / 27.6 inch |
| Grow difficulty | Easy |
| Seed Type | Indica |
| Effects | Social, Uplifting, Euphoric |
| Flavor | Sweet, Caramel |
| Plant size | Average |
| Flowering time | Average (8-12 weeks) |
| THC | Very High THC |
Frequently Bought Together
Customers Who Bought This Item Also Bought