Caramelicious ® Feminized Seeds
Indica/Sativa:

Mostly Indica

Yield:

Average Yield

Climate:

Mediterranean
THC level:

23% and up

Effect:

Euphoric

Taste:

Caramel,Sweet
---
Why amsterdam marijuana seeds?
Guaranteed delivery
High quality seeds since '96
Free worldwide shipping
Excellent customer service and reviews
Caramelicious ® Feminized Seeds
As another Dutch Finest, the Caramelicious was born and bred in the Low Lands. It was first created by Dutch growers, and it quickly became a popular strain among Amsterdam smokers.
Our Caramelicious feminized seeds are a delicious variety in our collection, and we have been spreading their sweet taste for more than 15 years, and are still growing great! Thanks to its unique flavor and potent effects, and big fat sticky buds, the AMS Caramelicious has become a staple in many people's cannabis collections.
So if you're ever feeling caramel-craving, be sure to give this beautiful plant a try. You won't be disappointed.
Our Caramelicious comes from a hybrid of 3 strains: Afghan Kush, Blue Black, and Maple Leaf Indica.
This delicious hybrid will give you big, sticky buds packed with resin. Some of the buds of this beauty are colored with purple and red Trichomes.
The result is a sweet and earthy-smelling bud with a high THC content. Caramelicious is perfect for smokers looking for high THC levels and a long-lasting high.

The Effects of the AMS Caramelicious ® Marijuana Seeds
The effects of our Caramelicious strain are very positive, with many people reporting increased energy levels and a feeling of well-being.

So, if you're looking for an uplifting yet relaxing experience, the Caramelicious Cannabis strain might be perfect. Let your body and mind move to a place of relaxation.
Take a break and travel out of this world for a few hours. You deserve it!
The Taste of Sweet Caramel Flavor
The Taste of our Caramelicious Cannabis strain is, as its name suggests, sweet caramel. No Suprise there!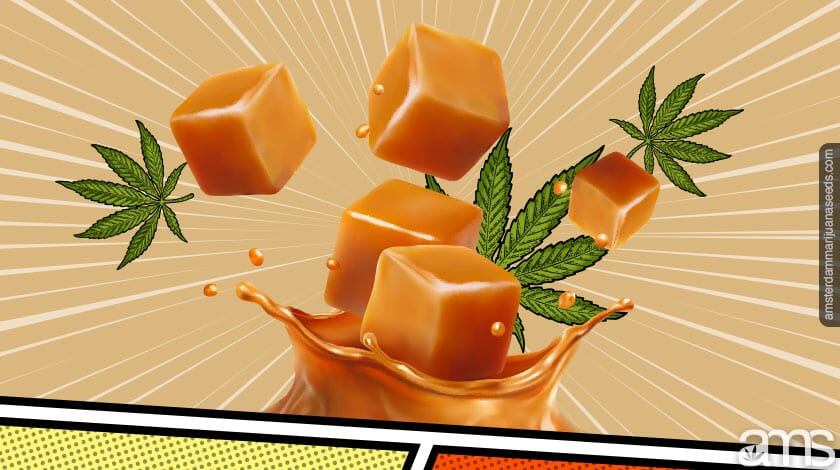 You can compare smoking it to your favorite candy; it is a real treat for the senses. Caramelicious will become your favorite post-dinner smoke!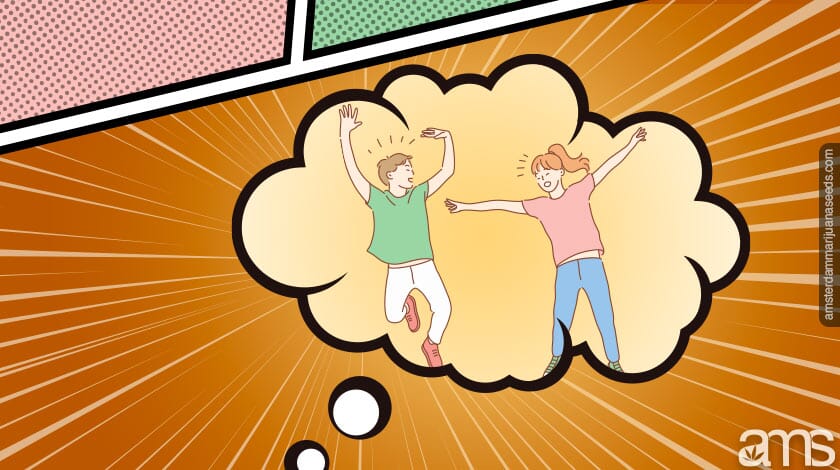 The Characteristics of Caramelicious
Our Caramelicious seeds are a hybrid of an Indica and a Sativa. It is Indica dominant at 65%, with whopping THC levels of 23% and more, and has a great CBD level too.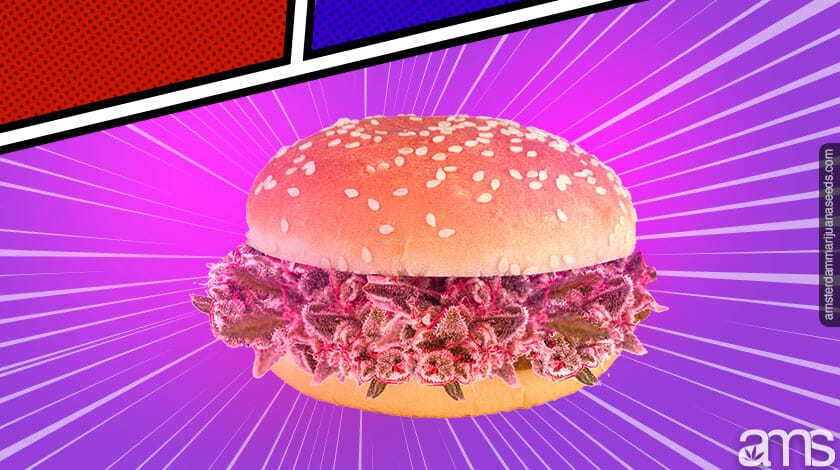 Giving you the Caramel Sticky buds and the body high we all know and love.
You can call the Caramelicious a well-versed all-rounder!
At the end of flowering time, it will give you a yield of up to 500 Grams (17.5 Ounces) per 1 m2 (11 ft2) if you grow it outdoors, in our experience, even up to 600 Grams (21 Ounces) per 1 m2 (11 ft2) if you grow it indoors with enough lighting watts.
Our Caramelicious seeds are also a great choice for first-time growers as the plants are not too tall and have good resistance to pests and mold. All in all a fairly easy grow.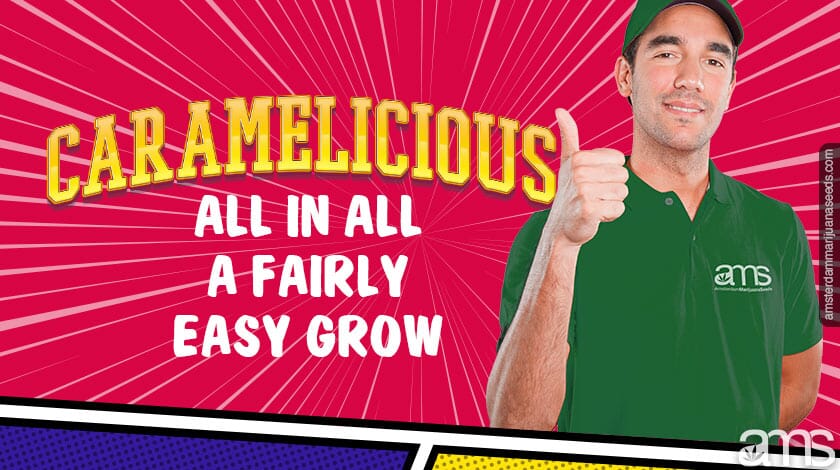 The average flowering time is 8 to 10 weeks, during which the buds will show their true colors; gorgeous red Trichomes and highlights of purple.
Our Caramelicious has a relaxing high but can be intense, so it's best enjoyed in the evening or at night. Remember, it's your favorite after-dinner smoke, not before!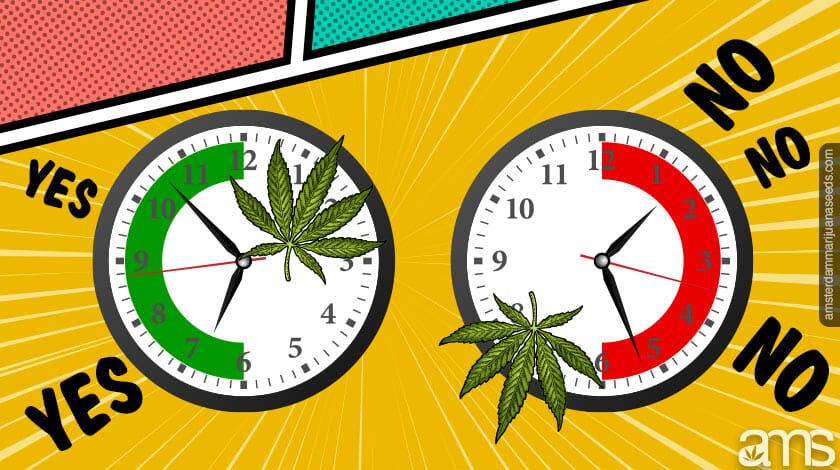 Why Caramelicious Feminized Seeds are ideal for first-time growers
Well first and foremost, these Caramelicious Seeds are an easy-growing variety, making them a perfect plant for beginners! We have many who have had great success; you can read the reviews at the bottom of this page.
Our Caramelicious Seeds will grow into strong and healthy plants; remember, we have been curating this quality strain for over 15 years, so it's stable and strong and will produce for you a great yield of dense and resinous buds.
Not to mention, the taste and smell of Caramelicious are like freshly baked caramel cookies with hints of chocolate, making it a real treat for the senses.
Although Caramelicious feminized seeds are Indica-dominant, the growth characteristics are similar to Sativa-dominant strains. Do you need help growing? We will guide you from seeds to harvest step by step in our title= "marijuana grow guide" grow guide!
Not sure if you have noticed, but we are fond of the Caramelicious, and for obvious reasons;
It's very potent, has high THC and CBD levels, and is packed with flavor.
As we said, it's a favorite after-dinner smoke. Skip dessert, and go straight for the Caramelicious. It has fewer calories, too!
You won't have to wait too long to get sticky fingers trimming these buds since it has an average flower time. It's also easy to grow, so suited for beginner growers, too.
At Amsterdam Marijuana Seeds a title= "Amsterdam Marijuana Seeds" , one of the very few original Seed Banks that still is based in Amsterdam, we have our roots here so deep that we shall not be moved.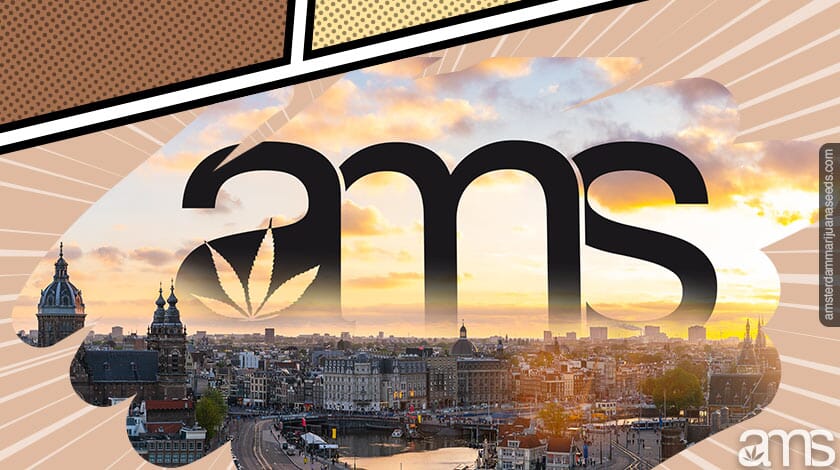 For over 25 years, we have been breeding and producing cannabis seeds and will continue to do so for 25 years more!
Order your Caramelicious seeds now and start growing your Caramelicious seeds today!
You won't be disappointed when you light this one up.
| | |
| --- | --- |
| Yield | Average Yield |
| THC Level | 23% and up |
| Indica / Sativa | 65% / 35% |
| Height | Tall |
| Effects | Euphoric, Social, Uplifting |
| Climate | Mediterranean, Temperate, Warm Dry |
| Flavor | Caramel, Sweet |
| Flowering Time | 8 - 10 weeks |
Frequently asked questions
Yes, it is, and more! Our discrete shipping is standard without extra charges! We ship worldwide with guaranteed delivery. Shipments to Australia, New Zealand, and Tasmania must be insured to qualify for guaranteed delivery.
We accept credit cards, bank transfers, bitcoins/cryptocurrency, and all cash currencies. You can choose your payment method at checkout.
Yes, we are. We have been selling and shipping seeds worldwide since 1996. Don't just take our word for it; look at our fantastic reviews! With hundreds of
verified reviews
, and over 25 years of experience, you can rest assured that we are the right seed bank for you.
Of course, we have; our team of experts have combined their knowledge and experience into our
Grow Guide
. Learn everything you need to know about cultivating cannabis, from germination to harvest!
There are a lot, but the best way to start is to decide what you would like;
Indica dominant strains are for nighttime use and will help you to relax and ease your aches and pains.
Sativa dominant strains are better for daytime use, giving you uplifting feelings and a boost in creativity.
Daniel

2022-06-07
Got the girls in and there growing great, no problems. All female and growing great thanks to the grow guide. Can't wait to taste the fruit of my labors!...
Ron

2022-03-13
Great results after all. Love the taste and effect. Highly recommend, smiling lol...
ROBIN

2022-03-12
These babies put out the sweetest dank ass buds,I put Alaska morBloom 0-10-10 on them at the end to make tight and put out twice the love. It's my secret weapon.......
Ky 33

2022-02-26
Grow this strain 2 years ago, lots of big frosty nugs. All seeds germinated, I was amazed how fast this strain grew and how much sticky, potent, bud it does produce. Easy grow, great results, tight nugs and very powerful. I'm ordering more Carme...
ROBIN

2022-02-02
These girls are taking off like a rocket beautiful very happy very discreet very fast 5 out of five germinated...
ROBIN

2022-01-28
These bad babies took off like a bad out of hell, as a slash amateur pro been growing for 30 years gorilla style in Florida swamps farms these girls are going to be real till I can tell, I've had them now for a month and they've already too...
Big Jihnny

2021-12-27
Hello
Myakka city Man

2021-12-19
Got my caramelicious seeds fast love how they got here fast, wait for them to sprout now! Give a shout out to Donnie Clark President Clinton pardon for conspiracy to grow! He did 12 years in Terre haute, Indiana!...
Tonya

2021-10-15
Love this strain! Quick to sprout, easy to grow, big beautiful buds!...
charley

2021-10-01
My second time of ordering caramelicious seeds. This cannabis is really happy stuff. It is a great sleep aid and is a very strong contributor to my good health. It is the strain that I will always order ever-after! Keep up the good work!...
J Hall

2021-08-20
Only about 4 weeks into flower outdoor but so far it's GORGEOUS! Can't wait to see her when she's done!! Also great seeds and service from AMS...
Melissa

2021-08-18
Caramelicious did awesome last year! Buds were big, plentiful, tasty and potent. ...
Satanic Bliss

2021-08-17
I had problem germinating my first batch but these guys replaced every single one of the seeds. Loyal customer here have already ordered 5-6 times already and will keep trusting these guys . Genetics of all the strains I got are super ...
Sandra Lamey

2021-03-18
We ordered and received Caramelicious seeds. Arrived quickly. Just growing them now. 4 out of 5 seed sprouted. So far they look great...
Ryan

2021-03-18
I live in the US and I got my seeds in exactly 3 weeks. I got three different strains, 5 seeds of each
AK-47 XTRM, Cheese and Caramelicious.
One of the cheese seeds were broke and two of the AK didn't germinate. But 12 out of 1...
David

2021-03-12
Good Caramelicious seeds - Fast shipment....
Richard

2021-03-01
Quoted 9-21 days for delivery. Received in 8 days. Mmmmm. I can smell the Caramelicious already....
anonymous

2021-03-01
First order lost in transit or the last stop it showed which was Customs in Chicago failed to send me a letter of confiscation however waited the period time allowed contacted ams and 7 days later I've got my beans in TX. 10 Caramelicious Fem an...
James

2021-02-18
Your seeds are practically germinated upon arrival !
38 for 40 = FANTASTIC !
AND.... the Caramelicioius is the same in 2016 as it was in 2010.
Love the 2 for 1 Promos.
I'm very impressed that you folks follow up and a...
kelly

2021-02-15
caramelicious great! service great! Suggestions: could price be lower?...
J.T.

2019-05-01
I like em strong and sweet,this is my perfect mix.
Easy to grow too. ...
We found other products you might like!