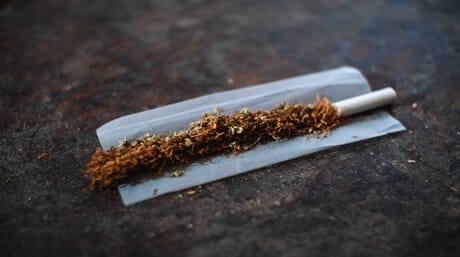 Get ready to explore the world of rolling papers like never before! In this article, we've handpicked the top 20 different types of rolling papers, each offering a unique smoking experience. Whether you're looking for slow burns, flavored options, or eco-friendly choices, we've got you covered. Join us as we dive deep into the world of rolling papers and help you find the perfect one that suits all your needs. Let's embark on this exciting journey and elevate your smoking sessions to new heights!
Rizla rolling papers 
Rizla is a household name among weed smokers. Since the 16th century, the family-owned company that eventually would become the Rizla brand has been producing quality rolling papers. Countless smokers have used their brand to roll joints and tobacco. Rizla is revered for its ability to produce high-quality rolling papers. Here is a brief breakdown of Rizla rolling papers:
Pros:
The rolling paper does not contain chlorine, so it produces perfect smoke.
The papers have a medium thickness, which makes rolling the joint easily.
Although they are of medium thickness, they leave small traces of ash when they burn, making them environment-friendly.
They are flavored with a licorice flavor to give the smoker a touch of class.
They occur in different varieties. The most common form of Rizla rolling papers are Oyster Pearl, blue, silver, Tattoo white paper, and Special Edition Tattoo Black.
Cons:
There have been complaints about the stack of papers being few.
RAW
RAW has withstood the cutthroat competition in the market to establish itself as the crème-de-la-crème brand in rolling papers. This brand is famous for its unrefined products, which give smokers the natural taste of the herb. Here is a scorecard of RAW rolling papers:
Pros:
They have a patented watermark to ensure that the joint burns evenly with a lower risk of runs.
The rolling paper is handcrafted with the highest level of precision to give the user a natural feel and taste of their herb.
RAW rolling papers do not have chlorine elements, and this makes them produce smooth smoke.
The papers are ultra-thin, which makes rolling the joint easily.
The paper burns slowly, leaving behind a minute amount of ash.
Cons:
Some buyers have raised complaints about the glue not sticking.
Juicy Jay flavored rolling papers 
Getting a flavored rolling paper in the market is not easy, save for Juicy Jay. The brand manufacturer of rolling papers infuses fruity (strawberry, apple, mint, blackberry, oranges, etc.) flavors to give the user an out-of-this-world experience. Since they occur in different shapes, users can choose the one that suits their needs.
Pros:
The whole rolling paper is flavored, giving the user a full experience
You cannot confuse the flavor in each paper since it comes with the name of the flavor written on it.
The rolling papers are made from natural products, making them environment-friendly.
The papers use a "triple-dipping" system to minimize harshness.
Cons:
Some buyers have raised concerns about the glue not sticking.
Shine 24K Gold rolling papers
Gold is associated with kings, and so are Shine rolling papers. This rolling paper is the exemplification of class. The gold layer used in this paper is food-grade; therefore, there is no cause for alarm. Here are some of the properties that make Shine produce the best papers for rolling joints:
Pros:
The gold used in the paper is food-grade.
The paper has a slow burn rate, allowing the user to experience the full euphoric effects of the herb.
The absence of chlorine in this gold sheet makes it produce smooth and environmentally friendly smoke.
Cons:
You must be extra careful to avoid peeling off the brittle gold coating.
Aleda Clear rolling papers
Aleda rolling papers are the epitome of temptation due to their transparent nature. Unlike colored rolling papers that might have harmful chemicals, Aleda is made from pure cellulose. Here are more outstanding features in Aleda rolling papers:
Pros:
The rolling papers are made using digestible ingredients made from food-grade materials.
The papers are thin enough to make rolling easy. Since they do not contain gum, you only need to lick lightly to have them stick together.
They do not contain any chlorine traces, making their smoke smoother.
Cons:
Some people have raised complaints, citing that the heat produced by the papers is very high.
Benji
You will feel like you are smoking money if you buy the Benji rolling papers. After all, these rolling papers get designed in such a way that they are like a $100 bill.
Pros:
Organic materials used in the manufacturing of the rolling papers
Slow burning of the materials
Cons:
Benji gets priced slightly above the average cost for rolling papers.
Smoking rolling papers 
The Smoking brand of herb rolling papers has been on the market since 1929. They have been producing rolling papers since then. According to their website, the company that produces them has been in operation since the late 1800s.
Pros:
Environmentally friendly products.
Different sizes to explore
Improved products over the time they have been in the business.
Cons:
Smoking brand's prices are on the higher side.
Big Bambu
Founded in 1764 in Spain, Big Bambu has upheld its mission – to always try to manufacture the best rolling papers on the market. Their rolling papers get manufactured using acacia gum, but with no additives.
Pros:
Generally considered being a good rolling paper.
The consistent improvement over the years.
Cons:
Big Bambu rolling papers are expensive.
Cyclones Clear pre-rolled cones
If you are a junkie for bright pre-rolled cones, Cyclones papers might have been custom-made for you. This state-of-the-art cone is flavored with blueberry or cherry to give you an outstanding experience. The transparent material also ensures that you can take a look at your herb as you smoke.
Pros:
The flavor used on the rolling papers gives you a chic feel.
Since Cyclones come pre-rolled, you can avoid the hassle of rolling to smoke your joint.
The cones burn slowly to allow you to experience the real taste of weed.
Cons:
Some users have raised complaints about the cones not being firm enough.
Bob Marley
Please don't tell us that you don't know this reggae legend. Well, Bob Marley, a reggae music icon, has different products named after him. These include a renowned cannabis strain and rolling papers. These rolling papers get manufactured in Spain using organic hemp.
Pros:
Slow burning
Easy rolling
Stellar packaging.
Cons:
Moisture makes the glue diminish its stickiness quickly.
Bugler
Since it was founded in 1932. Bugler rolling paper is arguably one of the top 3 in the United States.
Pros:
The company manufactures thinner papers; therefore, users find it convenient
The consistent improvement over time.
Cons:
Their prices are a bit high.
Elements
Elements is a stand-out brand of rolling paper. They are made from natural, earth-friendly materials.
Pros:
100% natural materials used in the manufacturing process (rice and sugar)
No ash gets produced when burning, except for the all-natural gum.
Cons:
Caramel gets created due to the sugar gum, which is a turn-off among some users.
Zig-Zag rolling papers 
Zig-Zag is a legend in the manufacture of rolling papers, having been in the business since 1879. The company uses natural plant flax fibers to manufacture its rolling papers, making them friendly to the environment. What makes the Zig-Zag the indisputable king of rolling papers? Let's have a look.
Pros:
The rolling papers are ultra-thin, making amateur smokers make their joints with ease.
They contain less paper flavor, making them friendly to use.
The papers contain 0% chlorine, making them safer for the environment.
Cons:
There have been complaints about some rolling papers lacking sticky gum.
Odet Cascadet Bollor'e (OCB)
Stats show that since its founding in 1822, OCB has sold more than 135 billion cigarette rolling papers.
Pros:
Chlorine-free products
Slow-burning speed
Watermark incorporated on the rolling paper to guarantee quality gets met.
Cons:
The slow-burning speed can irritate the more impatient connoisseurs.
Trip
Trip, as a brand, has been in the rolling paper game for years. These 100% natural papers burn slower and less harshly than some other clear papers.
Pros:
It is fantastic to fantasize about one's hit as they see it passing through the rolling paper
All-natural papers burn less harshly.
The ability to roll enormous amounts of weed.
Cons:
Some users have questioned whether or not they should be concerned with the safety of these papers.
High Hemp
The High Hemp rolling papers are the real deal for those who prefer going green. Today, they get recognized as the first rolling paper manufacturers.
Pros:
100% natural hemp matter used in the manufacturing process
Slow-burning of the paper
Preservation of the taste of the product getting consumed.
Cons:
Some potheads loathe the taste of natural hemp used in the rolling material.
Randy's paper
If you prefer uniqueness to anything else, then Randy's papers are manufactured so uniquely that it is overwhelming to try to find any other that meets their design.
Pros:
The paper has a wire handle to prevent the user from having their fingers burnt
Easy to roll the herb, thanks to a stainless steel wire.
Cons:
Some users report discomfort with the wire handle.
Blazy Susan
The pink Blazy Susan rolling papers not only have fantastic packaging, but the company also boasts an extensive community.
Pros:
A travel tube is included in the package
Vegan-friendly papers.
Cons:
The rolling papers cost a whopping 6 cents per paper, which is way above average.
Pure Hemp
It's all in the name. Pure Hemp rolling papers, materials produced by a top-tier Barcelonan brand (Miquel y Costas y Miquel), are pure.
Pros:
100% natural materials used in manufacturing these papers
African Acacia gum is used to enhance smokability.
Cons:
Some users loathe the stand-out taste of the acacia flavor in the rolling paper.
Wiz Khalifa
Wiz Khalifa rolling papers are named after the legend. RAW Rolling Papers partnered with multi-platinum award-winning rapper Wiz Khalifa to develop these papers. The packing is also unique, just like the rapper.
Pros:
Great value for money
High-quality
Ideal for traveling.
Cons:
Which materials can be used to make the best rolling papers?
Here is a list of sought-after materials used to make joints:
Flax
Flax is gaining a lot of popularity as far as the manufacture of rolling papers is concerned. It might appear silky but is also soft, making the rolling process easy.
Paper
Papers made from hemp and wood pulp make some of the best rolling papers in the market. They occur in different sizes and thicknesses to serve the huge demand.
Rice
Compressing rice gives some of the best rolling papers in the market. Rolling papers made from rice are thin and therefore recommended for maestros.
Although the market is awash with various rolling papers, the ones reviewed in this article have established themselves as the ultimate leaders. They are not only robust but also contain different flavors. Regardless of your taste and preference for rolling papers, you will never lack a rolling paper in the market.