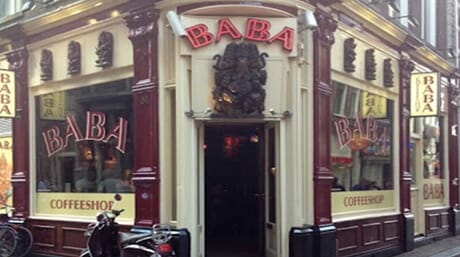 Location: Amsterdam West, 130 Barentszstraat
Score: ⭐⭐⭐⭐⭐
If you've been to Amsterdam in the past, you might recognize the name Baba. It used to be one of the most popular tourist coffee shops in the Red Light District. It's known for the many sculptures of Ganesh, the Hindu God of wisdom. 
Image courtesy of Amsterdam.info 
Old location on the corner of Warmoesstraat and Oudbrugsteeg
Alas, if you go to the old location, you'll see it's been closed. Or rather, they were forced to close in 2015  due to the city's policy to "clean up the Red Light District" by closing coffee shops and prostitution windows. In our opinion, they are taking away everything that makes the Red Light District special to turn it into some PG13 corporate bullshit, but that's another story.
As a result, Baba Coffeeshop has moved to its new location on Barentszstraat in the West of Amsterdam. This location change has drastically changed the coffee shop and its clientele. It went from being a very busy tourist hotspot to a chill and luxurious establishment that caters mostly to locals. In terms of prices and amenities, this has in our opinion improved the experience quite a bit. 
On the tables, you'll find Verdamper vaporizers, they look like electronic hookahs from the future, and they help you get the most THC out of your cannabis and into your system! 
We rate Baba ⭐⭐⭐⭐⭐ due to its friendly and knowledgeable service, relaxing upscale atmosphere, and high-quality bud.  There seems to be a consensus among visitors, Baba is clean, chill, and friendly. It's in stark contrast to some of the most touristy coffee shops, where one can feel rushed and crowded, and the decor and cleanliness leave much to be desired. Unlike those coffee shops, at Baba's, you'll also find a separate room for those who wish to mix their weed with tobacco. So if, like us, you like to smoke your joints pure and don't like the smell of cigarettes, Baba is a great option.
Here's a link to Baba's Coffeeshop menu. On the menu, you'll find such classics as Amnesia Haze, Wedding Cake, and a nice selection of Hash and Resin.
The weed here is some of the best in town, and the location is perfect if you're looking to get away from the hustle and bustle of the city center.
Once you've hit up Baba there are plenty of things to see in the area. 
If you're into architecture, take a nice stroll past the Silodam, one of the most unforgettable buildings in Amsterdam. 
Picture courtesy of Arquitectura Viva.
If you're feeling extra fancy, head over to Bak. A fine dining establishment with killer views of the IJ. 
Picture courtesy of Bak.
If you want to enjoy the views without spending a lot on food, head over to Openlught Atelier, for a nice snack and beer on the banks of the IJ. It's a cool place to chill on the grass, smoke some grass, and pet some dogs. 
Picture courtesy of Google Places.