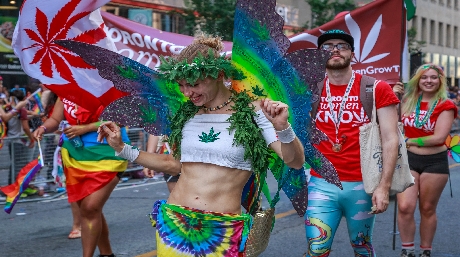 It is a new year so that means that there's a whole year full of cannabis events to look forward to. Now is the time to mark your calendar so that you don't miss the best cannabis gatherings, expos, and events. As the marijuana industry is booming more and more cannabis events are created. I guarantee there is one out there perfect for you. There are events for beginners that are just learning to grow and events for the most seasoned growers that enjoy sharing tricks of the trade. Whether you're into edibles, vaping, or dabbing, there will be an event somewhere just for you. Let's take a look at some of the best cannabis events happening this year around the world.
Start packing your suitcases because from February 17th-19th Canapa Mundi will take place in Rome, Italy. This cannabis fair will showcase the biodiversity of cannabis and how it can be an ingredient in diverse sectors. This means that you will get to experience how cannabis can be eaten, worn, used in construction, as a biofuel, just to name a few. Italian and foreign companies come together to provide workshops, consultations, information, and games.
Spannabis is Spain's biggest cannabis event
While you're in Europe you might as well head to Spannabis in Barcelona from March 10-12. Spannabis is Spain's biggest cannabis event. They've got international speakers to inform you on the latest cannabis information. Countries from all over the world come to showcase what they've got. This includes diverse products made from hemp. Exhibitors participating in this event are cultivators, chemical engineering and biotechnology firms, fiber processors, industrial packaging companies, biofuel researchers, nursery and greenhouse managers, paper manufacturers, clothing fiber manufacturers, and many more. Don't be bummed out if you can't make it during March to Spannabis as there will be another one in Madrid later this year on the 13th-15th October.
Israel has become a global leader in marijuana research, so it's no surprise that they would host CannaTech in Tel Aviv from March 20th-22nd. CannaTech unites the world's most diverse cannabis professionals for an opportunity to discuss medical cannabis and its advances. Expect 2 full days of "TED-style" presentations from world-renowned speakers known for their revolutionary contributions in the cannabis world. You'll be fully immersed, from content to design, in the world of medicinal marijuana.
From the 25th-26th March you can attend the CannaGrow Expo in Reno, Nevada. This is an educational expo dedicated to the art and science of growing marijuana. CannaGrow is perfect for cannabis growers and grow enthusiasts, dispensary owners, and grow managers to find out about new cultivation technology, techniques, and tools. There will be cultivation-focused educational sessions lead by renowned growers. You will have the opportunity to network with other cultivators from around the country while enjoying an expo hall full of useful cannabis tools and technology.