At Amsterdam Marijuana Seeds, we breed high-quality cannabis seeds. With more than 25 years in the business, we represent the best Amsterdam offers with only the best genetics. We have exclusive strains bred for specific characteristics, like high yield, high THC, and upgraded existing strains to make them stronger to make growing them as easy as possible. Bonus, we ship worldwide and discrete for free!
Read more
Marijuana seeds for sale online
f you want to grow your high-quality cannabis, you need to start with high-quality seeds. AMS has only the highest quality marijuana seeds for sale online, so you can be sure that your plants will be healthy and productive. We have a wide variety of strains and types you can choose from, such as feminized seeds, regular seeds, autoflowering seeds, Indica strains, Sativa strains and more. You'll be able to find the perfect match for your needs!
So whether you're looking for a hybrid strain that's optimized for high yields, or a landrace variety that's native to a particular region, we've got you covered. And because we believe in the power of this plant, we offer our seeds at a very competitive price. So buy your seeds online from AMS today and see the difference for yourself!
What do marijuana seeds look like?
Marijuana seeds are small, dark brown or black, and have a hard shell. They are typically oval or spherical and about the size of a pencil eraser. The surface of the seed may be smooth or have ridges or bumps.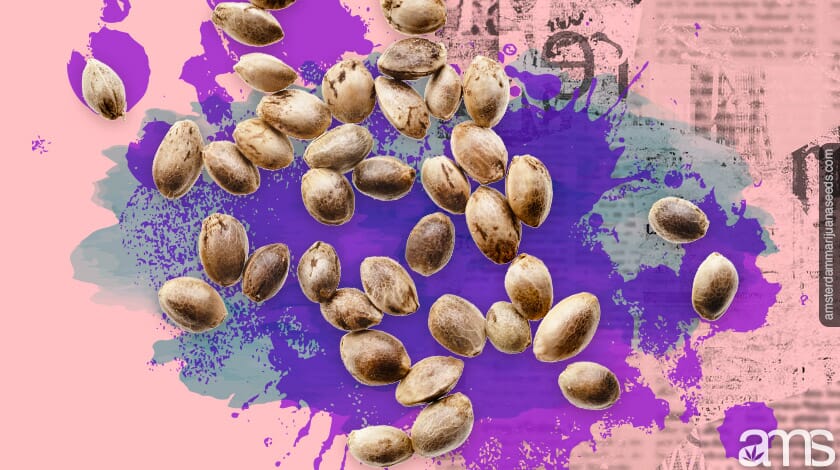 What are the benefits of marijuana seeds?
While marijuana seeds may not be as popular as other cannabis products, they offer many benefits.
You can grow them for your cannabis.
They are an excellent source of nutrients, packed with protein, fiber, and healthy fats, making them a great addition to any diet.
Marijuana seeds can also make various topical products, such as lotions and salves. These products can help to soothe muscle aches and pains, as well as reduce inflammation.
Is it legal to buy marijuana seeds?
The answer to this question depends on the country and state where you live. In most countries, it is illegal to grow or sell marijuana, but the laws regarding the possession of marijuana seeds are less clear. In some countries, such as the Netherlands, it is legal to buy and sell marijuana seeds, but it is still illegal to grow the plants. In other countries, such as the United States, the regulations vary per state. There are states where it is legal to buy marijuana seeds for collecting, but it is illegal to grow the plants. Other states allow the selling and growing of marijuana.
What do you need to grow marijuana seeds?
We have compiled a list of the necessities for growing cannabis;
High-quality cannabis seeds.
Grow location; This can be indoors or outdoors, but it's important to ensure that the location has enough light and ventilation.
Growing medium; Soil, coco, or hydroponics.
Basic equipment; Pots, hoses, pumps, fans.
With these things in place, you'll be ready to grow cannabis!
Can you grow marijuana seeds outdoor?
Yes, you can! Outdoor marijuana cultivation is a popular method for growing high-quality cannabis. Outdoor marijuana cultivation is often the preferred method for commercial growers. However, it is important to note that growing cannabis outdoors can be challenging, as the plants are vulnerable to inclement weather and pests. As such, growers must carefully select a suitable location and protect their plants from the elements.
Medical marijuana seeds
Medical marijuana seeds are becoming increasingly popular as more and more people learn about the medical benefits of cannabis. While there are many different strains of medical marijuana, they all share one important trait: they contain high levels of CBD or cannabidiol. CBD is a compound found in cannabis that has been shown to have medical benefits, including reducing inflammation, relieving pain, and reducing anxiety. Because medical marijuana seeds contain high levels of CBD, they can effectively treat various medical conditions. In addition, medical marijuana seeds are relatively easy to grow, meaning that patients can produce their own medicine if they choose. Whether you're looking for relief from a medical condition or want to try something new, medical marijuana seeds are worth considering.
Most popular marijuana seeds
If you are interested in buying Cannabis seeds, it is always best to purchase them from a reputable seed bank or breeder like us to guarantee quality. Our cannabis seed bank stocks all the popular and exclusive strains on the market. Make sure to check out our Marijuana seeds table for all seeds characteristics.
Some of the most popular Cannabis Seed strains on the market include;
What is the best place to buy marijuana seeds?
If you're looking for the best place to buy marijuana seeds, look no further than us; Amsterdam Marijuana Seeds is the place to buy! We are deeply rooted in the cannabis culture of Amsterdam and have been providing high-quality cannabis seeds to customers around the world for over 25 years. We are known for our high-quality seeds, exclusive strains, friendly customer service, and generous promotions! We offer seeds for both experienced growers and first-time gardeners alike!
Frequently asked questions
ust as the name suggests, these are marijuana seeds ideal for beginners who are just starting to grow their cannabis.
They are easy to grow and need minimal care.
They are more resilient, so they can make mistakes.
Under ideal conditions, marijuana seeds can germinate and begin sprouting within a week. Autoflower strains mature more quickly, about 8 to 10 weeks, while others will take 10 to 12 weeks. The exact answer will depend on several factors, including the type of seed, the growing conditions, and the care given to the plants.
Yes, you can; the main advantage of autoflowering seeds is that they flower automatically, regardless of the light cycle. This makes them ideal for indoor growers who don't want to worry about changing the light cycle.
Yes, you can! feminized seeds are bred to contain no male chromosomes, which means they will only produce female plants. This benefits grower who only want to harvest the buds, as male plants produce less THC than female plants. While feminized seeds are more expensive than regular seeds, they may be worth the investment for serious growers.
The therapeutic properties of marijuana have been widely recognized by the medical community. It can be used to treat a variety of conditions, including pain, nausea, and insomnia. Its main active ingredient, THC, is known to provide relief from these symptoms. In addition to its medicinal benefits, marijuana also has recreational uses. Because it can induce feelings of relaxation and euphoria, it is often used to unwind after a long day. Some people also believe that marijuana can help to boost creativity and improve focus. Whether used for medicinal or recreational purposes, marijuana offers a wide range of potential benefits.