Indoor Seeds
Growing weed indoors is like having your own party: all the essential elements (light, wind, and humidity) are in your hands. The result of starting to grow seeds indoors is amusing, for you and others. Well, that's if you like to share your indoor weed, of course. The indoor seeds of Amsterdam Marijuana Seeds (AMS) are specifically designed for growing weed indoors in grow rooms.
Growing cannabis indoors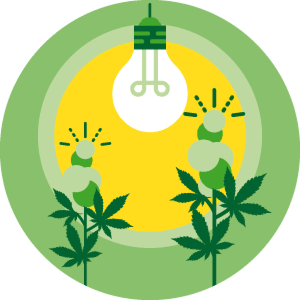 Do you want to be growing cannabis indoors? Our range of indoor cannabis seeds refers to plants that are particularly recommended for indoor growing. Although all of them do well in a greenhouse and outdoors, these seeds grow to their full potential when growing cannabis indoors. Here at AMS, you will find some of the all-time best, award-winning indoor marijuana seeds. These strains were selected because they thrive in indoor conditions, giving you the best results. So, what are you waiting for? Start growing cannabis indoors now.
Excellent seeds for indoor growing
The indoor marijuana seeds of the Dutch seed bank Amsterdam Marijuana Seeds are premium quality. If you are a fan of indoor growing, you will see our seeds are bursting with life. We have a wide range of Indica, Sativa, hybrids, and more. After you set up your indoor grow room; the next step is to decide which indoor seeds you would like to grow.
Growing pot indoors shouldn't be hard
We understand the curiosity that comes with cultivating own ganja plants is unexplainable. However, being a beginner indoor marijuana grower, you may be wondering how you will go about cultivating your plants indoors. For this reason, we have a handy grow guide that does not only cater for outdoor growers but those who wish to plant their pot indoors.
We have sub-divided the guide into chapters to make it easy for you to land your most preferred destination fast. Reading the complete guide for tips and inspiration will, nonetheless, not hurt.
Enjoy the benefits with indoor growing
While you may have in the recent past been swearing by outdoor cultivation, you may be shocked to find that you should either try out both or shift sides and settle for indoor gardening. The benefits may not be so obvious as these are more unique than most of those read on the Internet.
Firstly, you have full control to your plants, which includes, but is not limited to, easier monitoring for pests and diseases. In the long run, you will realize that among the factors that prompted us to breed indoor grass seeds was ensuring that the farmer gets better strains and increased yields, thanks to the more controlling nature involved in these plants.
Secondly, when it comes to flowering, indoor weed cultivation gets characterized with faster flowering times as compared to outdoor flowering. This is especially true with most of the indoor strains. Most of our seeds give rise to indoor ganja plants that flower within 8 and 10 weeks, an ultimate life-saving experience.
Thirdly, if you want a perfect balance for the asset time, then our indoor seeds should be your go-to option. We deal with a high number of indoor seeds, which is why you may have to filter through the results and settle on faster indoor flowering strains and those that flower after a long time.
How to pick your ultimate favorite indoor weed?
To pick your favorite indoor weed, you need to make a selection of the aspects you are looking for. Like the size of the plant, the growing time it needs, the period of flowering, and the yield. Of course, the flavor of the plant and the effect your indoor weed has on you is essential too in making a choice.
Handy marijuana seeds table
Growing weed indoors for the first time? It matters if you are an experienced breeder or if you are just starting out. Growing weed indoors can be easy, but with some seeds, indoor growing can be a hell of a job, so you need all the experience you can get. Use our marijuana seeds table to make your choice so that you can reach a full harvest of the indoor weed of your desires.
Stealth and guaranteed delivery
We ship our products internationally, and we use stealth delivery. So, no matter where your home is, ordering indoor plant seeds with us is safe. Even the mailman will not have a clue that you ordered indoor weed to grow. Our envelopes are anonymous and do not have any marijuana-related content on it. Make sure your transaction description doesn't have that too, than our little secret stays a secret.
AMS: your excellent seed bank
AMS is the best seed bank worldwide. Situated in Amsterdam, the weed capital of the world, we have the privilege to work with the best growers. They select and improve our range of indoor marijuana seeds, as well as the regular, feminized, and outdoor seeds. We have an impressive assortment of more than 100 sorts of mmj seeds and useful and fun products.
High-quality indoor weed for affordable prices
At Amsterdam Marijuana Seeds, you can get high-quality indoor marijuana seeds at affordable prices. As you could read above, we have a wide range of products for growing weed indoors. You can make a selection between indoor grass that is easy, moderate, or difficult to grow. The best Dutch breeders select all our indoor seeds we have worked with for years. Buy your indoor Afghan cannabis seeds, AK47 seeds or Durban Poisoin seeds and start growing indoors.
Get the best out of your space with indoor growing
With indoor growing, you don't always have a lot of space. But hey, that's why indoor cannabis seeds grow into strains that stay short. Make sure all the elements in your space are stable: the amount of light, the temperature, proper ventilation, a humid atmosphere, water of good quality and be aware of bugs and pests. So take precautions before starting growing your seeds indoors.
Tip: Check out our Grow Guide to find out what your plants favor while growing marijuana indoors.
Passion for indoor weed
Over the years, we've gained lots of experience. Ever since AMS started, 15 years ago, we have had only one priority: share our passion for marijuana, an acquaintance in growing, and our enthusiasm with you. We provide you with the best indoor seeds to make every growing adventure into a success. We are always happy to help you out. All you have to do is ask: mail or fill out the contact form, and we will get back to you within 24 hours. We can answer all your questions about growing cannabis indoors or the best starting seeds indoors.
Customer: "AMS seeds are first class."
AMS guarantees that their collection of indoor weed seeds is of excellent quality. It isn't any different in our range of indoor marijuana seeds. Service, expertise, and discreteness are all synonyms for Amsterdam Marijuana Seeds. What is your experience with the Dutch seed bank AMS? Please share it with us, too, we would like to hear your indoor cannabis seeds growing experience!
AMS: all you need for indoor growing
Order your high-quality indoor cannabis seeds now online at Amsterdam Marijuana Seeds. We offer the best supplies you need for starting to grow indoor seeds and at affordable prices. Buy a package of ten indoor seeds and get extra seeds for free. Stay up to date about discounts and other actions, sign up for our newsletter. Need a little guidance with growing your plants indoors? Check our Grow Guide for more information!
Needed when growing weed indoors: good fertilizer
Make sure you have proper supplies when you're growing weed weeds indoors. Think about the nutrients, kits, soil, and lighting, such as fluorescent or LED lights. Besides that, fertilizer is a fundamental part of a good harvest. It is necessary for growing marijuana seeds indoors, like for the root formation and the development of a vigorous plant. Start growing marijuana indoors now with the best indoor cannabis seeds available. You'll find them at Amsterdam Marijuana Seeds. We've got over 120 strains of marijuana seeds, with the best flavors at AMS. Enjoy classics like White Widow, and Super Nova Feminized.