CBD Seeds
CBD marijuana: an unknown ingredient for years. But nowadays it is more popular than ever. CBD (cannabidiol) is the non-psychoactive component in weed that has amazing medical effects. CBD weed is perfect to make your own medicinal oil or paste. And you can still smoke the CBD cannabis too. With seeds from Amsterdam Marijuana Seeds, you can grow the best CBD strains: an excellent alternative for pharmaceutical products.
High CBD seeds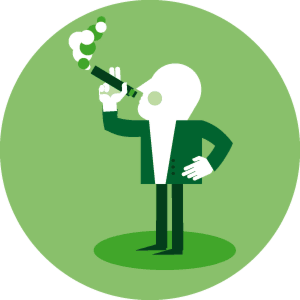 Do you recall that happy and euphoric feeling you have got after smoking or maybe eating marijuana? That is the CBD in weed. Most marijuana strains contain more THC than CBD. Only in very rare strains you will find a higher CBD level. At Amsterdam Marijuana Seeds (AMS) we select CBD marijuana seeds for their high content in CBD.
The very best CBD seeds
At AMS, we offer great variety in CBD cannabis seeds. We have got many different strains each with their own qualities. In our marijuana CBD ranges you will find regular, feminized and auto flowering seeds. They have different growing difficulties and we sell CBD seeds for growing indoors and outdoors. According to our expert breeders, our CBDoc is a CBD strain that is unrivaled.
High CBD seeds delivery worldwide
Once you ordered the CBD seeds that totally suit you, they will be shipped and delivered to your doorstep. We guarantee worldwide delivery. You will receive track and trace information so you can always check the status of your order. This way you know exactly when to expect the mailman.
CBD seeds in discrete package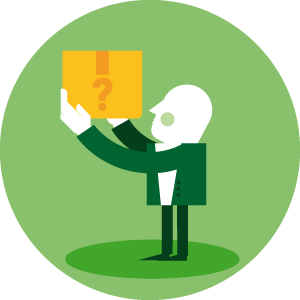 Your CBD seeds are packed in a very discrete way. It looks like the regular mail you receive every day. So be sure not to throw the envelope in the corner of your room. Work on those green fingers and these seeds will grow into the best CBD weed you will know.
Help with all medical conditions
CBD marijuana seeds will turn into plants with amazing healing qualities. CBD in weed is the non-psychoactive component. Now we know, this may raise some eyebrows and I can hear you think: 'non-psychoactive component?' Well, it means that CBD cannabis doesn't get you high, but it can help you with all kinds of medical problems.
Difference between CBD weed and THC
Unlike the illuminating and uplifting effect you are used to by Sativas full of THC, the CBD in Indica-dominant plants gives you a relaxed, body high that is medically relevant for countless diseases. It's proved that CBD relieves anxiety, pain, inflammation, and convulsions. Patients with MS, epilepsy, and other chronic illnesses can benefit from the use of CBD marijuana. And it is effective in the treatment of many aggressive types of cancer.
The AMS weed seed range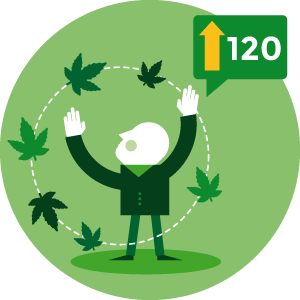 Do you want to grow for fun? Or you'd like to try different strains? Seek no further: Amsterdam Marijuana Seeds offers more than 130 different marijuana seeds. We are the best address if you are just starting out, but we also have challenging seeds for the experienced grower. All strains, common or unique, regular or feminized, Indica or Sativa; you name it, we have it.
The best CBD strains for you
CBD marijuana seeds from AMS give you the chance to grow your own treatment. Our experienced Dutch growers already selected the very best CBD seeds for you. When you buy CBD weed seeds straight from Amsterdam, you can expect high-quality seeds for good prices. It's a fact: our products make you smile.
CBD seeds: Sativa or Indica?
When looking for high CBD seeds, hybrid medicated Indica and Sativa strains may be favorable for many patients. Adding a Sativa gene to a mostly Indica strain, can support mental clarity and reduce the sedative effects, while adding Indica genes to a Sativa (dominant) strain reduces the tendency of pure Sativas to cause anxiety.
Hybrids with high CBD seeds
Hybrids that combine Indica with Ruderalis strains generally have a high CBD content and little THC. These types are useful for patients who prefer the medicinal benefits of CBD, rather than the psychoactive characteristics of THC.
Tip: vape for bigger effect
Do you smoke CBD weed to improve your health? Use a vaporizer! During vaporization CBD diffuses directly into your bloodstream instead of passing through your intestines and liver. This allows almost four times more CBD to enter your circulation. In short: by using a vaporizer you can achieve the same effects while using a smaller amount of CBD cannabis.
Ask everything about CBD weed
Do you want to know which CBD strains fits you best? Do you have questions about growing CBD seeds? Contact us if you have something to ask, if there is anything unclear or if you have good suggestions for us. Contact us: e-mail or fill out the contact form and you'll receive our reaction within 24 hours.
Share your experience with AMS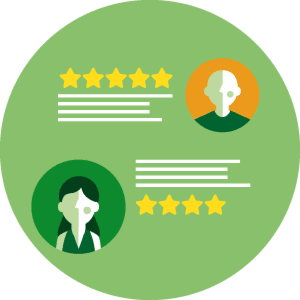 If you are happy with the result from our CBD weed strains, we are happy too. Please feel free to share your experience with Amsterdam Marijuana Seeds and let us know what you made of your harvest. We would appreciate it if you leave your review on the independent website Kiyoh. Mr. J said: "Great customer service. Guaranteed shipping or money back, and… had 100% germination success on previous order."
Order now CBD weed seeds online
CBD weed is more popular than ever. After reading everything about CBD, you sure know why. Are you a fan of CBD cannabis? Or are you just curious about CBD weed? Order your CBD weed seeds online at AMS and experience the best quality possible. Additional surprise: with every purchase you do, you will earn reward points. There is no reason to not order. Cheers to life!
The best flavors
At AMS we've got 130 strains of marijuana seeds with the best flavors. Enjoy classics like White Widow, Rainbow Kush and Bonfire Feminized.