The one thing Moonrocks have to do with the actual moon is that they can send you there straight. This is because they are so full of THC that a space trip is guaranteed. So for that matter, the name Moon Rocks is very well chosen.
Moon rocks are not exactly a type of marijuana strain. You should see it more as a cannabis experiment. So if you like to try something new, then it is a good idea to continue reading.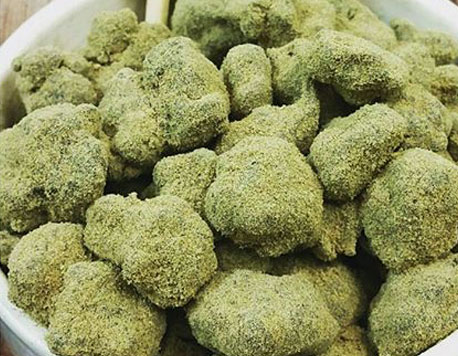 Usually, Moon rocks are nuggets of the marijuana strain Girl Scout Cookies, dipped in hash oil and then sprinkled with kief.
Just think of it as an ice cream cone dipped in chocolate sauce. And then covered with sprinkles. Get the idea? That is what Moon Rocks are all about.
And in fact… when you combine eating ice cream and Moon Rocks, that must be an awesome combination and simply delightful.
Try Moonrocks and take a trip outer space!
There are several celebrities who have trademarked their own Moon Rocks and also sell a wide range of other Moon stuff, which some say are the strongest marijuana products on the market (and even in the whole galaxy).
Kurupt (rapper and former VP of Death Row Records) has a full range of Moon products under the name of 'Kurupts Moonrock'. Some of the Rocks carry a dazzling amount of 51,2% THC in them. In small doses, this kind of uber Frankenstein cannabis product can be effective for pain reduction. And with 15% of CBD, it is also famous for treating a lot of other medical conditions.
But when you take a lot of it, well, you probably can imagine what might happen… you could just get sent straight to the moon.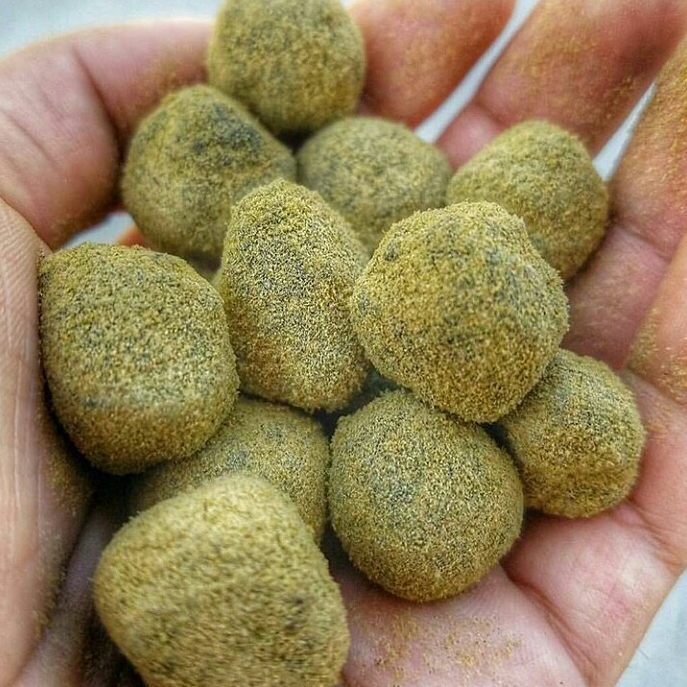 So, how to use these Moon Rocks?
Use a hash bowl or pipe, for the best experience consuming Moon Rocks. Don't break it in a grinder, otherwise, you will lose the kief that surrounds the bud.
Keep in mind, that it is among the strongest form of marijuana available, so proceed with caution. Normally, weed strains have anywhere from 17% to 30% THC. But Moon Rocks have nearly double that amount of THC.
Moon Rocks are considered the caviar of all marijuana products. It is not for everyone, and especially pot-newbies should proceed with extreme caution.
If you can't easily find Moon Rocks in a recreational dispensary (or coffee shop as they call it in the Netherlands), then you can always consult your favorite budtender about creating your own Rocks.
Be well informed about how much of everything you need and what sort of strain, hash oil, and kief you need.
So have a safe journey, if you make your own spaceship to the moon. And, for safety reasons, ensure that when you go on your trip, that you are in good company of friends.
Have a blast!
Speaking about a blast? buy our high THC AK 47 XTRM strain now
---
Don't forget to leave a comment below