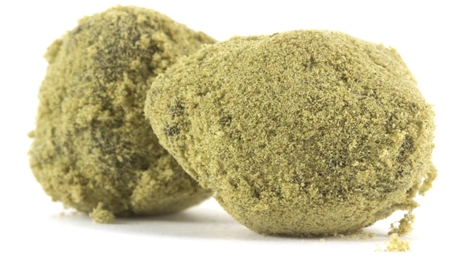 What are moon rocks?
According to WeedMaps, and Leafly, the word moonrock or moon rock refers to cannabis nugs that are extracted from a marijuana flower and grinded to form a fine powder. The ingredients are then dipped inside the various extracts and rolled into a nice shape in Kief. Moon rocks are usually considered the highest in THC levels, with some critics saying the level is as high as over 80%. 
Some people opt to call it cannabis caviar. However, a closer look at the name will tell you that it refers to the nugs put into sorted extracts without a kief layer.
Later on, I will tell you why you need to exercise caution if you are new to marijuana. In other words, moon rocks are not for the novice, lest you will start to dance to the jig without any melody. Yes, you need to start low if you are trying marijuana for the first time.
The other thing you need to learn about moon rocks is how to make them fine. You might want to use your hands to grind dry marijuana if you don't want to lose anything, especially your treasured kief layer.
For some time, many people, including ardent weed users, did not know anything about moon rocks until Kurupt, the famed West Coast rapper, talked about it publicly. In fact, at some point, the rapper used MoonRocks as his trademark, something that gave moon rock unprecedented publicity among the singer's followers.
It is after that unmatched attention that many people started to use moon rocks. Today, the term is becoming more of a household name with newbies starting with it before diversifying to other marijuana genres. However, as mentioned earlier, newbies had better take precautions.
Actually, moon rocks have a more robust potency that can send seasoned marijuana users into another 'world' where they feel as if they are flying when they are actually walking or even seated inside their cubicles.
Moon rock effects
Because of their high potency levels, you can expect moon rocks to have various physical and psychological effects on the user. In fact, starting with the taste, those who use it claim it is one of the sweetest marijuana products. 
As it were, THC is a psychoactive ingredient that marijuana has. Because of this, you expect moon rocks, which have a high THC level that exceeds 50%, to create the 'high' in a user no matter how much the person smokes.
It is easy to feel or see the effects of moonrocks because of the high they are able to create in a person. 
However, the severity of moon rocks depends on several things including the marijuana strain you use when making moon rocks and individual tolerance. That means, if you are new to using marijuana products that have high THC levels, you are likely to experience even higher and more intense effects as opposed to a person who is used to marijuana products with higher THC levels. 
However, the opposite is also true. If you increase the amount of moon rock usage in your bloodstream, you are more likely to trigger the effects as well. For that reason, you will also experience adverse effects after using Moon Rocks.
Some of the notable effects of taking moon rocks include:
Paranoia.

Dizziness.

Sleepiness.

Prolonged headaches.

Anxiety.

Dry and red eyes.

Cottonmouth.

Extreme hunger or munchies.

Cough that extends for many days.

Other respiratory complications.

Impaired memory.

Increased heart rate.
Nonetheless, if you are used to marijuana products that don't give you the high that your body so craves, it is time to try something bigger and better, something that gives you the high you want. 
Besides, you need to know how you can make your own moon rocks at home. You, therefore, will cut the cost of ordering moon rocks online.
How to make moon rocks at home
Now that you know what moon rocks are, their potency, and their effects, it is time to learn some basics of making your own from the comfort of your couch. As usual, you need to assemble the few materials and tools you need. Only then will you be able to create this high-potent marijuana product.
Materials & tools
Extracts.

Marijuana flower nug.

Kief (you can make it at home using a grinder or buy from a store near you).

Tweezers or tongs will help you separate ingredients that stick.

Liquid dropper if needed.
How to create your own moon rocks 
Now that you have what you need to make your moon rock, the next step should be how to make it happen.
1. Holding the flower in your hand, make sure you apply your preferred extract on the nug
Depending on the consistency, roll your cannabis buds onto the oil. At this point, realize that some extracts need to be warmed. If so, you can apply some heat to the extracts. Use a dropper to ensure the liquid extracts fill into the nug.
2. Add at least two layers of your preferred extracts
Although the number of extract layers is not definitive, you do not need to go beyond four with a minimum of two. Before you add a layer, make sure the previous extract layer permeates through. At this stage, some expert weed users inject warm virgin oil into the buds. Although it is not necessary, the point here is to ensure the concentration is high.
3. Roll the flower into your Kief
Using tweezers or a pair of tongs, roll the flower into the Kief. If done properly, the Kief should be able to hold strongly to the nug because the latter is covered with oil.
4. Put your nug and Kief in a cool, dry place
Now that you have what you wanted, it is time to let the product rest in a cool yet dry place. Ensure no direct sunlight or artificial heat comes on the way of the moon rock for fear the oil will melt.
Finally, enjoy your rocking moon rock with friends, but be careful not to 'couch lock' yourselves after taking the moon rock.
Bottom line
Starting with moon rock seeds, you've seen how you can make your homemade moon rock that is rich in THC levels. It is simple to create your own and enjoy it with your friends. However, you need to be very careful, especially if you are starting as a marijuana user. Moon rocks are not for the faint-hearted but for the pros in the field. Take a step at a time and be as high as you desire.