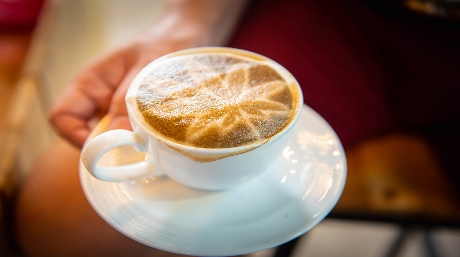 History was made in the last quarter of 2019, precisely in September, when the first ever weed café was opened in the US. If you do not smoke weed, this might not be anything to you. However, it is jubilation to the over 21s that smoke cannabis.
The Lowell Café, is not an ordinary café, where you can walk in and order tea, snack or order some meat balls. Thanks to lenient marijuana laws, which pro marijuana have fought for a long time, it is now open to the public.
What is it like to open a Weed Café?
It is important to note that although it is not against many countries' laws for 21 years and above to possess a certain amount of cannabis at home, it is against the law to sell, smoke and possess marijuana outside one's homestead. In fact, according to the law, it is illegal for any household to have more than six mature marijuana trees at any given point. If that is what the law says, then it would detrimental to possess marijuana outside of anyone's home. 
Thankfully, this cafe is now open to the public, although it had to change it's name to Original Cannabis Cafe. On its website, the now rebranded Original Cannabis Café says, "For over a century we've been forced to hide cannabis consumption out of public view, but that time is now over."  The café goes on to say, "We're proud to announce Original Cannabis Cafe — America's first cannabis cafe serving farm fresh food, coffee, juice, and cannabis daily." When the marijuana café was opened to the public at the end of September 2019, it marked the end of the prohibition of smoking weed in public. However, it is confined to the café.
What is a Weed Cafe?
As the name suggests, this is a special restaurant that serves its clients with weed. For many years, it has been difficult or illegal to smoke weed in public. Thanks to legislation, it is now okay to walk into a restaurant, order your liberal amount of weed or its extracts and take it as you would take a meal.
What to expect in the Original Cannabis Cafe?
Inside the Original Cannabis Café, you will get the feeling and the treatment of a normal restaurant setting. However, a few twists make this café unique. For instance, the café features 240 seats. You can decide to sit inside the café or choose to enjoy your weed from the serine spaces outside the main auditorium.
The interior spaces cannot suffocate you with smoke because the café uses high-tech filtration system that ensures excessive smoke is whisked out of the building as fast as possible. As the website reads, the question of what is a weed café is not a subject as of now because you are sure of serving fresh cannabis, juice, coffee, and other fresh foods.
Chefs in this marijuana café may not sell you foods that are infused with marijuana. Rather, they will serve you several other prepackaged drinks and foods that have an element of marijuana. For instance, you are free to order vapes, cannabis flowers, extracts, and marijuana concentrates on site. You can then decide to take them from the main building or outside with a full feel of high-end restaurant.
Since the law was passed in January 2018 to possess and buy a certain amount of cannabis, there has been tremendous progress in favor of those who smoke weed. Now, with the licensing and opening of this debut weed house, chances are the state will see more of these in coming days.
In fact, at the time of writing this, West Hollywood has issued seven other marijuana cafes operating licenses. It is now upon those cafes to set up their restaurants and start selling legal weed and its products to the 21-year olds that would love to purchase and smoke weed from these premises.
USA weed cafe sets standards
If you were given a chance, where in USA weed café would you want to smoke your weed from? Now that you know what is a weed café, would you rather take it from the inside of the café or from the outside, where there is a gentle breeze or wind? This first US weed restaurant has two main areas. The first one is dubbed 'Dab Bar'. In this area, the management has set the area aside for the experienced clients. These are heavy or regular smokers who know what they want – what to order.
Where in USA weed café will the others go? The second section is the 'Flower House'. This latter section is set aside for members who do not smoke weed on a regular basis. In this area, hosts and attendants are ready to help their clients make informed choices with the intent to assist them buy the right 'flower'.
If you are starting out as a cannabis smoker in California or are visiting the state for the first time as a marijuana novice, this is the right section for you.
A weed restaurant that cares 
 Unless you are a returning client, it is not going to be easy to buy your cannabis over the counter and sit down to smoke it. According to Erika Soto, one of the flower hosts, the restaurant has strict guidelines on dispensing weed.
Erika says, "Before we sell weed to anyone especially a new client who we are unfamiliar with, we first seek to know a few things about the person." He continues to say, "We ask some questions such as who are you with?  Do you have means of travelling home after your weed? What means do you have? Does someone sober, whom you trust, accompany you? Will the person drive? What is your weed tolerance level?"
According to Erika, the aim of such scrutiny is to help elevate the standards of the weed café. Besides, Soto says the weed house welcomes cannabis connoisseurs as well as canna-curious.
Before one reads to the end of the website, an enticing statement reads, "Andrea Drummer, a top cannabis chef creates unique menu for healthy, flavorful and non-infused dishes. These are designed to heighten your cannabis experience."