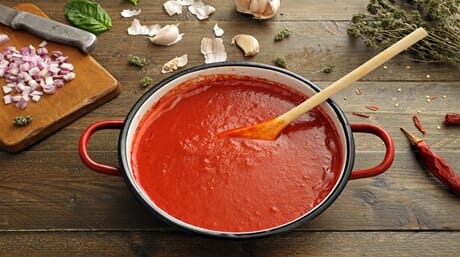 Do you like Italian food? Then we have a nice extra twist that you can add to your Italian dishes. What about cannabis tomato sauce? Sounds yummy, right? You will certainly surprise your friends with that! In this article, we have described a simple recipe for you, for which you first have to make cannabis butter, but that is just as easy to make as the sauce itself. So get your ladle out and get started!
Cooking with cannabis has become extremely popular in recent years. There are entire cooking programs based on cooking with the cannabis plant. For example, Vice has an interesting and entertaining cooking program in which top chefs cook with our beloved plant. So go check that out. Edibles such as brownies and weed cookies have been around for a long time, but a whole culture has developed around cooking on a high level with cannabis. You can infuse almost everything with weed, by adding cannabutter or oil.
Make cannabis butter
So before we start making a delicious pasta sauce, let's first show you how to make cannabis butter. As soon as you have cannabis butter, it is very easy to add this butter to all kinds of dishes. So let's cook!
Put some butter in a saucepan and put it on medium-low heat. Now add an amount of cannabis. It works best with flower tops. Remember that the amount you add directly influences how strong the butter will ultimately be. This also applies to the strength of the plant material that you use. If you use a strain with a high THC content, your butter will also become stronger. All you have to do is to keep your patience. It is important that you let the pan simmer for at least 2 hours on a small fire. The decarboxylation process is best done at a relatively low temperature (around 110 degrees). At this temperature, the carboxylic acid is removed from the THCA via a chemical process. This way you get THC and which is actively added to the butter. If you were to consume the butter now it would have a psychoactive effect. Be careful not to let the butter get too hot, because then the THC will burn and it will have less strong effects. Leave the butter with the plant material on the fire for 2 hours and then pass it through a sieve. This leaves the raw plant material on the sieve, and you have your homemade cannabis butter in your pan! When the butter cools, it will solidify, and you can add it to all kinds of dishes. You go, master chef!
How to make cannabis tomato sauce
Now that we have made cannabis butter, we can proceed to the next dish. Now the real cooking begins! Grab your cooking equipment, because we are going to make a delicious pasta sauce. The recipe is for a homemade pasta sauce that you can add to multiple dishes, such as lasagna, on a pizza, or in spaghetti. The only thing is that this sauce has a little kick inside!
First, find all the ingredients:
2 onions, chopped
2 cloves of garlic, chopped
1 tablespoon canna oil
1 cup of cannabutter
1 garlic clove, finely chopped
1 can of tomato puree
1 teaspoon of salt
1 teaspoon pepper
1 teaspoon thyme
Put a pan on the heat and first fry the onion, then add the garlic. Then add all other ingredients and simmer for about 1.5 hours over medium heat. Meanwhile, cook the spaghetti according to the description on the package. That is it. Ask your friends to come over and throw yourself a nice dinner party!