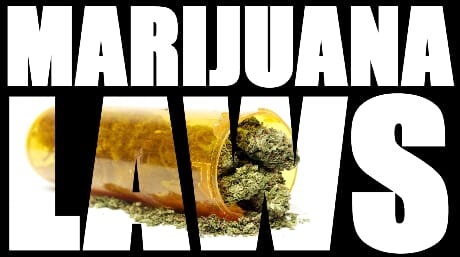 Last year was a big win for cannabis in many states. However, there are still plenty of stoners suffering in other states with strict marijuana laws Even as the citizens of America are becoming more in favor of accepting cannabis as medicine and not the evil gateway drug, there are still enough people in some states in the country to keep it a serious, punishable crime.
Hot weather will be here before we know it, and soon it will be time for summer vacations and road trips. Before you pack your stash and your camping gear, know which states to avoid driving through so that you don't end up in jail if you get pulled over with a load of illegal substances. Here's a list of some of the most cannabis unfriendly states.
This list will start with South Dakota. South Dakota is particularly special because it is the only state that has an "internal possession" law. This law says that residents of this state can be punishable if they test positive for past use. This would include if they consumed marijuana in a state where it is legal. Being caught with just a tiny amount of cannabis in this state could mean 1 year in jail and a $2,000 fine. Forget about using hash or concentrates here as it is "a felony, punishable by up to five years in prison and a fine of up to $10,000."
6 months of jail time
Kansas is another state with a particular uncommon cannabis law. Residents of this state can lose custody of their children if they're caught smoking the herb. First offenders in this state that is caught with 450 grams or less face a misdemeanor charge with up to 6 months jail time and a fine of up to $1,000. The second offense is much more serious in which an offender can spend anywhere from 10 months to 3 ½ years in jail. They can also be fined up to $100,000!
Like Kansas, Tennessee is another state that doesn't put up with repeat offenders. Neither of these states gives slack to medical marijuana patients either as it's completely banned. In Tennessee, if you're caught with half an ounce or less you will get a misdemeanor charge and up to a year in jail the first 2 offenses. Third strike and you're out! Third time's a felony charge and up to 6 years in prison. Even if it is your first offense but you have more than half an ounce on you then you could get a felony charge, up to 6 years in prison along with a fine up to $5,000.
Last year, residents of Oklahoma voted in favor of making marijuana possession offense a misdemeanor. This new law will not take effect until July 1, 2017, so, stoners, halt all your travel plans to Oklahoma until then because getting caught with any amount in that state is a crime that could land you in prison for up to a year. A second offense could get you jail time of 2 to 10 years. Even having paraphernalia like a bong or pipe could get you a year in prison along with a $1,000 fine. Don't even think about making hash in this state as the fine is up to $50,000 and a sentence of 2 years to life in prison.
State Residents
In Iowa, there are more than 6,000 marijuana-related arrests annually. If you are caught with any amount, even a little joint, then you can end up in jail for up to 6 months and fined up to $1,000. The jail time increases by a year with every offense and the fines doubles or even triples. In Iowa, you can get punished even if you don't even personally have marijuana on you. If you are involved in any way, whether it is promoting or sponsoring, in a gathering knowing cannabis will be used or possessed there then you can be fined nearly $2,000 and jailed up to a year.
These states still have a long way to go when it comes to legalizing cannabis. It is sad to think that in some state residents have the freedom to use cannabis for medicinal purposes like epilepsy or pain management, and just across a state border a different state's residents get fined and jailed using cannabis for the same reasons.