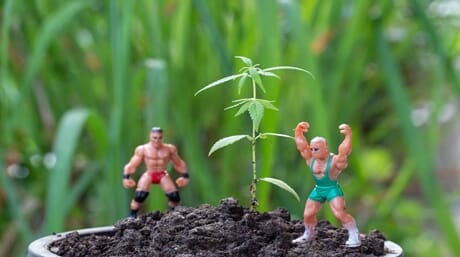 There are a number of ways to increase the high that you get from weed. Unlike alcohol, for example, weed has a limit. There seems to be a ceiling on how high you can get from cannabis.
Using more cannabis to get higher often has the opposite effect. There is also the chance that you fall asleep if you have blown too much, and that is of course a waste of your good weed!
Therefore a list of tips on how to make your marijuana high more effective. This way you will enjoy your high intenser and have more value for money.
EXPERIMENT WITH CANNABIS STRAINS
It is important that you test which strain you like and what the effects are. The type of cannabis that you use plays an important role in your high.
It is nice to investigate what suits you. Think of it as a game where you also get to know yourself better. Always take a small dose, you can always take more. Keep in mind that you don't always get a better high from very THC-rich strains.
Indica species generally have a relaxing effect and are also therapeutic. Sativas are known for their stimulating effects.
Hybrids combine the best of the effects of both Indicas and Sativas. Many medicinal cannabis strains are very rich in CBD. These strains produce an 'entourage effect'. The Entourage effect is a chemical synergy, and that may be exactly what you need. You come a long way with a little curiosity. Start your search for the perfect strain today, because there are thousands of high-quality cannabis strains for sale.
GO TO THE GYM
If you are physically fit, it has many benefits, also for the mind. You have more endurance and you also sleep better. A fit body offers countless benefits for both body and mind.
If you have exercised before you use weed, this increases the THC level. The University of Sydney has shown that half an hour of cardio activity raises THC levels by 15% in the plasma of cannabis users.
So, the gym seems to be a good start before you light your pipe. Live healthier and get higher!
EAT MORE FISH
The effect of THC on the body corresponds to anandamide. This substance causes the feeling of pleasure.
Anandamide is an endocannabinoid and neurotransmitter. This is produced by the body by essential omega-6 fatty acids. 
Omega-6 is found in fish, but also in eggs and nuts. Eating these foods can make the effectiveness of THC and thus the use of weed more intense.