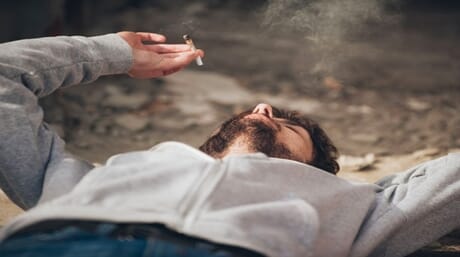 There's a good reason why stoners use the term "chronic bud" to describe any bud that is out of this world amazing. The living legend marijuana strain, Chronic, never disappoints as it will rocket smokers into an intense headspace and bring your body into a relaxed state.  
Chronic's medical marijuana ultra high THC content will tranquilize even the most rigid person. One puff of this dank strain and you will feel like all your troubles are melting away. The sweet and earthy base notes of this strain will allow you to flow into ease and unwind.

Our ultimate version of Chronic was designed for pain relief. The CBD levels in Chronic will help numb deep-seated aches and pains so that you can relax even more. Look no further for the all-in-one strain to get you relaxed, pain free, and feeling good.
The medicinal benefits of Chronic medical marijuana don't stop there.
Before we added Chronic to our stock it, we tested it on 500 people with chronic diseases. A total of 94% of the people in the trial affirmed that they had benefits from the use of our coveted Chronic strain. There have been many diseases that have benefited from using this marijuana strain including high blood pressure, mental illness, diabetes, kidney disease, epilepsy, and ADHD.

Chronic medical marijuana is not only relaxing to smoke but also a relaxing strain to cultivate as it is considered an easy strain to grow. It also does not require regular topping or pruning in order to maximize its high yield.
Buy our MEDICAL FEMINIZED COMBO PACK now