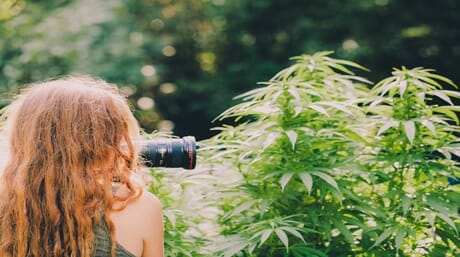 If you look around on the internet and social media you see all these beautiful pictures of weed plants. From amazing close ups to breathtaking colors, it looks like every weed grower is also a professional photographer! How do they do that? How do they get their plants to be so picture perfect? In this article we will give you all sorts of useful photography tips so that your plants also shine on Instagram
How to capture weed plants
When photographing your cannabis plants, light is very important. You need light to grow your plants, but for beautiful photos you also need sufficient and good light! You often see photos from very close by, these are macro photos. These are made with special macro lenses that you can place on your camera. Some cameras already have a macro setting, so you don't have to buy a special lens.
Cannabis plants are very beautiful, we don't have to convince you as a cannabis lover. Weed plants have beautiful colors, shapes and sizes. In terms of photography, it is a very rewarding subject, you can really put your creativity into it. You can vary endlessly with backgrounds and angles from where you take your photos. Whether you just take your photos for yourself, or to show them to other cannabis enthusiasts, you can spend hours working on them. Everything for the perfect photo! So read on quickly and check the tips in this article. Then you will be able to take awesome weed photos in no time.
The camera
Before we start to deal with all kinds of subjects that are important for photography, we will first discuss the most important thing: the camera. As you know, there are many different types, so what is the best for photographing weed? If you take photography seriously and want to rise above the average hobby photographer, then buy a DSLR camera. These cameras have many settings such as ISO and shutter speed that you can adjust these settings very precisely. With DSLR cameras you are able to take the most beautiful photos, so that is definitely worth the investment. You can really show your creative side with it, and you can also do a lot with these cameras thanks to the many settings in terms of lighting. You can also make very beautiful and sharp close ups with a DSLR camera, like those beautiful razor-sharp close ups of trichomes.
But even if you don't have a DSLR camera and you don't want to buy one, there are even more options. For example, the cameras that are on smartphones thes days are very good, and with every new smartphone that comes on the market, the camera that is on it gets better. With a DSLR camara you can do more, and the images are sharper. But even with a smartphone camara you are able to take very good, spectacular photos of your cannabis plants. Did you know that special, separate lenses are also available for smartphones? Just click them on your smarfphone and you are ready to take pictures! For example, you have macro lenses for breathtaking close ups, or lenses that give a very broad perspective. Very cool! So keep a close eye on all the technological developments in the field of smartphone photography, because there are always interesting new things.
Photography tips
Can't you wait to get started with photography? It is above all a matter of doing. The great thing about digital photography is that you can simply delete the photos that you do not want. A few beginner tips: use flash light if you want to capture the tops of your plants nicely, use a tripod, and take into account not only the subject (the part of the plant that you want to capture in the photo) but also the background.
Say Cheese !!
Dont forget to leave your comments in the comment section below.