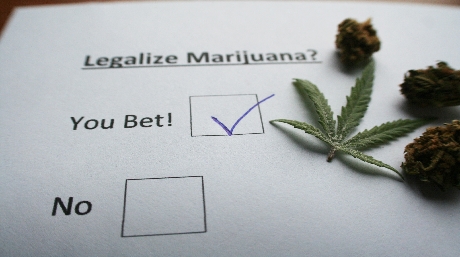 It's an exciting time for cannabis users and if you've ever wanted to make a difference in this world now is the time to do it. Nine states will vote in November to legalize medical or recreational marijuana. If you or someone you know live in California, Nevada, Arizona, Massachusetts, Maine, Florida, Arkansas, North Dakota, or Montana then urge them to get out there and vote pro cannabis!
National marijuana legalization
Depending on the end result of the votes it could depict the tone for national marijuana legalization. If all goes well It will also provide an opportunity for the federal government to reconsider their position on it.
California
California will be voting on recreational marijuana as medical marijuana is already legal there. Currently there is a 2.7 billion dollar market in medical marijuana. According to ArcView Research, If recreational marijuana became legal then by 2020 it could become a 6 billion dollar industry. That's a pretty penny if I may say so. Those types of numbers could certainly lure many businesses and entrepreneurs to the state. So far it seems like California may be the state most likely to pass the new law as polls have shown that support of legalization is higher than 60%.
Nevada
Nevada, the state best known for it's gambling and entertainment, will also be voting on legalizing recreational marijuana. This state sees 40 million visitors per year thanks to the enticement of Las Vegas. If the recreational marijuana law passes then it will be seeing a lot more visitors annually. A poll in July revealed that 50% of Nevada voters were pro marijuana while 41% opposed it.
Arizona
Arizona will also be putting legalizing recreational marijuana on their November ballot. So far this predominantly Republican state seems to be the least likely to pass the new law. In a July poll it reported that 53% were against legalizing weed and a mere 39% were in favor of it. So that means you should call every friend and family member including cousins, aunts, uncles, second cousins, brother in laws, sister in laws, third cousins twice removed, great aunts, you name it, call them up and talk cannabis with them. Get them to the polls and help the nation one vote at a time to end prohibition.
Massachusetts
Massachusetts is another state voting on recreational marijuana. This state is unfortunately, like Arizona, not likely to pass the law. The July poll showed that only 41% said they would vote for recreational cannabis to pass. One of the reasons this state may have such a low percentage is due to elected officials that campaign against it, including Governor Charlie Baker.
Maine
Maine will be voting on legalizing recreational marijuana. This progressive state has had a good history of pro marijuana as it was one of the first states to decriminalize small amounts of cannabis. The chances of the new law passing is looking good as it seems to have more than 50% of it residents being pro marijuana.
Florida
Florida residents will be voting to legalize medical marijuana. Just 2 years ago Florida voters barely rejected a constitutional amendment for a medical marijuana market. All it needed was 2% more voters being pro legalization. If you thought your vote doesn't count then this a perfect example of that every vote matters.
Arkansas
Arkansas is another Southern state voting on medical marijuana. A July survey boasted that 58% of the people supported legalizing medical marijuana. The ballot will have 2 competing medical marijuana measures. One is a state statute and the other will be a constitutional amendment.
North Dakota
North Dakota will be another state voting to legalize medical marijuana. A poll on where the state stands on legalizing medical marijuana hasn't been done since 2014. The results of that poll was that 47% was pro medical cannabis while 41% was against it. So, it's really anyone's guess what will happen this time at the polls.
Montana
Last, but not least, is Montana. This state will be voting (again) on passing medical marijuana laws. The sad part of this story is that voters already approved legalizing medical cannabis in 2004 but state lawmakers have weaseled their way to impair it.
Ending cannabis prohibition
November will be the time for residents of those states to either prove progressive or to put America one step further behind ending cannabis prohibition. We can only hope that everyone going to the polls will be educated on the benefits that tax on marijuana brings to a state but the medical benefits as well.