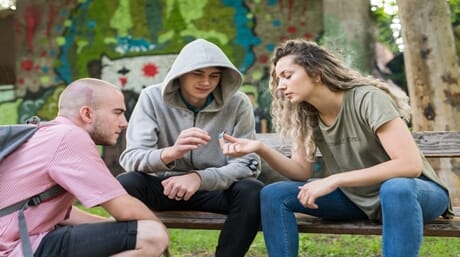 The Pew Research Centre has recently released the results of a survey which showed stigma towards cannabis use is definitely changing. Presently, over three-fifths of people in the USA think that marijuana should be legal. However, using this same survey but only looking at the younger participants – specifically millennials – these numbers sky-rocket.
The Cannabist, a website which reports on all things weed-related, recently issues a poll to at least six thousand millennials which found that almost 90% of them think cannabis should be legalized, and the same amount of them truly believe it is actually more safe than alcohol – with alcohol being the leading risk factor for death in the UK in 2016, science definitely backs this up. 
Painkillers
And Millennial attitudes about cannabis don't end there. 93% of millennials polled think that marijuana is more beneficial for sportspersons than painkillers. It's difficult to say whether or not this is true for everyone, but cannabis is definitely less addictive and it's also almost impossible to overdose on. 89% of millennials wish to see marijuana allowed in athletics, and 81.2% of them believe criminals who are currently in prison for cannabis-related crimes should be released. 
This is all incredibly encouraging on the global legalization front and its honestly crazy that all of the statistics above are majority opinions. Hopefully, there will be a more widespread ending of the stigma against cannabis use. 
Hopefully, there will be a more widespread ending of the stigma against cannabis use 
Improve Health
However, it is true to say that there are some notes of concern here. It hasn't been scientifically proven that cannabis is good for your overall health, even though there have been lots of positive things found out about it. In spite of this, 86% of millennials think that it does improve their health. While the drug can certainly be beneficial for a lot of people (and definitely a better alternative to other painkillers), science has demonstrated time and time again that it does affect young users negatively, and that it can bring increased risks for cancers, anxiety disorders, psychosis, and other problems. For many individuals, the pros strongly outweigh the cons, but it's vital that we keep studying the drug -- and legalization will help us do that on a much bigger scale.
Millennials are, in general, tremendously in favor of cannabis, and with any luck over the next 10 or so years, we'll see them and their ideas take the lead as society works hard to change its outlook on what cannabis is and how it can be utilized.
Wanna smoke and drink? take a look at our low THC EARLY MISTY strain
---
Don't forget to leave a comment below