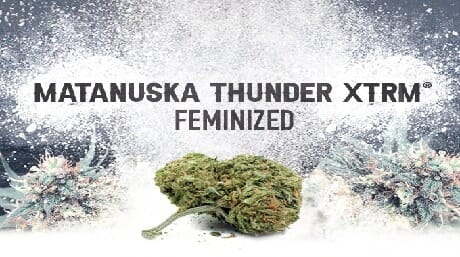 Favoring even those growers with compact growing spaces, this strain mostly doesn't disappoint those who swear by her. Nonetheless, it is worth mentioning that this strain has a moderate growing difficulty in advance.
The History
Matanuska Thunder Extreme feminized seeds come from North Alaska, Matanuska Valley; thus, the name. The first cannabis seeds Company to ever breed and grow the Matanuska Thunder XTRM fem is Sagarmatha. Different parts of the world call this strain different names. For instance, some call her the Matundra Thunder Fuck strain while others refer to her as the Matanuska Tundra feminized. All in all, they are referring to the feminized Matanuska Thunder XTRM.
Interestingly, the seedbanks that sell this strain have done their level best to replicate the original. For instance, she is 85% Indica and 15% Sativa. As far as the CBD amounts are concerned, they are normal.
Physical Attributes
Being an Indica, this is not the tallest XTRM feminized cannabis strain you will find out there. The indoor height is up to 75cm while the outdoor heights go up to 120cm.
The shape is more of a fir tree, and the branches are gigantic. She has a medium distance between each internode, with the bud sizes being enormous. This explains why, despite these features, it is a hassle to support the flower weights. Put simply; these dense buds replicate massive flower weights.
By sight and texture, the buds are sturdy and vast. Her hairs are dark green with THC crystal frosts, while the resin is dark green.
Successfully Cultivating this Strain
Cannabis Indica plants don't immensely grow the exact way Sativa does. When you think of growing the Matanuska Thunder XTRM strain, it would be best to follow these proven tips tailored explicitly for the successful cultivation of Indicas only.
1.   Best Germination Practices
For real, there is no one-size-fits-all in this. This is to say; there is no that cannabis germination method that every other grower will term as their best, but we recommend that you go for that which you are most acquainted with.
Before then, you will need to select the best strain that you will deem fit, and if you are an amateur or a veteran, here you go - feminized Matanuska Thunder XTRM won't disappoint you.
2.   Vegetate this Strain Well
If you let these strains stay a long time in the vegetative phase, then you can aptly control the final size of your plants. The rocking way to go about this is by ensuring that for every six vast primary twigs in a square foot, there is the usage of a 500W LED light or a 1000W HID light.
3.   Training is important
Arguably, training Indicas is more hassle-free than Sativas, thanks to the short heights. Two of the top-notch techniques you can use to train the Matanuska Thunder fem strain are Low-Stress Training (LST) and High-Stress Training (HST).
4.   Cool Temperatures
Temperatures have a critical role in determining the overall yields you will get. Primarily for indoor growers, Indicas don't like relatively high temperatures like Sativas. If you let the nighttime temperatures drop to a 10 - 15% degrees Fanhereit range, then that would rock.
5.   Avoid Growing Nuisances
You will need to do the best you can to keep your plants free from molds, caterpillars, and white powdery from this feminized strain. This will not only enhance your yields but also see to it that your weed is of the highest quality and with fantastic taste.
Trim the leaves, ensure ample watering and superb humidity levels, and yay! You are in for bumper yields with high-quality Matanuska Tundra weed. 
What Effects to Expect?
With up to 5% CBD amounts, this strain doesn't struggle to exhibit the entourage effect and counteract the high that will be availed by up to 20% THC. The THC effects tend to be narcotic and sedative. For those who adore pot for its wellness effects, then this grass can work the best for alleviating both joint and muscle pain.
A point of caution, though, you can expect both relaxing and euphoric effects. If appetite is an issue or you are struggling with mood swings, then be sure to alleviate these disorders with the Matanuska Tundra XTRM feminized strain.
All about the Flavor and Scent
Matanuska Thunder Extreme fem has a fruity, chocolate scent. About the flavor, it is more of a piece of chocolate but with different hints. These include candy, musky lemons, and flowers.
How many Yields do I expect?
It is dependent on where you cultivate these specific beauties. For instance, if you go the indoors way, this strain has been established to yield up to 400gms per square meter, with outdoor yields going up to 500gms per square meter.
Final Thoughts
Hopefully, this blog post has enlightened you on how to go about the needful details about the Matanuska Thunder XTRM feminized strain. If you decide that it is your go-to strain, and with the above nuggets of wisdom for the heaviest yields, then drying and curing these grasses is inevitable.