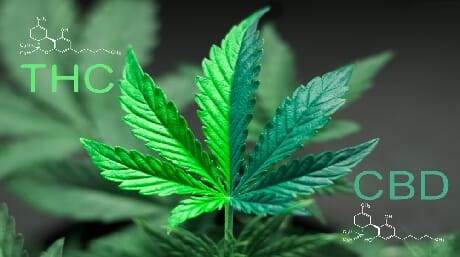 Although CBD and THC are the most dominant compounds in the cannabis plant, they aren't alone. There are dozens of other cannabinoids and terpenes that work together to provide different synergic effects.
For example, the third most dominant compound in cannabis, cannabichromene (CBC) has shown anti-inflammatory benefits similar to those of CBD.
Both
CBD and THC
can relieve symptoms of chronic pain and inflammation in unique ways, both alone and working in concert with other cannabinoids.
Pain Reduction
The
entourage effect
refers to the benefits that one can experience by ingesting multiple cannabinoids together, including CBD and THC.
In short, while CBD and THC have their own powerful benefits, they tend to be more potent when combined – especially when it comes to pain relief.
An analysis of 18 studies on cannabinoids for multiple sclerosis pain found that the combination of THC and CBD was slightly more effective for pain reduction than CBD on its own.
Traces of THC
The entourage effect is why CBD products fall into two categories: full spectrum and isolate. Full spectrum CBD products contain all the cannabinoids and terpenes that were extracted along with CBD. On the other hand, isolate CBD products remove all traces of these other substances, resulting in a product that is pure CBD.
Some people have better success using full spectrum CBD products for pain relief because of the entourage effect. However, due to the variety of cannabinoids and terpenes, full spectrum products can be somewhat unpredictable in their effects.
Isolate CBD products are often favored by those who can't tolerate any traces of THC, or need to avoid it due to drug testing.
---
Don't forget to leave a comment below