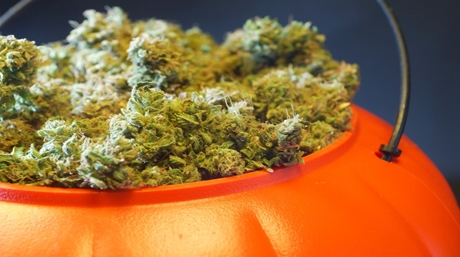 Halloween is many stoners' favorite holiday (besides 4/20), and for good reason! 
Smoking a joint and participating in all things Halloween makes for a whole lotta fun. Marijuana helps to open your mind and gets the creativity flowing making it go hand in hand with Halloween. It can exaggerate the thrill of the holiday or it can help keep your nerves calm when you start to see the zombies and ghouls walking the streets. Marijuana pretty much makes any occasion so much better. 

If Halloween isn't one of your favorite stoner holidays yet, then by the end of this post you might change your mind. Halloween has something for every type of stoner. Whether you get extreme munchies, prefer to stay locked on the couch, express your creative side, or like to socialize there are ways to pair your favorite kind of high with a fun Halloween activity.  We want to share with you some of the coolest ways that you can make this year's Halloween the best one yet by incorporating your love for marijuana and this holiday. 
Munchies
Getting the munchies is a very common side effect when smoking good bud. Luckily this time of the year candy is in abundance, and not just any candy, special Halloween candy that you can only find this time of the year. Think candy corn, popcorn balls, candied apples, and mini versions of all your favorite candy bars in spooky shapes. You can also consider baking up some special space cakes for your stoner friends; it will certainly get any Halloween party started. 

Your perfect idea of Halloween night may be to get completely blazed and watch your favorite scary movies. This is all the while eating all the candy you pretended to buy for the trick-or-treaters but instead are feeding your inner munchie monster. 

What better way to inspire some creativity for your perfect Halloween costume than to smoke a joint and let the creative juices start to flow. You may come up with a completely original costume or you can dress up like your favorite famous stoner.  Either way, Mary Jane will work her magic on you and you will conjure up a badass costume. 

If dressing up is not your thing and you still want to put your creative high to good use then why not try your hand at pumpkin carving?  You can also decorate your front porch to entice trick-or-treater to come by. If you decide to get blazed and end up completely couch-locked on Halloween just leave the candy outside for the trick-or-treaters to help themselves. 
Hit a Bong
For the truly brave (or stupid) smoke a joint and then go visit a haunted house. Haunted house attractions have become very realistic nowadays compared to the amateur operations in the past. Some haunted houses provide intense immersive experiences where they may even request you to sign a waiver before entering. Being high and going to a haunted house can make it a very realistic experience. It may leave you petrified and wondering why the hell getting high and visiting a haunted house could have ever sounded like a good idea. 

If you want to go to a haunted house, but you scare easily, then we have a good option for you.  Pretend to be brave in front of all your friends by joining them in the haunted house, all the while keeping in mind that as soon as you get home you can hit the bong to wind you down from all the jump scares and Jason masks. 

Another way to have a guaranteed amazing Halloween is to gather up all your stoner friends to join in on a trick-or-toking night. Arrange going from house to house of each of your pothead friends trying each other's dank bud or delicious edibles. By the end of the night, everyone will be completely blazed and super happy. Just be sure to have a designated driver if you drive from house to house. 

Halloween will soon become one of your favorite holidays to celebrate your inner stoner. It is the perfect pairing with marijuana. No matter how you intend to spend your night you can find a way to incorporate your favorite strain to make this holiday just that much better. Happy Halloweed everyone!"
Buy our nice  LEMON ICE strain now
---
Don't forget to leave a comment below