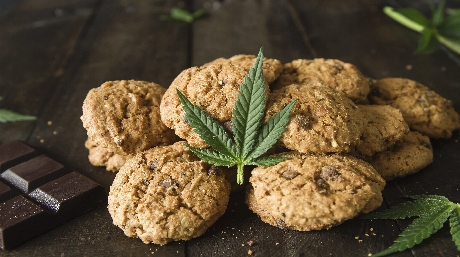 In the first quarter of 2020, there have been numerous concerns over the coronavirus pandemic. This has seen to it that social distancing and self-isolation are becoming more rampant across most parts of the globe.
Those who find themselves in the position to manage to stay at home with their loved ones are in the best place towards containing the pandemic.
However, this means that cannabis enthusiasts may not be able to take their grass communally like before. Safety comes first, and it would be worthwhile to learn how to enjoy marijuana edibles alone.
This now brings us to understand how to make your edibles at home and enjoy yourself to the fullest. But before that, let's see some two crucial benefits of baking your favorite edibles at home during social distancing.
Firstly, you will gain a life skill when you cook with cannabis. See, you will have ample time to practice and perfect yourself until the spread of coronavirus comes to pass.
Secondly, cooking with cannabis is a great way to kill time. For those who are not used to staying at home, they may find it quite cumbersome and tedious spending 24 hours a week indoors. As a weed enthusiast, you will find preparing anything with cannabis not only fun but also a way to see days moving forward fast.
Thankfully, we at Amsterdam Marijuana Seeds have 10 of our most favorite cannabis recipes that you ought to try out during this self-isolation period. What's even more thrilling is that they are easy to comprehend irrespective of being a beginner or a veteran.
1.    Cannabis-infused butter (cannabutter)
Cannabutter carries a high amount of THC and other cannabinoids. 
Making cannabis-infused butter involves decarboxylating the cannabinoids first. The ingredients include:
Some butter
A cup of ground cannabis.
Decarboxylate cannabis. This typically involves preheating the oven and place ground cannabis buds on the tray. Cover the tray using a parchment paper to deter the buds from sticking on the tray
Depending on whether the buds are new or old, it may take anywhere between 30 and 40 minutes to decarb
Using a hand grinder, grind the decarboxylated buds
Melt the butter
Add your decarboxylated buds to the melted butter
Simmer the mixture for up to 3 hours
Allow the cannabutter to cool and allow it to strain slowly through a cheesecloth
Refrigerate the butter for an hour or so and remove the solid butter with a knife should it form
Infuse your butter to your favorite products and enjoy yourself.
Instructions
2.    Cannabis pancakes
Yes, you read that right. Cannabis pancakes give a lively morning, especially when they harbor a healthy dose of Tetrahydrocannabinol (THC).
To make great cannabis pancakes, you will need:
A cup of all-purpose flour
A glass of milk
A beaten egg
Some sugar
Some salt
Batter
Melted butter
Two tablespoonful of baking powder
100 mg of pot tincture.
To the flour, add sugar, salt, milk, egg and whisk them together
To the mixture, mix the pot tincture and melted butter
Switch on medium heat to your means of cooking and place a frying pan with butter
Apply some batter on each pancake until you see some bubbling on the batter
Keep on flipping the crepe until the pancake turns golden while the batter gets gone
Enjoy your made-from-home cannabis pancake.
Instructions
3.    Cannabis peanut butter cookies
Cannabis peanut butter is easy to prepare and takes some little time during preparation. The ingredients you will need comprise:
Cannabutter
All-purpose flour
Crunchy peanut butter
A beaten egg
Baking powder
Baking soda
Some sea salt
Some sugar and brown sugar
Vanilla.
Preheat your oven to 350°F and set aside two greased baking sheets
Stir the flour sugar, sugars, salt, baking powder and baking soda in a bowl
Beat the cannabutter, peanut butter, egg and vanilla in a separate bowl
Drop some dough into one of the greased baking sheets and press the dough using a fork to flatten
Bake your cookies until their top-most parts begin to crack.
Instructions
4.    Cannabis banana bread
A canna banana bread can be eaten any time of the day. If you prefer to eat it during the day, be sure to prepare it using Sativa strains. On the contrary, Indica strains would be ideal for night preparation.
These are the ingredients to make your own banana bread during self-isolation:
Melted cannabutter
Some sugar
Two beaten eggs
mashed overripe bananas
Some salt
Baking soda
Buttermilk
Vanilla
All-purpose flour.
Preheat your oven to a temperature of 350°F
On one large loaf pan, butter and flour the bottom
Mix the cannabutter and sugar while adding the beaten eggs until there is a uniform blending
Add the buttermilk and vanilla to the mashed bananas
Sift the all-purpose flour, salt, and baking and add them to the wet mixture of mashed bananas
Bake the loaf for 1.25 hours and insert a toothpick into the center. If it comes out clean, then the bread will be ready
Slice it after 2 hours and enjoy your canna banana bread.
Instructions
5.    Cannabis cooking oil
Cooking with canna-cooking oil could be the best oil when you try it out for the first time. Thankfully, it isn't hard to prepare it.
You will need:
Grass flower
Cooking oil.
Grind the cannabis flower
Combine your favorite oil with the cannabis flower and heat on warm temperatures. You should, nonetheless, ensure that the temperatures don't go past 245°F
Store your oil after straining it. Cannabis cooking oil can stay for a shelf life of up to months but can be extended by refrigeration.
Instructions
6.    Cannabis salad
You probably haven't explored making weed salad at home. But trust us that you will like it.
You will need:
Cannabis oil
Minced garlic cloves
Salt and pepper
Lemon juice
Olive oil
Lettuce
Mix the lemon juice with the minced cloves
Add the cannabis oil to the mixture
Season it with salt and pepper
Place the lettuce in a bowl and toss it with dressing
Your cannabis Caesar salad is now ready for consumption.
Instructions
7.    Cannabis brownies
Making these marijuana edibles shouldn't be daunting. See this favorite recipe for preparing canna brownies, and you will surely like it.
Ingredients
Two eggs
Cannabis-infused oil
Salt
Baking powder
Baking soda
All-purpose flour.
Preheat your oven at 390°F and place a big buttered pan
Mix the cannabis oil with the beaten eggs and add some sugar
Sift the flour together with baking powder and salt
Pour batter into the baking dish and bake for 30 minutes or so until edges start pulling away from the pan
Put these edibles on a wire rack and allow them to cool. You can, then, enjoy your brownies.
Instructions
8.    Cannabis chocolate chip walnuts
This delicacy is easy to prepare and takes a little time to be ready.
You will need:
Cannabutter
Some sugar
A beaten egg
Baking powder
Chocolate chips
Walnuts
Baking soda
Some salt
Unbleached flour.
Preheat the oven to 350°F
Mix the cannabutter and sugar
Mix the egg with flour, baking soda, salt, and baking powder in a separate bowl
Add the walnuts and chocolate chips to this mixture
Form doughs from the dough and place it on a cookie sheet while using a parchment paper to avoid stickiness
Place the cookies in a freezer to let them be firm enough
Bake these cookies until they turn golden brown
Cool the cookies for 30 minutes and enjoy your cannabis edibles.
Instructions
9.    Cannabis-infused bacon
Do you love bacon? What if you make yours during the self-isolation period? Well, it shouldn't be hard. See the basics below.
You will need:
Sliced bacon
Ground cannabis flower.
Preheat your oven at 225°F.
Spread the ground cannabis flower on the cookie sheet and start baking it. It should be fine after 45 minutes
Place your preferred number of bacon slices on another cookie sheet (should be ungreased)
Using a salt shaker, sprinkle the baked cannabis over the bacon strips
Place the bacon strips on the oven and bake them for 10 minutes.
Remove the strips from the oven and sprinkle the canna flower on the other side
Bake them for ten more minutes
Allow your weed bacon to cool and enjoy your delicacy.
Instructions
10. Cannabis bars
Popularly referred to as cannabis-infused Nanaimo bars, these edibles should be ready within an hour.
The ingredients include:
Unsalted cannabutter
Sugar
Cocoa powder
Shredded coconut
A beaten egg
Chopped almonds.
Preheat your oven to 350°F
Melt the cannabutter and put it aside
Add the other ingredients to a mixing bowl
Pour the melted butter on the top and mix it with the ingredients in the mixing bowl
Press the mixture in a pan and bake it until it appears brown
Allow your cannabis-infused Nanaimo bars to cool and enjoy yourself.
Instructions
Preheat your oven to 350°F
Melt the cannabutter and put it aside
Add the other ingredients to a mixing bowl
Pour the melted butter on the top and mix it with the ingredients in the mixing bowl
Press the mixture in a pan and bake it until it appears brown
Allow your cannabis-infused Nanaimo bars to cool and enjoy yourself.
Did we miss a favorite recipe of yours? Leave it down below in the comments! Stay happy, stay healthy.